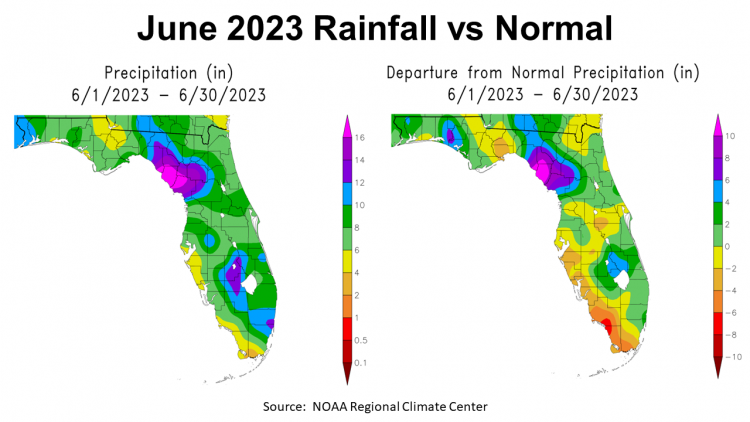 Rainfall
June 2023 provided ample rainfall for much of the Panhandle, but it was not at all uniform.  The map to the left provides estimated ranges of rainfall for the state of Florida in June.  For the Panhandle, the area in yellow ranged from 4-6″, much of the region shaded in light green received 6-8″, but there were areas in blue with 10-12″.  The Big Bend region had regions in purple and mauve that received 12-16+".   The map to the right compares June rainfall to historic average.  The areas in tan and yellow were the only parts of the Panhandle that were below average.  There were small pockets in blue and purple with rainfall 4-8″ above average for the month.
–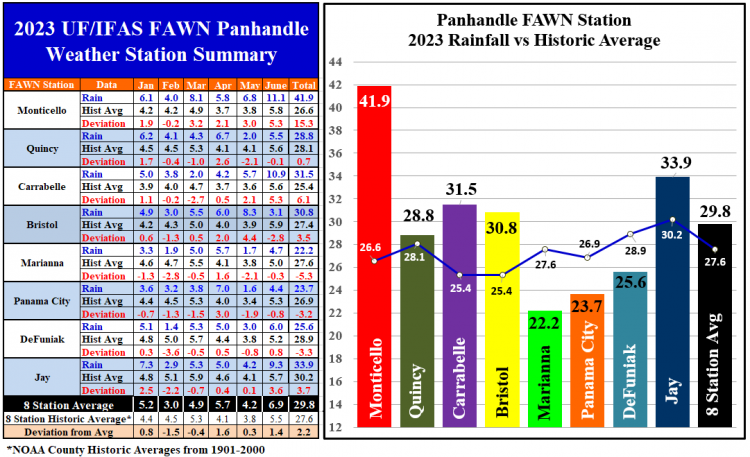 The Florida Automated Weather Network (FAWN) weather stations records provide a more precise data of the variation of rainfall across the Panhandle in June.  The wettest location was Monticello with 11.1″, which was 5.3″ above normal.  Not far behind was the station at Carrabelle with 10.9″, also 5.3″ above average for the month.  Contrast that with the 3.1″ that fell in Bristol, -2.8″ below normal.  The average of all eight stations was 6.9″ in June, which was 1.4″ above average.
Through the first seven months of 2023, the station at Monticello has collected 41.9″ of rainfall, which was 15.3″ more than normal. By comparison, only 22.2″ fell at Marianna, which was -5.3″ below average.  The average for all eight FAWN Stations in the Panhandle was 29.8″, 2.2″ above historic average.
–
Temperatures
The month of June started out unusually cool, with highs in the 80s and lows in the 60s, but ended with scorching heat above 95°.  The low for the month of June 2023 was 66° on June 2nd and 14th.  The month heated up from there, with a high of 96° on June 30th.  The average for the month was 79°.  You can see from the trend lines for high and low temperatures in the chart to right, there was a rapid warming trend through the month of June.
–

May was fairly mild with an average air temperature of 74° and an average soil temperature of 79°.  June soil and air temperatures warmed 5° from May, to an average air temperature of 79° and an average soil temperature of 84°.  There was a June 14 thunderstorm in Marianna that produced 60+ mph winds.  This was the highest recorded wind speed through the first six months.
–
3-Month Climate Outlook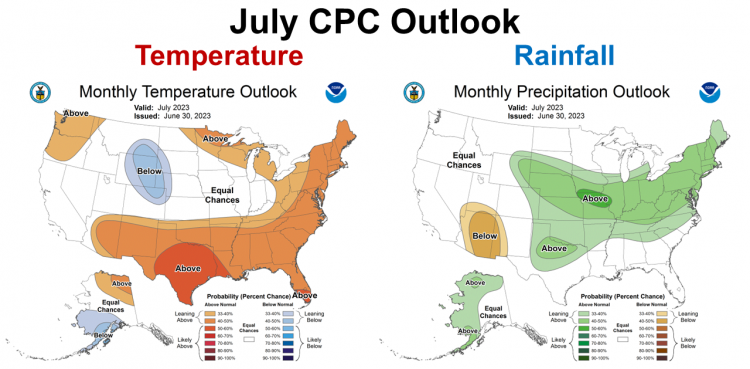 The July Climate Prediction Center (CPC) Outlook shows that the experts believe that the Southeast will remain warmer than normal but offer no guidance for precipitation.  July is generally one of the highest rainfall months in Florida, so this is good news.  We don't really want higher than average rainfall in July.  This is also good news as no drought is expected for this month either.
–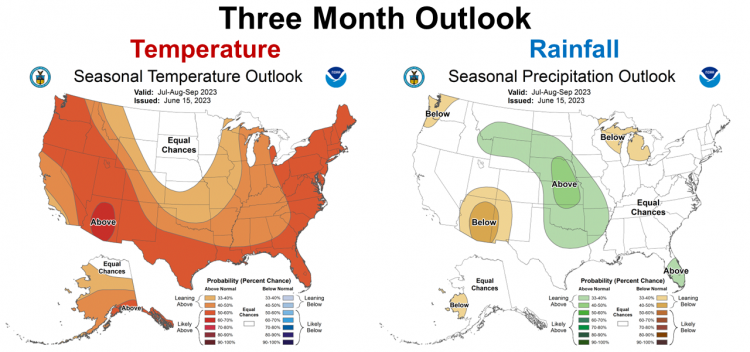 The CPC Climate Outlook for July-September is similar to the one-month predictions.  Rainfall is expected to be near normal through September but there is a high expectation of warmer than average temperatures.  It looks like the hot, wet summer will continue through the growing season in the Southeast.  Just remember these outlooks are for general trends.  This does not mean that there will not be short-term dry periods.  It also important to remember that higher than average temperatures may not necessarily reflect greater day-time highs, but may have a greater influence on morning lows.
–
El Niño Advisory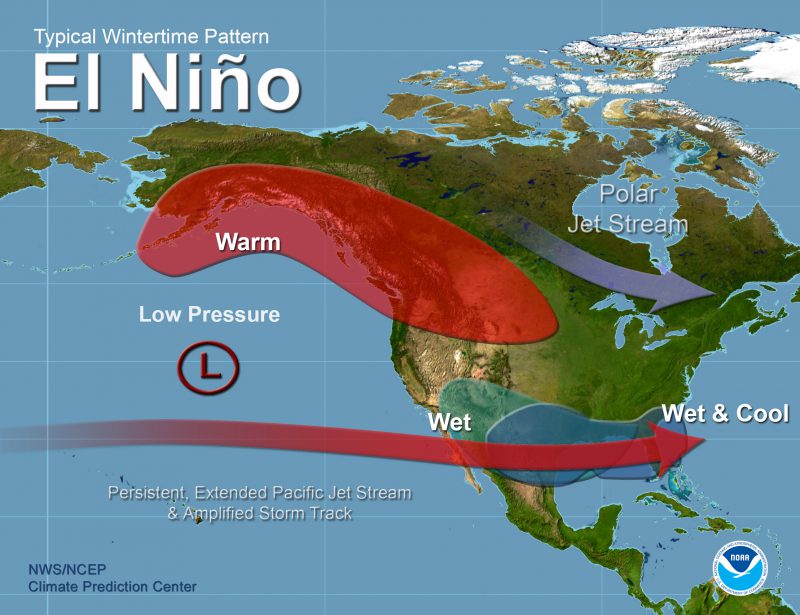 El Niño is here and will likely grow stronger in the second half of the year.  The greatest climate impact of ENSO phases are during the fall and winter.  In Florida, El Niño influences the Pacific Jet Stream to guide more frontal rains, with greater cloud cover and somewhat cooler temperatures than historic average.  Think about this as the opposite of the previous three winters when fronts were stronger across the Midwest but much weaker in Florida, due to La Niña.  This climate change will also influence the Polar Jet Stream, so while it may be cooler than average, we are not more likely to have hard freezes.  In the Panhandle the greatest influence of El Niño will likely be increased cool-season rainfall frequency and total quantity.
In June, a weak El Niño was associated with above-average sea surface temperatures (SSTs) across the equatorial Pacific Ocean. Area-averaged subsurface temperatures anomalies increased compared to May, with positive anomalies below the surface of the equatorial Pacific Ocean…  The most recent IRI plume indicates El Niño will persist through the Northern Hemisphere winter 2023-24.  Forecasters favor continued growth of El Niño through the fall, peaking this winter with moderate-to-strong intensity (81% chance of November-January). An event that becomes "historically strong," rivaling the winters of 1997-98 or 2015-16, has an approximately 1 in 5 chance. In summary, there is a greater than 90% chance that El Niño will continue through the Northern Hemisphere winter. Climate Prediction Center
–
What does this mean for farmers and ranchers in the Panhandle?
The warm & wet growing season of 2023 is expected to continue.  Timely spraying for fungal disease management will remain important for optimal crop yields.  It looks less likely that we will see the extended dry period for crop harvest as we have seen in the previous years.  Hay harvest may continue to be challenging and favor baleage production to ensure timely harvest to protect forage quality.   It does appear that we can expect that cool-season crops and forages should have adequate moisture this year.  If we have a wet winter, you may want to avoid planting low areas that tend to hold moisture.  Crops such as ryegrass that thrive in high moisture situations should do well this year.  You may also want to use this information to guide vegetable variety selection in early spring of 2024, with more emphasis place on fungal disease resistance.  El Niño typically suppresses hurricane formation, just recognize that fewer hurricane does not mean there won't be any.  Fewer hurricanes is always good, but the ones that matter most are the storms that hit your local area.  The main point is to prepare for a wetter than average fall, winter and early spring.  The climate experts believe that this El Niño will get stronger, with a 20% chance of being a very strong influence on our weather in the coming months.   Stay tuned as these ENSO based climate forecasts become more accurate in the fall months.
Latest posts by Doug Mayo
(see all)