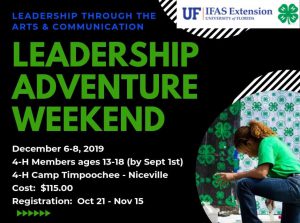 In a world of acronyms, 4-H has a lot of them.  Many of our 4-H youth are getting very excited about LAW.  Leadership Adventure Weekend, or more commonly referred to as LAW, is a Florida 4-H state event that allows youth ages 13-18 to learn excellent leadership and communication skills through hands-on activities and experiences.  
Each year, 4-H youth from around the state plan the weekend full of exciting workshops and funshops designed to teach youth the skills they need to excel in today's world of leaders.  This year's theme is  "Leadership through the Arts and Communication."  Teens will be exposed to in-depth activities to develop their leadership in club, county, & district officer responsibilities as well as further life skills development in the areas of teamwork, decision making, responsibility, and communication.  Workshop activities will center around painting, music, dramatic arts and theater, and team building games.
4-H members that have previously experienced LAW said that they learned how to improve interview skills and even how to write a resume.  Take note that it's not all work and no play.  Youth leaders that have created the event and designed the schedule have made sure to include lots of fun!   For those not experienced with this 4-H program, LAW weekend is an excellent introduction to many of the benefits that 4-H has to offer.  Many of our 4-H youth bring a friend to help introduce them to 4-H.  
This year, LAW will be held in the Florida Panhandle at 4-H Camp Timpoochee in Niceville, Florida, from December 6th though the 8th.  Registration cost is $115, and youth can register from October 21st to November 15th. Late registration will NOT be accepted.  
Not a 4-H member yet?  Not to worry!  Join the 4-H family today.  The process to become a 4-H member or 4-H Volunteer is relatively simple:  visit http://florida4h.org to apply online or stop in to your local UF IFAS County Extension Office and meet with your 4-H Extension Agent for assistance. 
Special thank you to Prudence Caskey, UF/IFAS Santa Rosa Extension 4-H Agent, for providing this article.
Latest posts by Niki Crawson
(see all)