During the summertime, 4-H typically offers more opportunities for our teen audience since school is not in session as their schedules are more flexible. Because of this, we want to ensure that we are targeting skills that are specific to our teens' immediate and future wellbeing and success.
 In this article, I will discuss why life skills are so important, what 4-H programs already established target, which life skills are most beneficial for our teens and what, when, and how teens can get involved.
WHY DO WE CARE SO MUCH ABOUT LIFE SKILLS?
We know that life skills are abilities learned that help individuals reach their full potential in life. They assist in helping folks successfully handle day-to-day life experiences. We believe they are developed through hands-on learning, activities, and practice.
Life skills are the foundation of 4-H. Utilizing the Targeting Life Skills Wheel (Hendricks, 1998), we connect life skills through 4-H projects, programs, and events to real life experiences based on our Head, Heart, Hands and Health model. By helping youth achieve these life skills, 4-H professionals and volunteers are providing the framework for future academic and employment success, as well as youth thriving and community outreach.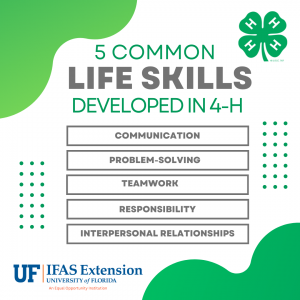 Five essential life skills from the Targeting Life Skills Model commonly developed by participating in 4-H are:
Communication
Problem-solving
Teamwork
Responsibility
Interpersonal Relationships
PROJECTS & EVENTS RELATED TO LIFE SKILLS FOR TEENS
Below are just a few 4-H projects and events in Florida 4-H for teens to get involved in to develop and strengthen essential life skills:
The Florida 4-H Curriculum Clearinghouse is a list of 4-H resources available, including project curriculum, record books, club resources and other educational publications that meet the standards of Florida 4-H. In this site you can view resources for specific projects. To learn more about 4-H opportunities for teens, please contact your local UF IFAS County Extension Office, or visit http://florida4h.org.
ADDITIONAL SOURCES:
Hendricks, P.A. (1998). Developing Youth Curriculum Using the Targeting Life Skills Model: Incorporating Developmentally Appropriate Learning Opportunities to Assess Impact of Life Skill Development. Iowa State Extension Publication. https://extension.purdue.edu/4-H/about/impact-targeting-life-skills.
 Irvine, K. (2019). What are Life Skills? https://blogs.ifas.ufl.edu/nassauco/2019/02/04/what-are-life-skills/
Latest posts by Niki Crawson
(see all)