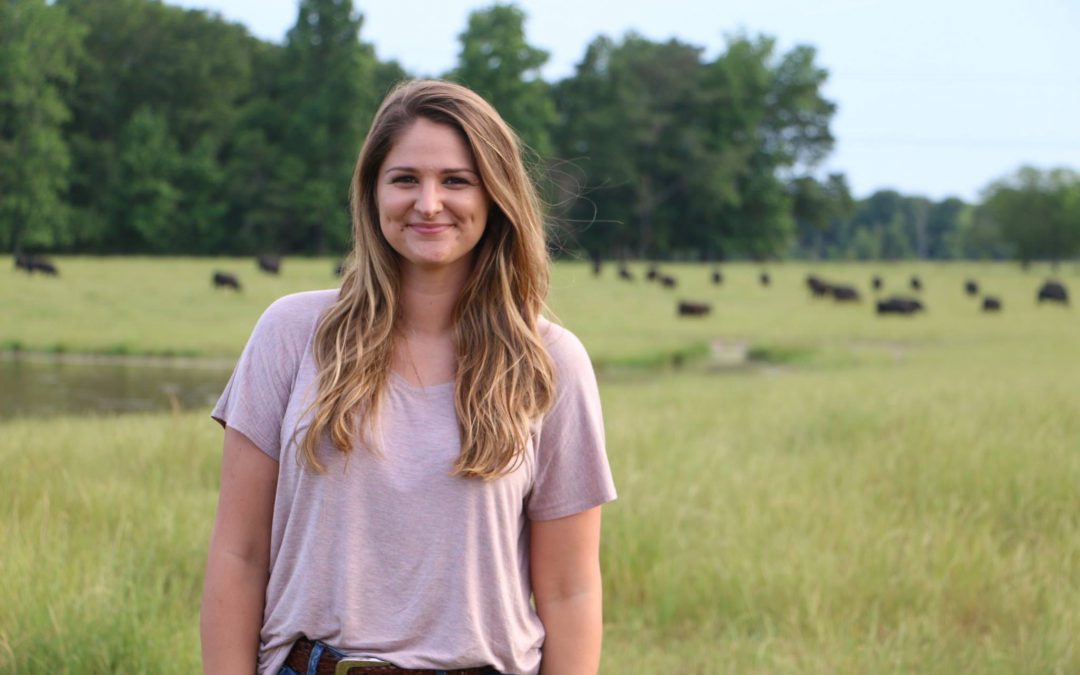 Please help us welcome Caroline Chappell to our Northwest District 4-H Family!
Caroline is our newest 4-H Youth Development Extension Agent in the Florida Panhandle, filling the 4-H Agent position in Jackson County.  Caroline is no stranger to our area as her hometown is Graceville, Florida where she grew up on her family's beef cattle farm with her siblings. As a youth, she showed her family's Angus cattle all over the country, was a member of the University of Florida Livestock Judging Team as well as a member of the Meat Animal Evaluation Team.
With a passion in livestock, Caroline earned her Bachelor's Degree in Animal Sciences from the University of Florida and her Master's Degree in Animal Sciences with a specialty in Beef-Forage, from Auburn University.  Although she has a strong livestock background, Caroline states that she is "excited to start all kinds of different programming for Jackson County 4-H!"
Caroline is a recent newlywed, who married Logan Chappell, an employee for Farm Credit of NW FL in Marianna. They have a Corgi puppy named Tilly, who is just a year old. When Caroline is not working or spending time with her husband and puppy, she enjoys gardening, working with her family's beef cattle operation, or watching her favorite movie, Big Fish.
Caroline admits that she was never in 4-H as a kid, but did assist with 4-H programming as an intern in Washington County and as a graduate student at Auburn University. She has assisted mainly with livestock/meats related programming.  Caroline did report that one of her favorite 4-H experiences as an intern was when she helped put on a grilling workshop for the 4-H members in Washington County in preparation for the district tailgating contest a few summers ago.  She said she had a lot of fun learning to grill and then helping others.
I found out a few inspiring facts about Caroline to share with everyone as well…Her inspiring role model in life is her dad.  She said he loves Jackson County and over the last 25 years he has worked really hard (and still does) to make the community a better place to live. He's impacted the lives of a lot of people through both his public service and in his career. She hopes that she can do the same in her new role as the Jackson County 4-H Extension Agent.
Another interesting fact Caroline shared is her favorite inspirational quote – "People don't care how much you know until they know how much you care" by Theodore Roosevelt.  And last, but not least, when asked if she could have one superpower, what would it be and why, she responded with, "the power to stop time. There's so much to do, but it seems like never enough time to do it."  Ah, spoken like a true 4-H Extension Agent!
Welcome to our 4-H family, Caroline!
To meet your local 4-H Extension Agent, to find out more information about 4-H programs that can offer essential life skills such as independence, organizational skills, and goal setting, to your children or to volunteer with 4-H, please contact your local UF/ IFAS County Extension Office, or follow us on Facebook.