Farmers in the Western Panhandle are in agreement — dry weather is needed to get the crops out to gins and buying points.  Currently, climatologists are predicting a 62% chance of experiencing El Niño conditions for the next 3 months.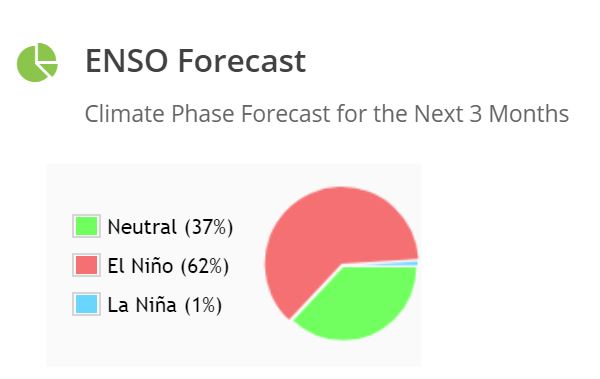 What does that mean to a farmer in Northwest Florida?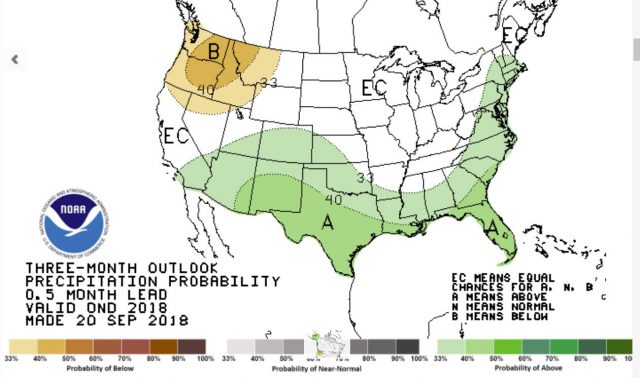 According to the fact-sheet  El Niño, La Niña and Climate Impacts on Agriculture: Southeastern U.S., these are potential issues:
Harvests of summer crops such as corn, peanuts, and cotton may be delayed because of increased rains in the fall.
Frequent rains may reduce tilling and yield of winter wheat.
Wheat yields in southern AL and GA are generally higher than average during El Niño.
Frequent rains at the end of August and in early September may increase Hessian fly populations on winter wheat.
Susceptible and moderate peanut cultivars have higher intensity of tomato spotted wilt virus.
Yields of winter vegetables such as tomatoes, bell peppers, sweet corn, and snap beans are lower.
Fungal and bacterial diseases, especially bacterial spot of tomato and bell peppers, present higher risks.
Winter pasture crops may benefit from wetter weather, but planting and harvesting operations may be affected by heavy rainfall.
Growers may have to reduce the dormancy compensating sprays to temperature fruits, such as peach, nectarine, blueberry, and strawberry because of increases in chill accumulation.
Strawberry growth is slower than normal. Risk of fungal diseases such as anthracnose, botrytis fruit rot, and angular leaf spot is higher.
This may very well be a good year to plant winter forage and cover crops because they are predicting enough moisture to get fields established.  To learn more about the benefits of utilizing cover crops to mitigate risk, please see this publication about high residue cover crops.
Agriculture agent at UF IFAS Escambia County Extension.
Latest posts by Libbie Johnson (see all)