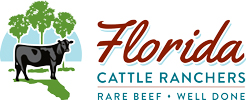 Are you interested in finding out how your cattle perform after they leave the ranch? The Florida Fed Beef Challenge is an opportunity to do just that. Challenge entries consist of ten head of steers (or groups of 10) weighing between 550 and 750. Cattle must be weaned a minimum of 45 days prior to October 1 (August 15th) with two rounds of vaccinations (respiratory and blackleg) and one round of deworming prior to arriving at the feedyard.  Cattle must also qualify under the Florida Cattle Ranchers Protocols, which means: born, raised and fed in Florida.  Producers must commit by September 21, 2020, and cattle must arrive at the Quincey Cattle Company Feedyard on October 1, 2020.
Cattle will be fed at Quincey Cattle Company in Chiefland, FL and the finished steers will be harvested in the Florida Cattle Ranchers program. Complete feedlot performance and carcass data will be collected in addition to tenderness. See how your cattle measure up against other producers'.
Prizes will be awarded for overall performance, carcass quality, and uniformity. If you are interested in participating see the entry form and rules, and contact Todd Thrift – 352-538-3146, at the University of Florida Animal Science Department.
–
Rules and entry form: