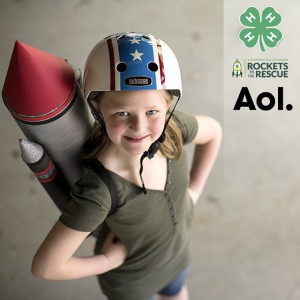 4-H National Youth Science Day (NYSD) is a great opportunity to engage youth in 4-H Science. Each year, National 4-H Council announces a National 4-H Science Experiment. NYSD is October 8th, but the experiment can be conducted anytime. This year, youth will be tasked with the same mission: in light of the recent natural disasters such as Typhoon Haiyan, National 4-H Council is asking youth to design and build an aerodynamic food transportation device that can deliver a payload of nutritious food to disaster victims. Youth will learn engineering concepts, develop math skills, learn about nutrition and help solve a relevant, global issue.
You can purchase a pre-made experiment kit from the 4-H Mall, or you can make your own for less than $10.00. All of the supplies can be found at your local hardware or big box store. A "how-to" video shows you how to set up and facilitate the experiment.  A word of caution- the video shows youth jumping onto the launcher with both feet- this weakens your launcher and could cause youth to lose their balance. We recommend that youth only stomp on the bottle with one foot.
Experiment guides for volunteers and youth can be found online for free. If you register your event online, you will get access to three more activities that you can do with your kit. For teachers who lead in-school or afterschool 4-H clubs, this experiment achieves many of the common core science standards  There are several contests and prizes for clubs, teachers, and youth. Many of these contests offer cash prizes or gift cards. To find out more, visit the NYSD website.
We would love to know how you and your youth benefited from this program.  Please complete the evaluation for volunteers, and share the link for the evaluation for youth with your club members.
How do you plan on celebrating NYSD this year? Share your photos and ideas on our District Facebook and Twitter!  Also, make plans to join us on October 20th for Make a Difference Monday at 7/6 central. Dr. Dale Pracht will be sharing how to create safe environments in our 4-H clubs. If you cannot make our live presentation, it will be archived along with this month's presentation at http://florida4h.org/madmondays.
Latest posts by Heather Kent
(see all)