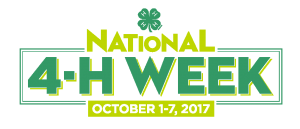 October is an exciting month for 4-H – we have some great things happening. First, it includes National 4 H Week, October 1-7. This year during National 4-H Week, The Northwest district is proud to celebrate the #TrueLeaders that make our community great. Every child deserves to be recognized for the great things they are doing. Help us celebrate #TrueLeaders during National 4-H Week by shouting out your favorite 4-H'er. #TrueLeaders lead by example, empowering their peers and inspiring communities. 4-H'ers, show your pride this National 4-H Week! Share photos of how youth are stepping up as #TrueLeaders in your county.
As part of National 4-H Week, 4-H'ers participate in 4 H National Youth Science Day (NYSD), the world's largest youth-led science experiment. This year's 4 H NYSD event will take place on October 4.
Our local Tractor Supply Company will be supporting 4-H clubs October 4-15 with their Paper Clover Campaign, this is a national in-store fundraiser that benefits state and local 4-H programs. Tractor Supply invites friends and family to support 4-H by donating $1 at store checkouts for scholarships that send local kids to 4-H camp and other 4-H leadership experiences.
October also represent a time when our local tailgating youth will advance to the state finals. The northwest district will have 8 youth advancing to the state competition October 14.
October also means that it is fair time! You will be able to view our 2017 4-H youth exhibits across the Panhandle at local fairs and rodeos!
Central Panhandle Fair – October 2 -7
Art in the Garden Festival at the UF IFAS Research Center in Quincy- October 7th
Bonifay Rodeo – October 5-7
Walton County Fair – October 9-14
Panhandle Youth Expo– October 11th-14th
Pensacola Interstate Fair – October 19-24
North Florida Fair – November 2-12
Local 4-H youth will exhibit their artwork, plants and animals that they have been caring for this past year. Youth exhibits and plants are judged. Youth receive ribbon awards using the Danish judging system at county and regional fairs. This means that exhibits are judged against a "standard" rather than against other exhibits. For example, a painting that has been created by a 4-H'er is not compared to other paintings. Rather, it is judged according to the criteria of standards for paintings. A blue ribbon means that the exhibit meets high standards and good quality work is shown.
October and November are busy months in 4-H. To find out more information about other 4-H programs like this or volunteer your time to work with youth, contact your local UF IFAS County Extension Office or visit http://florida4h.org.