The statewide goal of the Florida 4-H Program is to "prepare youth to become responsible citizens and productive members of the workforce." This is accomplished by providing quality youth programs, opportunities for youth to explore their sparks, and connection between youth, adults, or peers that positively shapes a young person's identity and encourages a growth mindset.  Jessica Wells shares her 4-H story and how 4-H helped prepare her for her current job.
Jessica was a 4-H member in Washington County for eleven years. During that time, she participated in several different aspects of the 4-H program, beginning with her 4-H club.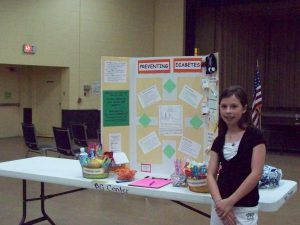 "My favorite 4-H project was the horse project. I was able to grow in my riding abilities and see my horse grow through the year. We were able to accomplish competing at the District level, but most importantly my horse and I were able to share a closer bond because of the time I spent working with him."
However, Jessica's involvement with 4-H didn't stop with her horse club. Jessica was involved in nearly every aspect of the 4-H program. Jessica served as an advocate for her county program, and also served on the planning committee for the Northwest Teen Retreat at the district level. One of her favorite "beyond county" experiences was serving as a Florida 4-H State Executive Board Member.
"It was rewarding in every aspect. I grew so much more, I believe, because I was working with fellow 4-Her's across the state to bring an amazing experience of state events to all 4-Her's. Executive Board gave me more than fun memories and life experience, it gave me real, lifelong friendships."
After graduation, Jessica decided to give back to the 4-H program as a club leader, and during her college years, she also worked for UF/IFAS Extension on campus in Gainesville.
"I was inspired to be a club leader because I wanted to share my passion for horses to youth in my county. 4-H is a wonderful organization that allows one to grow so many personal and lifelong skills while being hands-on with applicable activities. I wanted to use my passion to equip 4-Her's to grow in their knowledge of horses while growing their public speaking, leadership, teamwork, personal confidence, and many other life skills."
Today, Jessica serves as the digital media coordinator for Florida Farm Bureau. She credits 4-H with helping her prepare for this role. As a youth, volunteer, and former employee, she had opportunities to learn about leading teams, communication, planning events, and goal setting.
"I am so grateful for all the skills I was prepared with as a 4-Her that has carried into my current position at Florida Farm Bureau. Aside from the general office skills that often

come to mind first, I daily use the management and administrative skills that I learned through 4-H. Through being organized in my projects, leading clubs, planning events, even events as large as horse shows, these different types of management skills prepared me for the daily tasks of a full time job. Like the meeting agenda I would create as a club officer, my current job requires creating simple meeting agendas to keep my co-workers and I on task. Something that small created a big foundation that I can do my job well on. And then on to preparing and leading workshops for my coworkers and other public audiences, again a skill I learned way back in 4-H. Having strong communication skills is vital in today's work environment, maybe now more than ever. One can be great at the job they were hired for, but if they have great communication skills, it allows them to be even more valuable to their team. An individual does not acquire there skills overnight to use daily in the adult world, these skills are gained over a period of time and usually are rooted in their youth. I was able to gain these skills in my youth through this great organization of 4-H.