As part of National 4-H W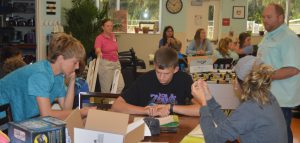 eek, 4-H'ers participate in 4 H National Youth Science Day (NYSD), the world's largest youth-led science experiment. This year's 4 H NYSD event will take place on October 4. The 2017 4‑H National Youth Science Day Challenge is called Incredible Wearables!  This year's challenge was developed by University of Nebraska-Lincoln and incorporates the fast-evolving field of wearable technology, teaching kids to not only use technology but to create it and understand how it works.
From watches and eyewear to fashion and virtual reality headsets, wearable technologies are fast becoming the must-have accessory for forward-thinking people around the world. Wearable technologies didn't start out as trendy however – one of the world's first wearable technologies was the hearing aid! Wearable technologies are now used in industries around the globe, from education and sports, to health, fashion, entertainment, transportation and communication. In this year's challenge, youth use the engineering design process to build a prototype wearable technology that will gather data to help solve a real-world problem. They will design and build their own low-cost wearable health monitor following the engineering design process. This process includes defining the problem, designing and building prototypes (solutions) then systematically testing and evaluating enabling them to redesign for optimization of wearability and functionality.
During the innovative, hands-on project, these future engineers must work together to design, build and refine a wearable health-tracking device that is easy-to-use and aesthetically appealing. In fact, youth from Bay County have been training with their adult leaders to teach this challenge to other youth in their community on National Youth Science Day. Jason Scott, from Scott Innovative Solutions and an engineer at NSA PC, teamed up with the Bay County 4-H Agent to teach youth and adult partner teams about this project enabling them to be able to share their knowledge with others on October 4. When participants will attempt to solve the problem of people not staying active enough to lead healthy lives. In fact, youth will build a prototype fitness tracking device that could ultimately be marketed and sold to consumers to positively affect fitness behaviors.
After completing the challenge youth will have had an experience of using the engineering design process to build a device to help them monitor their health so they can gather data to make better decisions. They will understand more about how wearable technologies like FitBits, Smartwatches and other wearable devices are made.
The field of wearable technologies continues to grow in both quantity and quality. New technologies are being developed and put on the market on a regular basis, including virtual reality and augmented reality devices, clothing and accessories, as well as health monitoring devices. The future of wearable technologies is limited only by the imaginations of those designing them. By studying STEM and participating in this National Youth Science Day Experiment, youth could use technologies to develop products and mechanisms we haven't even thought of, but definitely desire! To find out more information about other 4-H programs like this or volunteer your time to work with youth, contact your local UF IFAS County Extension Office or visit http://florida4h.org.