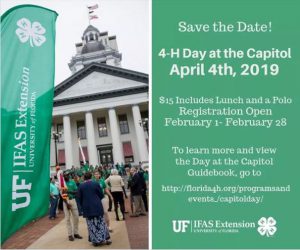 Last year, 520 youth and 170 adults from 34 Florida counties told the 4-H story filling the state capitol with 4-H advocates. Youth educated their representatives, senators, and legislative aides on how 4-H has made an impact in their lives while experiencing the political processes of state government.
A sea of green will flood the Florida's state capitol Thursday, April 4, 2019, as Florida 4-H members, faculty, volunteers, and families participate in the annual 4-H Day at the Capitol event.
4-H Day at the Capitol
 Who:  All 4-H Members, Friends, Family and Alumni
 When:  April 4, 2019
 Where:  Tallahassee, FL
 Cost:  $15 (includes lunch and a 4-H polo)
 Registration:  February 1-28, 2019 in 4-H Online
Schedule
7:30-8:15am – Check-in
8:30am – Opening Assembly
9:00am – Group Photo
9:15am – Meetings with Representatives and Senators begins
12:00-1:00pm – Lunch Available for Pick-up (Chik-Fil-A)
1:00-1:30pm – Closing Assembly
Each county is encouraged to make appointments with senators and representatives and should schedule their day how it best suits the group.  For detailed information on the schedule and to prepare for the event, be sure to read the The 4-H Day at the Capitol Guidebook.
Places to Visit/Things to do
Close to the Capitol, you'll find several things to do to fill in the rest of your day.
Governor's Mansion
Knott House
Riley House and Museum
4-H Day at the Capitol Scavenger Hunt
Florida Historic Capitol Museum
Museum of Florida History
Big Bend Farm
For more information, check out Explore Tallahassee
Resources
For more information on 4-H Day at the Capitol or 4-H in your county, contact your local UF/IFAS County Extension Office.
Latest posts by Taylor Wilken
(see all)