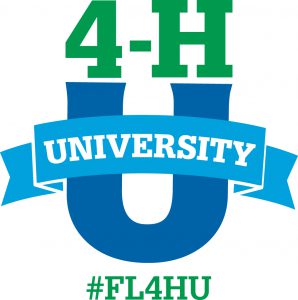 Yes, 4-University is 4 U!  4-H University is one of the premiere state events in Florida 4-H.  Teens get the chance to participate in leadership workshops, explore career opportunities, interact with other 4-Hers from across the state, and have fun while learning how to better successfully engage in their community, country, and world.  Below you will find useful information as well as why you should attend this flagship state 4-H event.
WHY PARTICIPATE?

Fun: We like all things we sign up for to be fun but sometimes they turn out not to be. We assure you, this IS a FUN event.
Network:  Connect with like-minded teens from across Florida.
Focused learning: Subject matter focused workshops offered are interesting and engaging.
Explore:  Visit an awesome college campus!  There are many things to see and do at UF.  It is your chance to visit a college campus.
Dorms:  Sleep in a college dorm.  Yes, you and your roomies get a little taste of future dorm life.
Leadership: True leaders know that leadership and learning is an on-going process.
Service Learning:  Giving back to others feels good.  Fresh ideas keep us focused and committed.
Goal Setting: Goals help us to expand our visions.  4-H U helps you set some goals for the future.
Being Supportive:  Fellow attendees are competitors and/or candidates running for State 4-H Officers we want to support.
Fun: Yes, I mentioned this twice! My Gadsden County 4-H senior youth have enjoyed 4-H U for many years for all the reasons above.  They stress FUN twice!
IMPORTANT REGISTRATION INFORMATION
Dates: July 29-August 1, 2019 (multi-day overnight state 4-H event)
Location: University of Florida, Gainesville
Who: Youth who are 4-H age 14-18
Registration: Opens on May 1 and closes June 30 at 11:59 pm Eastern. The cost is $275.00 for full week. Special one-day only registrations are available. Check out the website for more information.
How: Contact your local 4-H office
Learning opportunities: You do not want to be late registering so that you can have a better chance of getting your choice of track workshop: http://florida4h.org/wp-content/uploads/2019/04/4HU_2018_Workshop_Descriptions.pdf
More information: For more information, please visit this http://florida4h.org/programsandevents_/4-h-university/

CALL TO ACTION:
Latest posts by Yolanda Goode
(see all)