All Sydney English ever knew was Louisiana. It was home. At the age of five, Hurricane Katrina hit and Sydney's life was turned upside-down. With a complete loss of her town and neighborhood, her family decided to move back to Santa Rosa County, Florida where her parents were raised. Little Sydney found herself in a new town, in a new county, in a new state. Soon her mother reached out to Santa Rosa County 4-H to help Sydney make connections and allow her to feel part of something.
Prudence Caskey, the current Santa Rosa County 4-H Agent, met Sydney and her family at the county fair. Shortly thereafter, Sydney was enrolled in 4-H and attended her first meeting in hopes of finding some new friends in her new hometown. Over the next few years, Sydney would find many friends and even find herself.
One of the first events that Sydney attended was 4-H Day at the Capitol. Sydney was enamored with the Legislative process as well at the respect of the elected positions. Sydney decided she would attend 4-H Legislature as soon as she was old enough. Elected as a district officer, Sydney also became a member of the 4-H Executive Board. This was a time in her life where she had to make a tough decision.  She wanted to serve on the Executive Board, but would be unable to due to her volleyball practice obligations.  After much thought, Sydney told her parents, "I have decided to step down from the volleyball team.  I have been thinking about it and I thought, what would volleyball do for me in the years to come?  4-H will do a lot more for me! I'm gonna stay in 4-H."
Now, all these years later, Sydney has given more to 4-H than she could know.  She has served as a camp counselor and mentor for over 50 youth from across her 4-H district.  Sydney also had the distinction of representing the entire Panhandle of Florida as a 4-H State Officer, serving as Sergeant-at-Arms.   This summer, she is excited to have the role as Camp Staff at 4-H Camp Cherry Lake.  As she plans for graduation, Sydney hopes to attend law school and become a political attorney. 4-H has made her who she is and with her service, she is helping to make Florida 4-H even better!
To find out more information about 4-H programs that can offer essential life skills such as independence, goal setting, and decision making to your children so that they will grow up to become successful leaders like Sydney, please contact your local UF/ IFAS County Extension Office, or follow us on Facebook.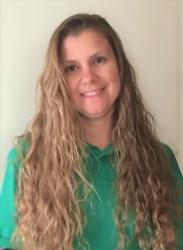 Latest posts by Prudence Caskey
(see all)