Seventy-four teens from the 4-H Northwest Florida District Teen Retreat took us down memory lane to the 60's 70's, and 80's, on Feb 21-23, 2020, at 4-H Camp Timpoochee. This year's theme was "4-H Through the Decades".  This leadership event was planned by senior 4-Hers from the Northwest Extension District for youth ages 13 and up.
The Teen Retreat kicked off at Friday night check-in with lots of pizza for dinner. The program proceeded with the District Spirit Rally having lots of cheers where participants dressed in bell-bottom pants, tie-dyed shirts, John Lennon style sunglasses, peace sign necklaces, and fringe costume vests. Friday night ended with campfire and a movie.
Saturday morning opened with a group picture preceding two educational workshops, "Improv through Leadership" and "Living on My Own." The Improv through Leadership workshop was more than just making stuff up as it inspired a creative way of advancing leadership skills. Through active listening, youth worked through given challenging situations, adapting quickly to new situations. The participants had many laughs and gained insight on using improv techniques to make them better leaders, team members, and productive citizens.
Living on My Own (LOMO) teens shared employment aspirations followed by being assigned a make-believe job, a take-home pay, and family size to balance the family's budget. In theLiving on My Own Simulation, teens learned the basics of writing checks, paying bills, keeping track of spending, credit scores, and what really goes into being an adult. Through the simulation stations, teens chose a home to live in, transportation, paid for insurance, utilities, groceries, childcare, got a second job if necessary, opened a savings and retirement accounts, paid student loans, and packed in entertainment. At the end of the simulation, the teens shared what they learned and what surprised them. Many were surprised by the cost of food and childcare. It gave them a new appreciation of how much their parents do for them!
The afternoon sessions highlighted fun shops: Play is Really Important, Line Dancing, Next Stop Job, Keep Your Cool, Cake Decorating, 4-H Olympics and a service project. The teens taught most workshops with adult supervision. This year's service to communities' project was friendship bracelets to share with special needs youth across the panhandle of Florida.
There is nothing like an entertaining game of kickball with teens versus adults. As always, the game was intense but lots of laughter ensued. Final score: Teens: 6 – Adults: 2.
District and state reports were given by district officers, followed by the dance, board games, and campfire with smores. On the final day, it was rise and shine as youth cleaned up the campground and completed the program evaluations.
Abigail Boyd, a first-time teen retreat participant, was asked what she enjoyed most about the teen retreat.  She stated, "I enjoyed seeing old friends and making new ones over lunch conversations, nine square competitions, and goofy dance moves."

Thank You Sponsors!
We were able to keep the cost to a minimum thanks to our awesome sponsors:
Gulf Power
Club 25
Duke Energy
Farm Credit of NW Florida
Lynn Haven Garden Club
Hancock Whitney Bank
Career Source Gulf Coast
Bay County Farm Bureau
St. Joe Community Foundation
All sponsors are printed on the back of the t-shirts and each will receive a 36 X 48-inch banner signed by all the participants.
The Teen Retreat is an exceptional event because county faculty and paraprofessionals have developed a strong youth-adult partnership. This collaboration takes place as teens and adults from the 4-H Northwest District plan, learn, and work together, with both groups sharing in the decision-making process. The dynamic is very different than most programs because teens take leadership roles and the adults take supporting roles. The adults prepare the teens for the workshops they are going to lead. This youth-adult partnership builds on the strengths of adults to mentor the teens in leadership and achieve positive results, as evident by youth surveys each year.
The next 4-H Northwest Florida Teen Retreat will be held on February 26-28, 2021 at beautiful 4-H Camp Cherry Lake.  For more information on 4-H programs, please contact your local UF IFAS County Extension Office, or visit http://florida4h.
Special thanks to John Lilly, UF/IFAS Jefferson County Extension Director & 4-H Agent for providing this article and pictures.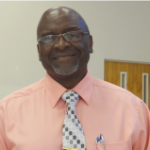 Latest posts by Niki Crawson
(see all)