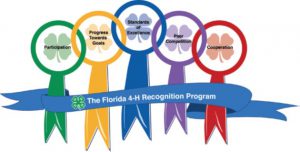 April's 4-H Virtual Volunteer Leadership Academy on April 16, 2020 was on the importance of awards and recognition. We learned that recognition is important feedback that every individual needs as it helps to give a sense of belonging when a task or achievement occurs.  Recognition builds self-esteem and allows for self-reflection and personal growth.
In 4-H, youth members, volunteers, parents, and community partners all want to know that they have been successful in their participation and/or contribution to the program and that they belong in 4-H.   All members need to experience recognition for their efforts and that recognition is more meaningful when it occurs soon after it is earned.  April's 4-H Virtual Volunteer Leadership Academy webinar explained that the National 4-H recognition model is based on five areas for recognition:  participation, progress toward goals, standards of excellence, competition and cooperation.  It also shared helpful tips on creative, low cost ways of recognition that will still send a meaningful message of value and importance to members in the program.
Registration Information
If you were unable to join us for April's 4-H Virtual Volunteer Leadership Academy, it is not too late to register for future webinar sessions.  And, as a registered participant, you will have access to all of the sessions available, including missed sessions, which can be viewed on demand.
Registration is required and can be found at http://bit.ly/4HVVLA  Once registered, you can join each session live through Zoom.  In addition, if you are unable to connect live, all monthly webinars will be available to you on demand as they are recorded.  Register early – seats are limited to the first 100 registrants.

Future 4-H Virtual Volunteer Leadership Academy Webinars
May – Club Tools for Online Use
September*- Judging Contests
October*- Preparing for Exhibits & Shows
November* – Club Organization Basics
*Fall session registration will be available July 1, 2020.
Webinar Viewing Information
Join each live session simply with one click from your phone, tablet or computer, using the Zoom app.  Once you have registered, you will receive email communication regarding the Zoom session links, dates and times.
4-H is one of the largest youth development programs in America with more than 6.5 million young people, ages 5-18, and 540,000 youth and adult volunteers.  A variety of fun, educational, engaging activities are offered to teach the fundamental 4-H ideal of practical, "learn by doing" experiences which encourages youth to experiment, innovate and think independently.  For information on how you can get involved with 4-H as a youth, volunteer, or supporter, please contact your local UF/IFAS Extension to learn about 4-H in your county.

Resources
Latest posts by Niki Crawson
(see all)