Haley Coons joined Santa Rosa County 4-H her freshman year of high school as a quiet and shy young lady.  Little did she realize she would hit the ground running after attending her first state event, 4-H Legislature.As a 13-year-old young lady, Haley found herself in Tallahassee with 350 other 4-H youth from around the state of Florida.  She was overwhelmed with all that was going on.  She was able to lean on one of her friends, Jordan, during the busy week and was able to learn the ropes from 4-H members who had experienced the fast pace, encompassing program.
"4-H brought out the best in me and was a big part in making me who I am today!"
As a graduating senior, Haley is a confident, well-spoken, and determined young lady.  She remembers her time in 4-H and how many new friends she has made.  Haley said, "The people I have met in 4-H have been like family to me and have impacted me in a significant way by showing me what it means to have a 4-H family."  Haley's family includes people from all over Florida 4-H.  Haley improved her leadership and mentoring skills to a professional level while serving as a Camp Counselor at 4-H Camp Timpoochee.
Haley has utilized the skills in 4-H to accomplish many goals already.  She has been a dual-enrollment student and will be graduating with her Associates in Arts degree this fall at Pensacola State College.  She will then attend the University of West Florida to obtain her Bachelors's degree.  She is undecided on her major at this point.  Haley, we are very proud of the wonderful young woman you have become!  Congratulations on your graduation and the many accomplishments you have already achieved!
To find out more information about 4-H programs that can offer your child essential life skills, support and guidance from positive adult role models, and educational activities in which they can learn and grow, or to volunteer with 4-H, please contact your local UF/ IFAS County Extension Office.
*Please note Haley's picture was taken prior to our challenges with Covid-19 and we encourage people to social distance and wear a mask for the personal safety of self and others."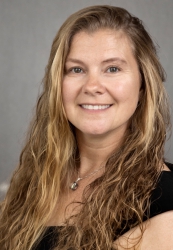 Latest posts by Prudence Caskey
(see all)