Madison Fendley joined Santa Rosa County 4-H in 2010 at the age of eight.  In the beginning, her passion was showing rabbits and chickens.  As she grew up, her interest in raising livestock grew as well.  After raising show-quality dairy goats for many years, Madison had been in the show ring numerous times.  With this experience, Madison shared her knowledge with youth that were new to showing livestock.  She could always be seen in the show prep area, working with youth that were inexperienced and nervous.  Madison became one of Santa Rosa County 4-H's best mentors for youth, new to the showing world.
Madison has learned a lot about hard work and dedication through her 4-H goat project.  Thinking back, Madison stated, "I feel accomplished for growing my goat herd from just a few brush goats when I started over ten years ago to nearly a completely registered show quality herd now."  She said she always enjoyed helping grow the goat show at the Santa Rosa County Fair and helping teach other youth about showing goats.
"I've loved working with the younger kids in our club and watching everyone grow and branch out."
Madison has made a difference in the Santa Rosa County 4-H program.  Many 4-H day camps had the opportunity to utilize Madison's leadership skills as she served as a counselor. She has worked very hard while raising livestock and even received Reserve Champion Steer at the Santa Rosa County Fair.  She has also received Grand Champion Homegrown Heifer two years in a row.  Madison recalls, "4-H has been an excellent opportunity to learn leadership and step out of my comfort zone sometimes. I would say I've come a long way since I first joined from showing chickens and rabbits to goats and now cattle."  When asked about her biggest lesson she has learned from 4-H, Madison replied, "I'd say one of my biggest accomplishments in 4-H, that nearly brought me to tears, was placing 1st in Steer Showmanship at the fair because it was the first year I showed cattle and the first show I'd been in with that steer."
Madison plans to attend the University of West Florida and complete her Associate in Arts degree.  She will pursue a degree in an agricultural or animal science-related field. Madison, we thank you for your many years of service to Santa Rosa County 4-H and the Santa Rosa County Fair & Youth Livestock programs.  We
To find out more information about 4-H programs that can offer essential life skills such as independence, organizational skills, and goal setting, to your children or to volunteer with 4-H, please contact your local UF/ IFAS County Extension Office.
*Please note Madison's pictures were taken prior to our challenges with Covid-19 and we encourage people to social distance and wear a mask for the personal safety of self and others.*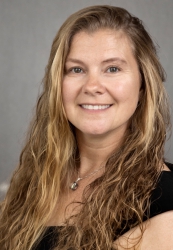 Latest posts by Prudence Caskey
(see all)