One of the requirements for 4-H clubs to be chartered is annual participation in a service project because it helps youth develop compassion and empathy for others. This is an important step to help youth live our pledge "my heart to greater loyalty" and "my hands to greater service."  Recently, the terms community service and service learning are being used interchangeably, but they are not the same. This post will explain the difference between the two and provide additional resources for 4-H parents, volunteers and club officers.
What is community service?
Community service is usually a "one and done" activity. It is often associated with short term volunteerism, and sometimes can be associated with court-mandated sentences. Community service includes things like a food drive, clothing drive, or litter pick up. These types of activities help youth apply the "heart" and "hands" parts of our pledge, but youth typically do not organize the activities; they are often done in collaboration with another organization, such as Toys for Tots, a local food pantry, or Adopt a Highway. Community service is a great way to introduce the concepts of giving back to the community and helping others. It is very appropriate for our younger 4-H members, who don't yet have the critical thinking, decision making, and leadership skills to execute a service-learning project.
What is service learning?
Service learning engages not only the "heart" and "hands" but also the "head."  Service learning is a process in which youth identify a need, develop solutions to address that need, implement a plan to put their solution into action, and reflect on the results of their action. Service learning should be planned and implemented by youth, with parents and volunteers supporting and guiding the process. Service learning is more appropriate for older youth who are ready to take on more responsibility. Service learning not only helps youth develop a sense of compassion, but it also helps them develop more independence.
So What's the Difference?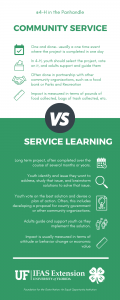 For example, when a 4-H club decides to lead a food drive for the local pantry, they are contributing to the issue of food insecurity.  Food drives are an effective way to meet the immediate need for more food, or more nutritious food. Our annual Peanut Butter Drive is a great way for 4-Hers to get involved with food insecurity; the Florida Peanut Producers match what is collected and everything is donated to a local food pantry. However, if youth want to address the issue of food insecurity in a more systemic way, they might choose to apply GPS technology to map the food deserts in their community or county. Next, they might present their findings to county commissioners or the chamber of commerce. Together, they brainstorm solutions on how to address food insecurity issues in those food deserts, but increasing awareness, or finding partners to provide sources of nutritious food. After implementing solutions, they look back and reflect on what they did, what worked, and what could be improved for next time.
Download this one-page document to help explain the difference between community service and service learning. This is a great resource for volunteers, parents and club officers. Next week, we will share ideas for service learning and community service related to a variety of issues, that can be a great discussion starter for your club meetings this fall!
If you have a passion for civic engagement and making a difference in your community, consider sharing your passion and skills with youth. We need volunteers to help youth understand what it means to be engaged in their community, and volunteers to empower youth to make a difference locally. We match volunteers' skills and schedules with our program. Contact your local UF IFAS Extension Office for more information.
Latest posts by Heather Kent
(see all)