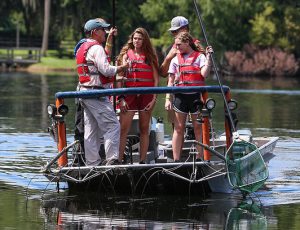 Keeping youth safe is the number one priority of our 4-H programs. We have both policies and protocol in place to ensure our club meetings are both physically and emotionally safe for young people. These strategies help prevent most accidents, but just in case the unexpected happens, we also have insurance to provide another layer of protection for our members. There are two types of insurance we deal with in 4-H- accident insurance and liability. This post specifically addresses accident insurance, and answers questions such as who is covered, what is covered, and when clubs might want to secure additional insurance.
Who is Covered?
Florida 4-H contracts annually with American Income Life to provide accident insurance for our club members. They have a special division just for 4-H and Extension programs and have been insurance 4-H clubs for nearly 70 years. Club members who are active and enrolled in Florida 4-H are automatically covered by club policy.
What is Covered?
This policy covers accidents that occur during club meetings. The policy does not cover independent practices or project work members engage in between club meetings. It also does not cover any damage to equipment or facilities…or things like broken eyeglasses.  Club meetings need to be part of the annual club program, and have adequate adult supervision. This chart is a great tool to ensure club meetings have the correct ratio of youth and screened adults.
What Parents Need to Know
Your child's safety is our number one priority. We are committed to making sure our faculty, staff, and volunteers are trained in youth protection and risk management. While accidents are not commonplace, when they do happen, we have accident insurance to help our 4-H families. Club policy coverage can be primary for families without personal insurance, but usually, it is treated as secondary and kicks in after the family's personal insurance to cover things like co-pays, deductibles, and other out of pocket expenses that may be incurred. To be covered by the club policy, members need to be enrolled in 4-H and have a participant form on file. Don't forget to make sure that your club enrollment in current in 4-H online, and that your participation form is up to date.  Parents or guardians need to read and complete this form annually and keep it up to date if there is a change in their child's medical history.
What Club Leaders Need to Know
In addition to club insurance, American Income Life also offers special event insurance. This type of insurance is recommended for special events like an end of the year party or a fundraiser where there will be lots of non-4-H members present. Event insurance is very affordable, and your local 4-H agent can help you determine if this type of insurance is needed, and handle the request. Our Pre-Event Planning Guide is a helpful tool for accessing the level of risk, and whether or not additional insurance is needed.
Check out this video about 4-H club insurance:
Latest posts by Heather Kent
(see all)