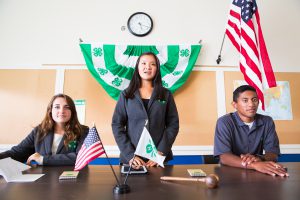 One of the things I love about 4-H is that it offers so many different opportunities for youth to learn leadership skills while pursuing and exploring their sparks. And leadership roles are not confined to the club level- there are opportunities for youth to serve at the district, state, and even national levels. Youth leaders are grown, not born. And just like any living thing, they must be nurtured over time in an intentional way to develop strong leadership skills. This article will describe what a strong youth leadership team looks like and provide some resources to help grow your team.  Over the years, I have had the privilege of working with some amazing youth leadership teams at all levels of the 4-H organization. But it was something that we had to cultivate over time- we didn't start out as a high-functioning team. A strong youth leadership team can be identified by the following five characteristics (download this graphic):
Clarity
Cohesiveness
Communication
Confidence
Collaboration
Clarifying the roles of each team member
It's essential that everyone in the group understands their role and that they have something valuable to contribute to the team. Youth are usually pretty quick to understand their role- often it involves planning an event or solving a community issue through service learning. But the roles of the adults are much vaguer. Some adults view the role as advisory the same way they would a dictator. They want to tell the youth what they should do when they should show up, and how to do everything. But as advisors, our role is to empower youth- make sure they understand their role, and that they are cohesive, or have ground rules for how the group will function.
Establishing a sense of cohesiveness
Once everyone is clear about their roles on the team, the group needs to establish ground rules, or group norms to create a sense of cohesiveness. If the adult mentor sees the group wandering away from the group norms, then it is their job to call the youth out on it and bring them back to a more cohesive state. Not too long ago, I was working with a group of teens to plan a retreat. We had a new member who was constantly putting down other youth's suggestions. The group got quiet except for the outspoken youth. It was my job to remind everyone that one of our group norms is that each person gets an opportunity to speak, and we don't put down others' ideas. Holding the group accountable for these group norms keeps the group cohesive and focused, which is essential for building the next characteristic, communication.
Communication
Leadership teams are a great place for youth to practice communication skills- particularly if they are nervous about speaking in front of large groups. Typically the youth leading the team is responsible for making sure everyone is recognized and heard. However, some youth might need encouragement to speak up- that's when the adult advisor can help!  It is also important to discuss how the team wants to communicate outside of meeting times- reminders about meetings, or any other issues that might come up in-between meetings.  As the advisor, make sure everyone comes to a consensus on how and how often the team wants to communicate within meetings (and outside of meetings). As youth become more comfortable with communicating, their confidence will grow.
Confidence
When the members of your youth leadership team are clear about their roles, are cohesive in their approach to leadership, and communicate well with each other, they will be empowered to lead. Teams that are empowered understand that every person on the team has something to contribute. As adults, it's often easier to just "do it ourselves," but instead we need to empower youth to take responsibility for a different part of the program the youth are leading. However, we do need to make sure they have the information and tools they need to be empowered. For example, if they want to do an activity they have little experience with, such as sewing dog toys for a pet shelter, connect them with people who have experience and expertise with that type of activity.
Collaboration
The ultimate characteristic of a strong leadership team is collaboration. It is the combined effect of the other four characteristics working together in unison. The collaboration stage is also when youth become role models- not only for other youth but for adults as well. And that is when organizations begin to grow. People will be curious about why and how your youth are working so well together.
Additional Resources:
The UF IFAS publications listed below are free downloads that include hands-on, experiential activities you can do with your youth to help build a strong leadership team:
The best-selling book 7 Habits of Highly Effective Teens written by Stephen Covey is a must-read for any 4-H faculty, staff, or volunteer working with teen leaders.
Covey, S. (1998). The 7 habits of highly effective teens: the ultimate teenage success guide. New York Simon & Schuster.
Latest posts by Heather Kent
(see all)