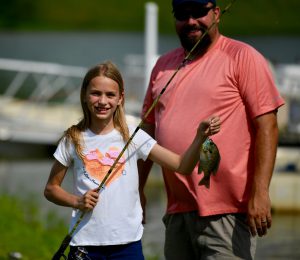 If you need a good reason to go fishing, we've got you!  Today is National Take a Kid Fishing Day, and we can't think of a better reason to promote our 4-H fishing project. Our 4-H fishing project connects youth to the great outdoors and is an opportunity for youth to learn about:
Important angling skills, like casting and retrieving your line.
Different types of tackle and how they are used to catch fish.
How to take proper care of your rod and reel.
Cleaning and cooking your fish.
Ecology of aquatic and marine environments.
How to identify the different types of sportfish and how to catch them.
What it means to be a responsible angler.
Youth also learn about careers related to fisheries and wildlife, and their importance to the Florida economy. Florida is often called the fishing capitol of the world because the state holds more record fish catches than any other state or country! Fishing is important for many different reasons. Recreational fishing is a major economical driver in the state of Florida.  The sunshine state has approximately 4 million anglers that contribute $13.8 billion to Florida's economy supporting over 120,000 local jobs.
If you have a passion for fishing and the environment, please consider sharing your skills and knowledge with youth. 4-H can customize volunteer roles to fit your interest and
schedule so you can inspire the next generation of anglers. Contact your local UF IFAS Extension office to discuss how you can contribute to "making the best better" in your community.
If your child or grandchild is interested in participating in our fishing program, check out our Sports Fishing Project page, or reach out to your local 4-H agent. The University of Florida school of Forestry, Fisheries, and Geomatic Sciences sponsors a program called "Fishing for Success."  This program includes several family fishing days where they provide everything you need to fish and have fun!