On Tuesday August 4, 2015, twelve Innovative Farmers and Ranchers were recognized by University of Florida IFAS Extension and Farm Credit of Northwest Florida at the Jefferson County Opera House, in Monticello.  This is the fifth year these two organizations have teamed up to honor a selection of the most innovative farmers from the Florida Panhandle.
The purpose of the Agriculture Innovator Recognition Program is to annually recognize innovative farmers and ranchers from 16 Florida Panhandle counties, from Jefferson west to Escambia County.  In 2015, County Agriculture Extension Agents selected 12 Agricultural Innovators to be recognized.
All of the county honorees have distinguished themselves as creative thinkers and leaders in the agricultural community.  Gary and Susan Holley, from Baker, Florida were honored as Agricultural Innovators in Okaloosa County.  The Holleys were nominated by Jennifer Bearden, Okaloosa County Extension Agent.  Read the story of Beaver Creek Farms below.  The Agricultural Innovators from other counties will be featured on the Panhandle Ag e-News over the coming weeks.
Gary & Susan Holley

Okaloosa County Agricultural Innovators
Submitted by: Jennifer Bearden, Okaloosa County Extension
Beaver Creek Farms is owned and operated by Gary and Susan Holley. Gary grew up on a family farm and is still farming much of the same land that his parents farmed before him. Showing cattle as a youth, Gary caught the agriculture bug early. Jokingly, Gary says that he began farming in 1996 when he first went into debt to farm. For Gary and Susan, agriculture is just a way of life. But they aren't content to "just do it the way Daddy did it." They both work in the field of agriculture and see firsthand how innovation improves productivity. In 2000, they signed their first contract with USDA-NRCS under the Environmental Quality Incentives Program (EQIP). This contract focused on strip till, nutrient management, pest management, upland wildlife management and cover crops. Since then, they have continued to adopt new practices.
The Holleys have a small herd of cattle. They keep about 40 cows and a herd bull. They grow corn, wheat and oats as well as hay for the cattle. They also grow cotton and soybeans. Susan began growing vegetables to sell at the Farmers' Market and a produce stand in front of their home. Farming is a family affair with their boys and Gary's parents. Gary's dad, Mr. Hughdon, grafts all of their fruit trees. They grow a variety of fruits to sell at the markets with their vegetables (squash, tomatoes, peppers, onions, potatoes, cucumbers and melons). Their newest innovation and claim to "countywide" fame is the first high tunnel house in Okaloosa County. This season is their first season in the protected structure. Susan is experimenting with varieties to find just the right tomatoes, cucumbers and squash to grow in the tunnel.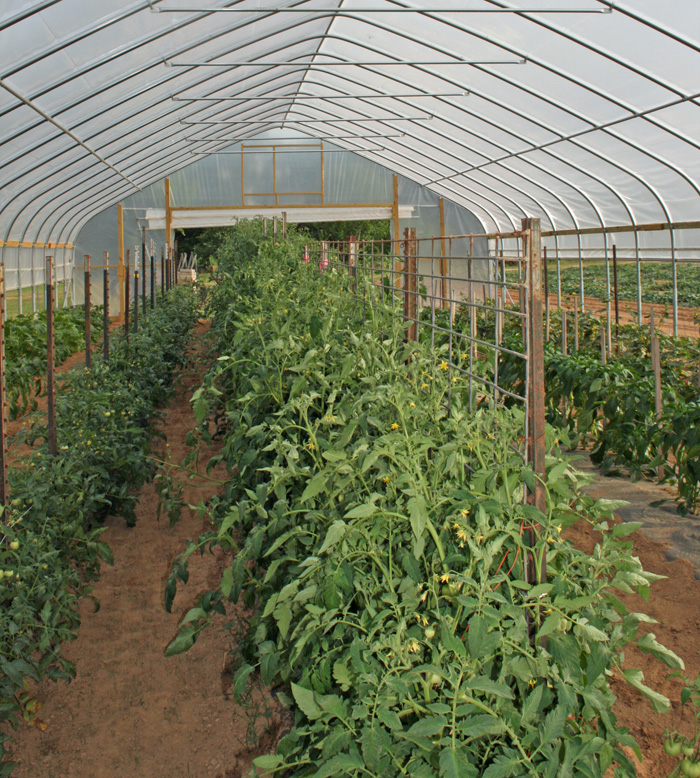 The Holleys are also switching to a sod-based rotation this year. Cropland that has been growing row crops of corn, soybeans and cotton will now grow bahiagrass and clovers for cattle to graze. The Holleys are dedicated to adopting practices that conserve the soil and the natural resources surrounding their land.  This dedication shines through everything they do.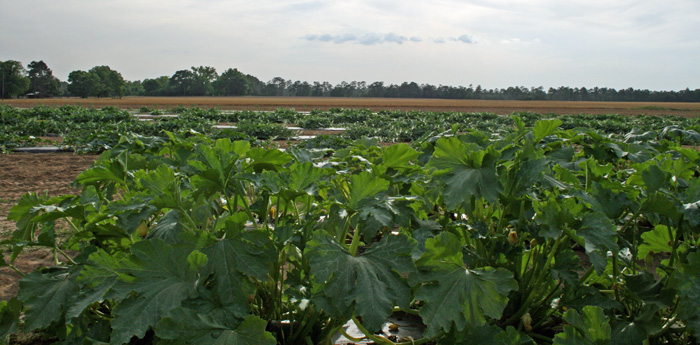 Improving Agriculture through Extension Involvement
The Holleys work closely with Extension in Okaloosa County. Susan serves on our Overall Advisory Committee. They are always willing to help with agriculture and 4-H program needs. Susan teaches a station at our 4-H Ag-ventures. They hosted a farm tour where we talked about FDACS Best Management Practices. They participate in and help plan and implement educational programs. They truly see the benefit of Extension to agriculture in the community.  Susan also has gone before the county commissioners at the request of the Extension office to speak about the Farmers' Markets in our county.
Impacting Agriculture in Northwest Florida
Both Gary and Susan work in the field of agriculture.  Gary has worked for 27 years with the FDACS Florida Forest Service. Susan has worked for 13 years for the Yellow River Soil and Water Conservation District. Gary has also served on the Yellow River Soil and Water Conservation District board in the past.  Susan is a very active member (and vice-chair) of Okaloosa County Farm Bureau's Women's Committee. They are always willing to step up and educate our kids and adults about agriculture in our area. They both do this at field days and festivals each year. They are wonderful spokespersons for agriculture in our county and we are lucky to have farmers like them. The Holleys work hard for agriculture every day!
You might also be interested in the stories of other Agricultural Innovators highlighted in previous weeks:
Latest posts by Jennifer Bearden
(see all)