Russ Mizell, Gary Knox and Holly Ober
Faculty at the University of Florida's North Florida Research and Education Center have developed a new website giving recommendations on plant species that provide a range of regulatory ecosystems services for each season of the year.  This website will help you select and use plants species that are suitable for services such as pollination, biological control of pests and other benefits. Ecosystem Services are processes that take place in the natural world that benefit mankind. These functions are provided from interactions between the ecological components of natural resources. These services contribute to the stability, productivity, and sustainability of our environment.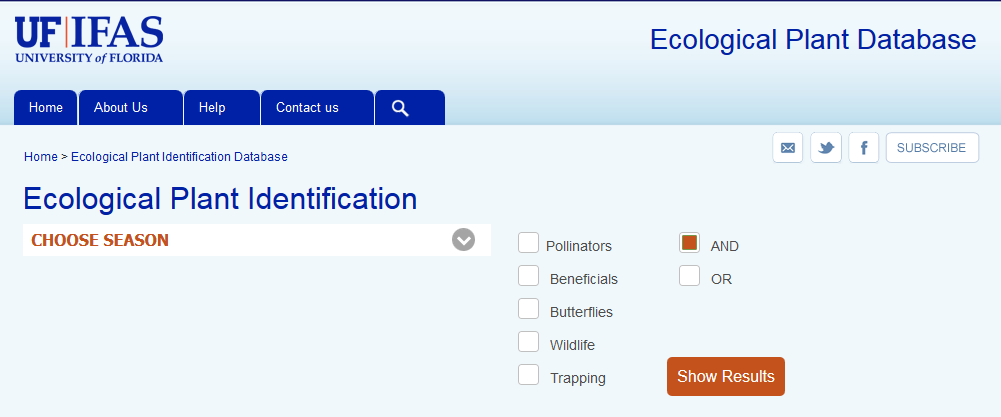 The Ecological Plant Database (http://nfrec.ifas.ufl.edu/ecological-plant-database/) is being developed in cooperation with UF-IFAS Media Services and is a work in progress. Currently, the plants recommended are best suited to the approximate area from Gainesville, Florida to Tifton, Georgia, but many have wider application. We wish to expand the database to other areas north and south. For full details of the project, download the summary from the the Southern Nursery Association Conference proceedings:  Recommended Plant Species for Augmentation of Ecosystem Services

A secondary reason for this second website referral is to make you aware of this resource which is the proceedings of the annual Southern Nurseryman Association Research Conference. You will find a number of papers concerning current production issues and research (also volumes from prior years) surrounding woody landscape plants from most disciplines. It is an excellent resource that may be of use to you. Please check out the websites and note that we are soliciting feedback via a response email function on the ecosystem services website.
Latest posts by Russ Mizell
(see all)