Jackson County Extension hosted the 2016 Panhandle Row Crop Short Course on Thursday, March 3, 2016.  Extension Specialists from Florida, Georgia, and Alabama came to relay new and pertinent information concerning crops to farmers. Attendees were able to attain CEUs for their restricted use pesticide license as well as for Certified Crop Consultants. A total of 115 people attended this year's event, drawn from nine Florida counties, four Georgia counties, and three Alabama counties. The event featured eight presentations and a trade show with 23 companies and organizations that provide products and services to the industry.
The focus of the Short Course this year was primarily on peanut and cotton production, but did overlap regarding pest management and the market outlook for other crops. The speakers provided information regarding variety selection, peanut maturity, pest management, the market outlook, efficient cotton production and pesticide safety. Many of the people who attended asked about copies of the presentations. The following recap provides a short summary of what was discussed, as well as direct links to download PDF (printable) versions of the presentations given at the event.
Peanut Variety Selection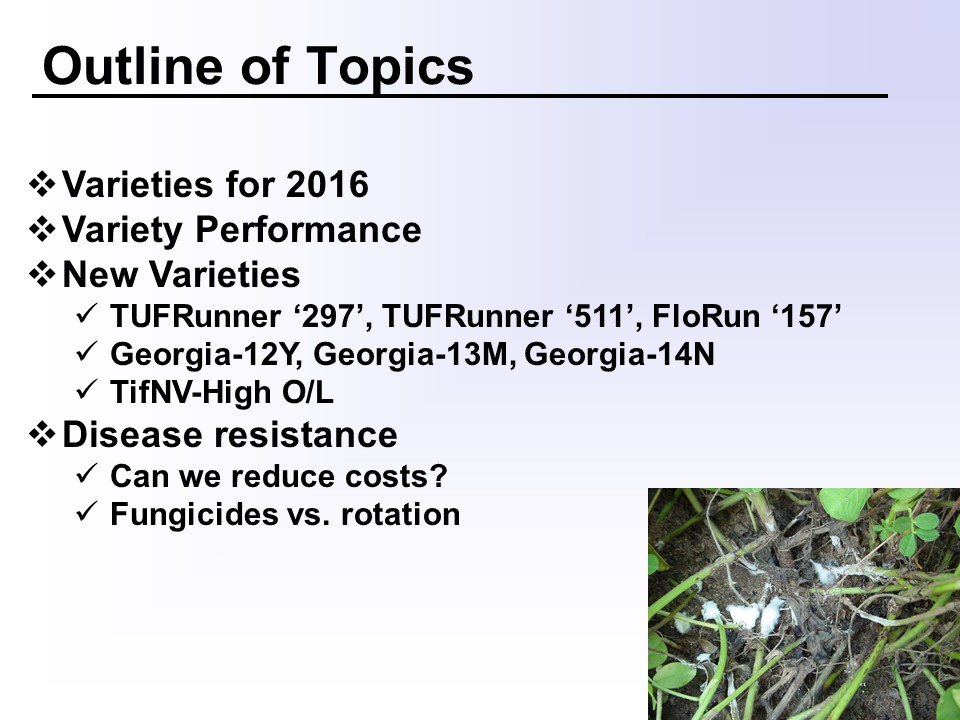 Dr. Barry Tillman, UF/IFAS Peanut Breeder provided variety data from several states (Florida, Georgia, Alabama, Mississippi, and South Carolina) demonstrating performance patterns. Varieties were also evaluated for disease resistance/susceptibility to Tomato Spotted Wilt Virus, Leaf Spot, and White Mold.
Impacts of Peanut Maturity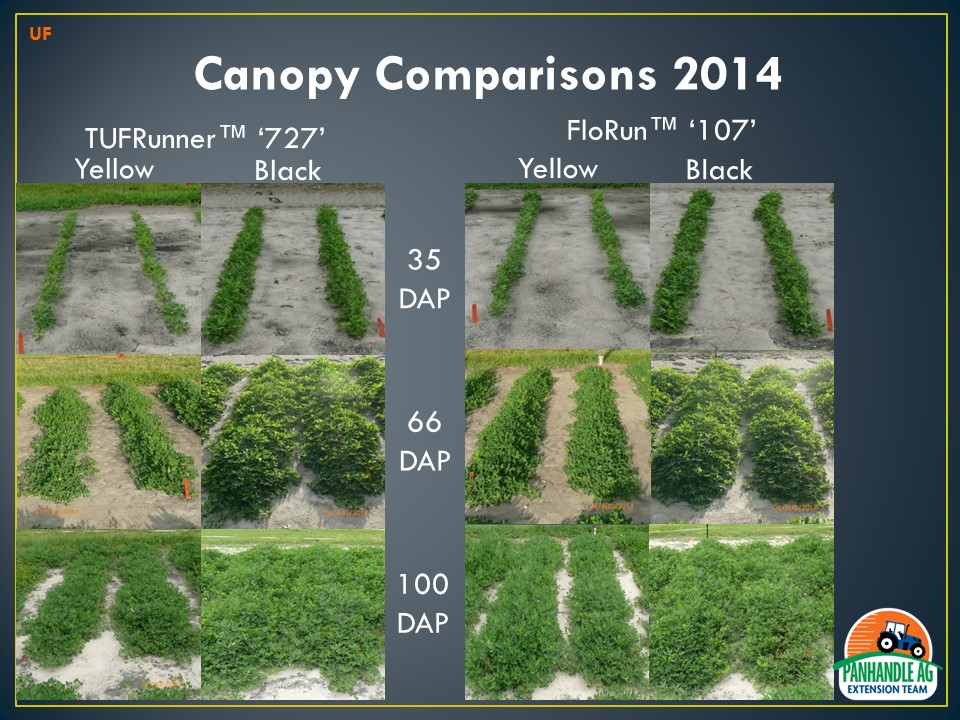 Ethan Carter, Regional Crop IPM Agent shared how the indeterminate growth habit of peanut makes it difficult to harvest at an optimal time with ideal maturity. Harvest optimization or lack thereof can effect both the growers economic return (yield and grade) and subsequent crops in the year ahead.
Crop Weed Control Update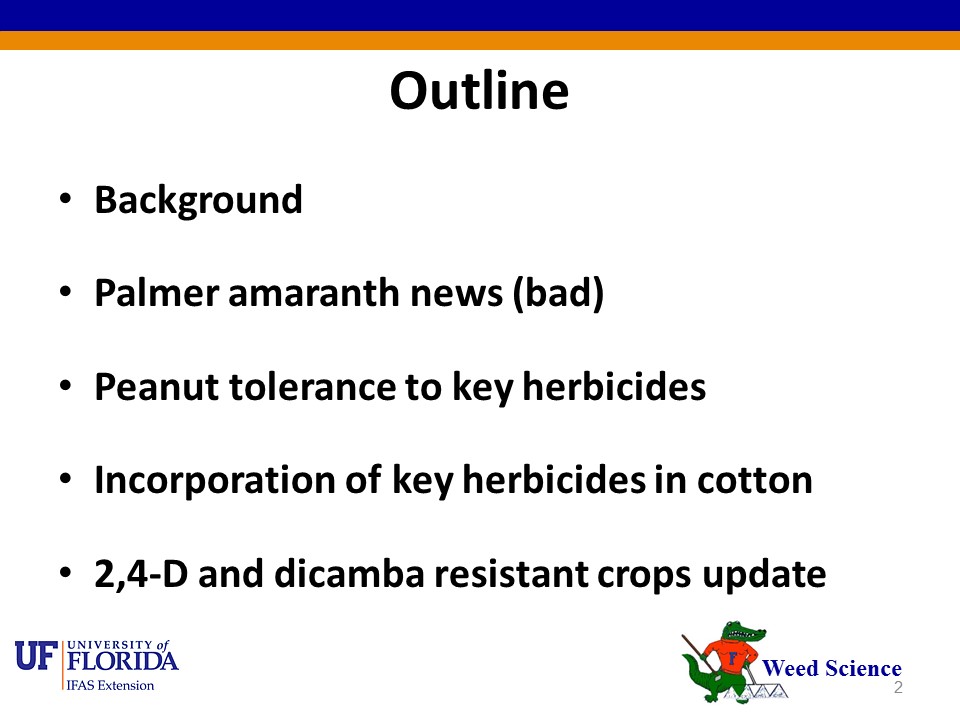 Dr. Ramon Leon, UF/IFAS Weed Specialist discussed the progression of glyphosate resistant weed populations in Florida. He also provide an update regarding the much anticipated release of the 2-4,D and Dicamba resistant crops.
Crop Disease Management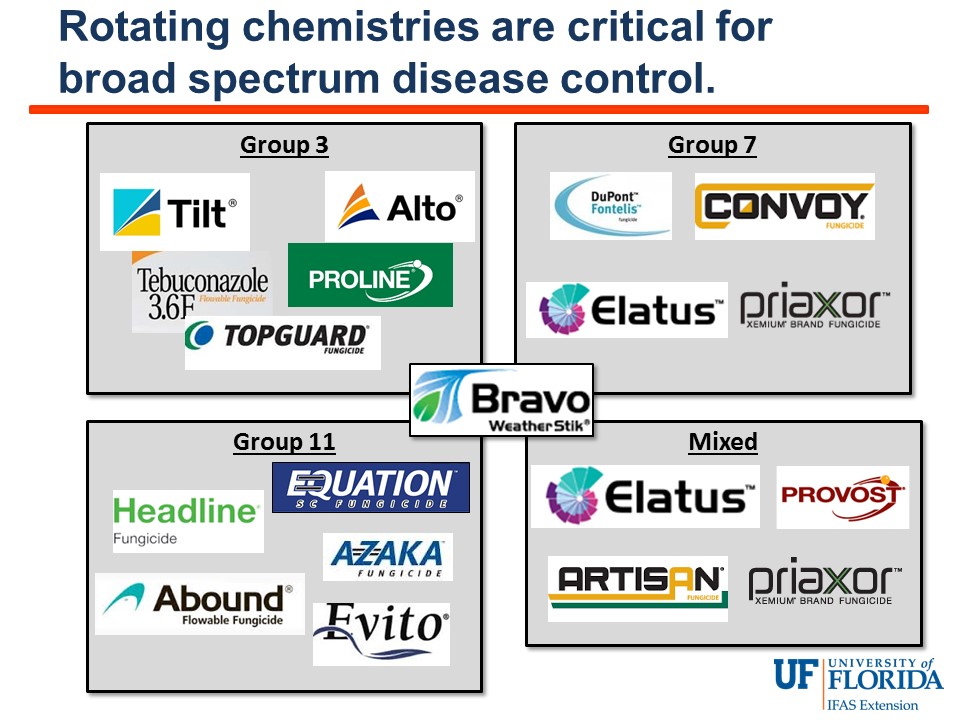 Dr. Nick Dufault, UF/IFAS Crop Pathologist shared information from fungicide trials showing which fungicides had the best results when used to control various pathogens. The rotation of multiple chemistries is important for both broad spectrum control and resistance management. Variety selection can be key to lowering costs associated with fungicides.
Crop Market Outlook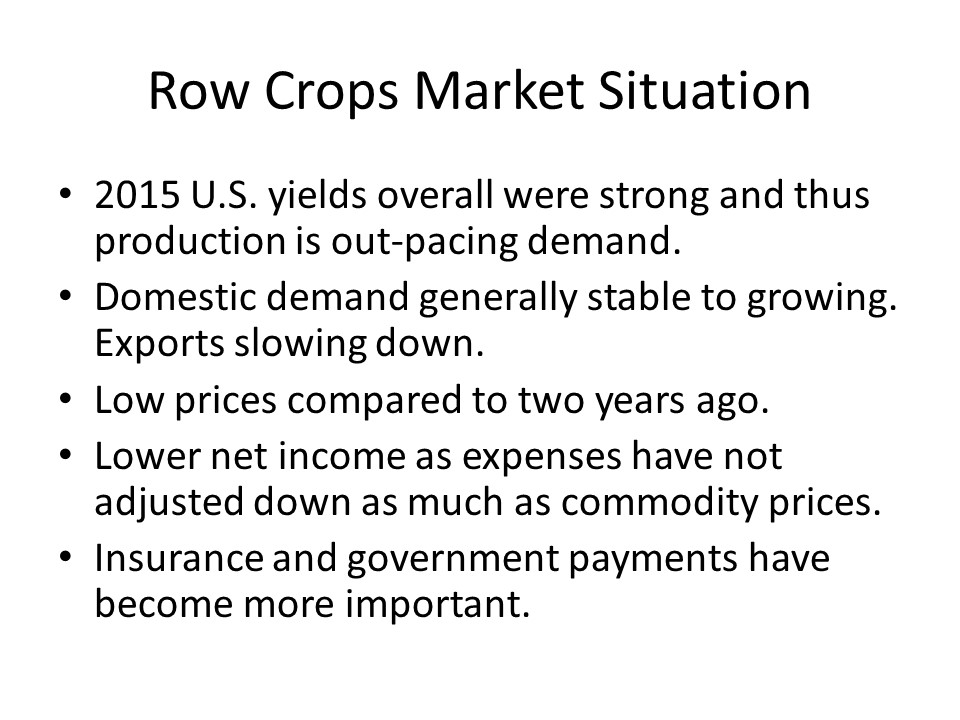 Amanda Smith, UGA Economist provided a detailed analysis of the market outlook. She covered several commodities, inputs, and the use of the UGA Crop Comparison Tool to aid in planting decisions for 2016. Understanding what factors drive the market and the projected revenues/costs associated with growing different crops will allow producers to make informed decisions this year.
Efficient Cotton Production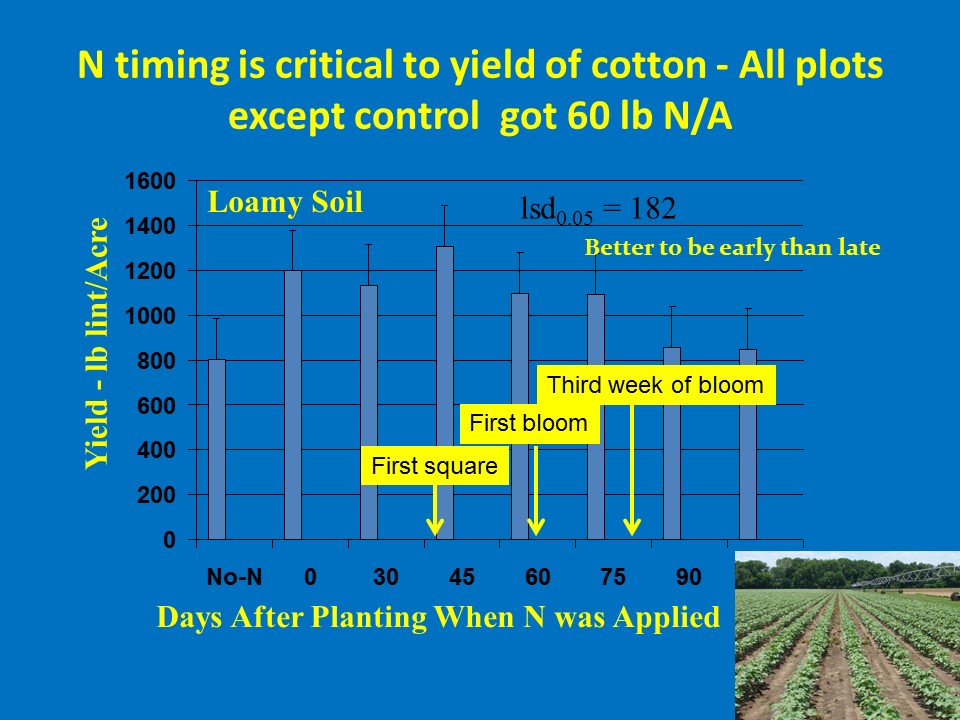 Dr. David Wright, UF/IFAS Extension Agronomist shared several management techniques that could be used to reduce production costs or to increase income from cotton. Cotton still can play a key role in crop rotation with peanuts.
Row Crop Insect Management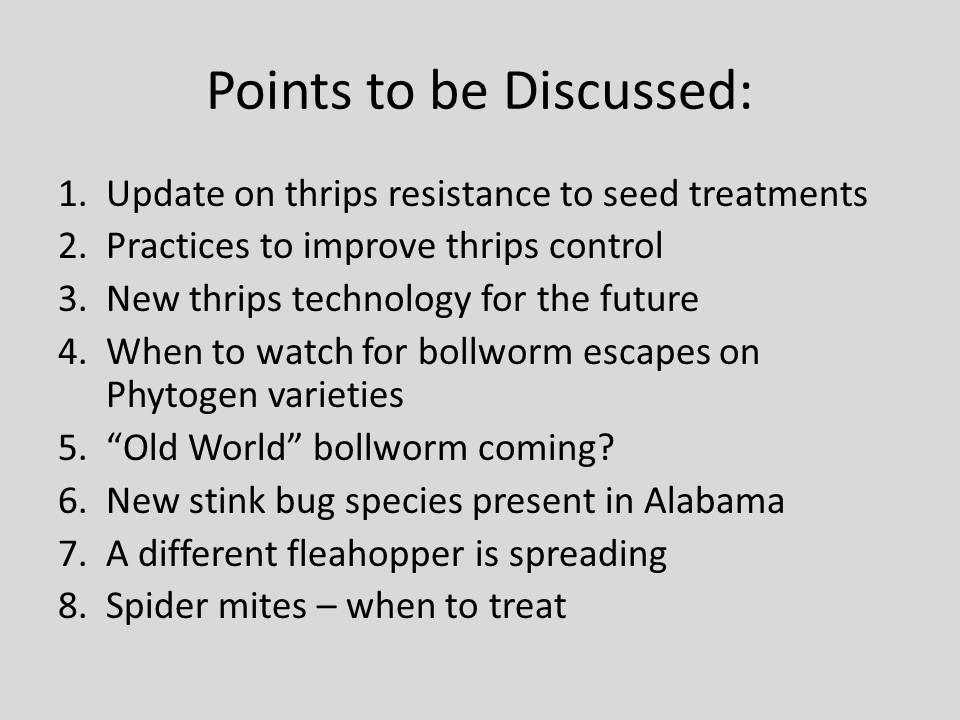 Dr. Ron Smith, Auburn Crop Entomologist outlined several crop pests that damage cotton, grain sorghum, soybean, and peanut. Proper pest identification and pesticide application timing were key areas highlighted in his presentation.
Pesticide Safety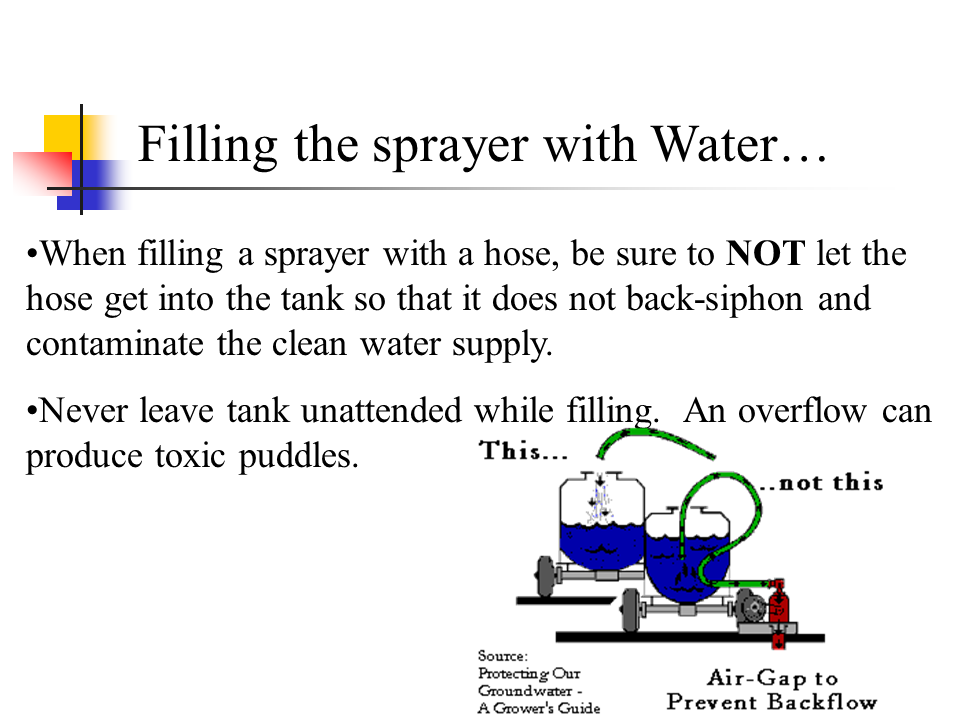 Shep Eubanks, Gadsden County Extension Director, discussed the importance of pesticide safety. Individuals who apply pesticides must always be aware of the hazards associated with them, for themselves, other people, and the environment.
Sponsors and Trade Show Exhibitors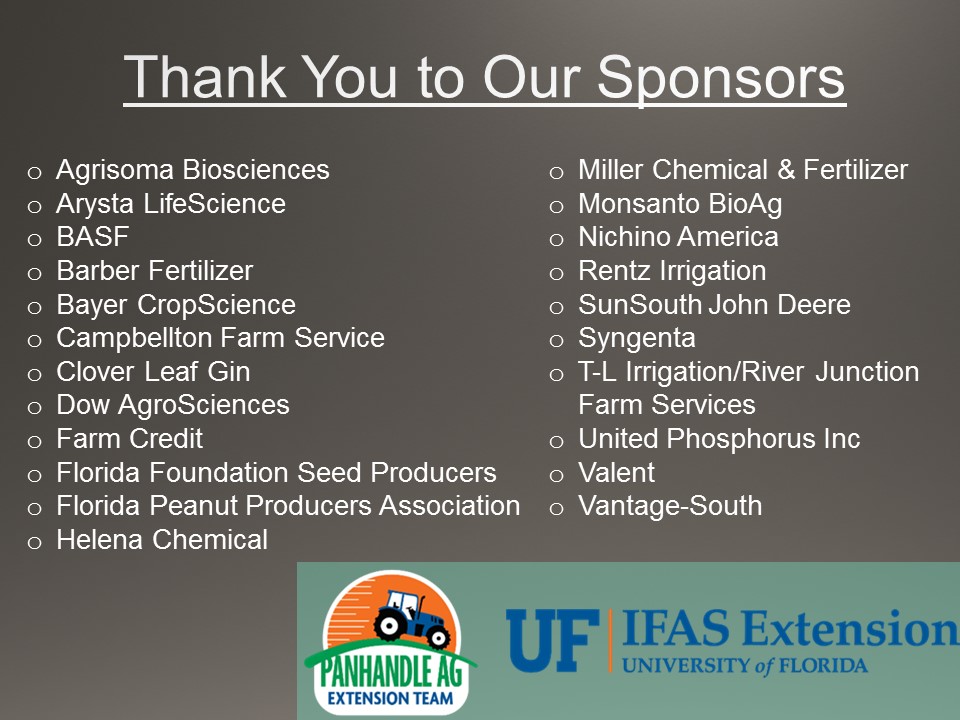 In addition to the presentations, representatives from 22 companies and organizations that support crop farmers also took part in the event and were able to share information about products and services available to area farmers.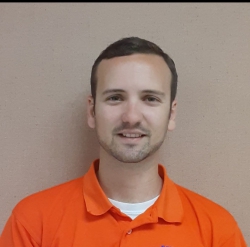 Latest posts by Ethan Carter
(see all)