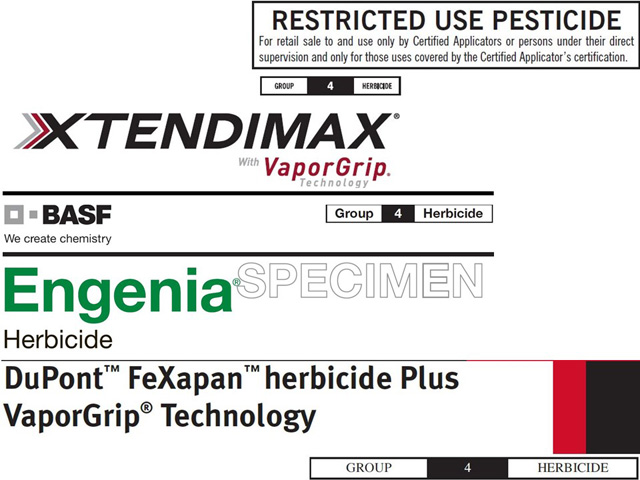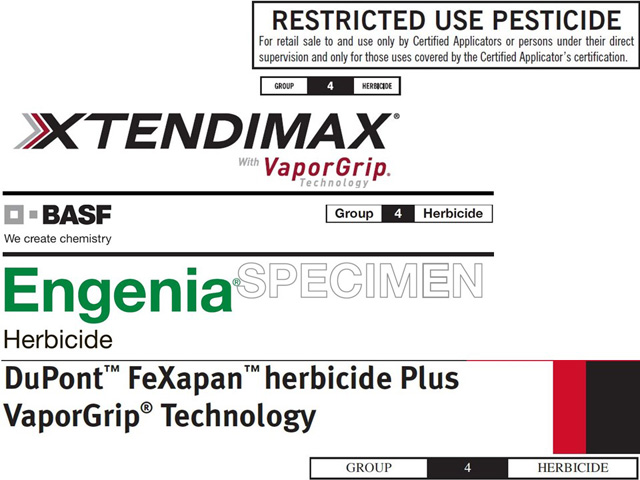 Last year, the Environmental Protection Agency (EPA) registered new dicamba herbicide product formulations for making applications to dicamba tolerant cotton and soybean crops. As a result, many states were overwhelmed with drift complaints regarding sensitive crops. This led to the 2018 EPA announcement requiring that anyone who wishes to apply dicamba to dicamba tolerant crops MUST participate in an auxin herbicide training before making applications in 2018.
[warning]This training is required of anyone applying newer dicamba products registered for use on dicamba tolerant cotton and soybeans.[/warning]
Product examples include XtendiMax, Engenia, and FeXapan. Applicators using older dicamba formulations in other crops (corn, forages, small grains, sorghum, and turf) can still apply dicamba products without having this training but thoseproducts CANNOT be used on the dicamba tolerant crops. If you have questions regarding the use of these products or if you need the training, call your local Extension Office before making any applications.
On March 16, Extension Offices from across the state hosted an online two-hour dicamba training, which was broadcasted live from Gainesville. This training was overseen by the Florida Department of Agriculture and Consumer Services (FDACS), who determined that the CEU form received from completion of this training would serve as the official documentation of attendance. If applicators desire to use the form for CEUs towards renewal of their pesticide license, they are required to keep an additional copy in their possession as proof of completing the dicamba training.
The training was recorded live and made available to all participating Extension Offices (see below). If you plan to make dicamba applications to dicamba tolerant cotton or soybean, you MUST complete this training before making any applications. The training is not required before planting dicamba genetics, but without the training dicamba cannot be sprayed on the crop. If you plan to spray the crop with dicamba, or want the weed control option later in the season, the training is mandatory.
[important]The recorded training has been made available to all participating Extension Offices. Applicators are required to watch it at the Extension Office, where it can be proctored by an agent who is a certified CEU provider and can issue/sign the CEU form. There are no exceptions, you must watch the training at an Extension Office. In the Panhandle, participating Extension Offices with access to the training include: Calhoun, Escambia, Gadsden, Holmes, Jefferson, Okaloosa, Santa Rosa, Walton, and Washington Counties. Contact information for the different offices can be found using the following link: Florida County Extension Offices.[/important]
Ethan Carter is the Regional Row Crop IPM Agent based in Jackson County. He earned his BS in Food and Resource Economics, and his MS in Agronomy, both from the University of Florida.
Latest posts by Ethan Carter (see all)