The 2017-2018 winter (1 October 2017 – 1 April 2018) was tough for beekeepers.  According to data collected by The Bee Informed Partnership and reported in Honey Bee Colony Losses 2017-2018: Preliminary Results, "an estimated 30.7% of managed colonies in the United States were lost (Fig. 1). This represents an increase of 9.5 percentage points over that of the previous year, and an increase of 2.8 percentage points over that of the 10-year average total winter colony loss rate of 27.9%."
This is the Bee Informed Partnership's twelfth annual survey gauging managed honeybee colony losses in the United States.  The mission of the Bee Informed Partnership, as stated on their website, is to work "with beekeepers to better understand which management practices work best." The partnership gathers "survey data from thousands of beekeepers every season to understand how different management practices affect honey bee health…"  Their project "is built on a coalition of researchers, advisors, and stakeholders from various industries that rely on honey bees for pollination."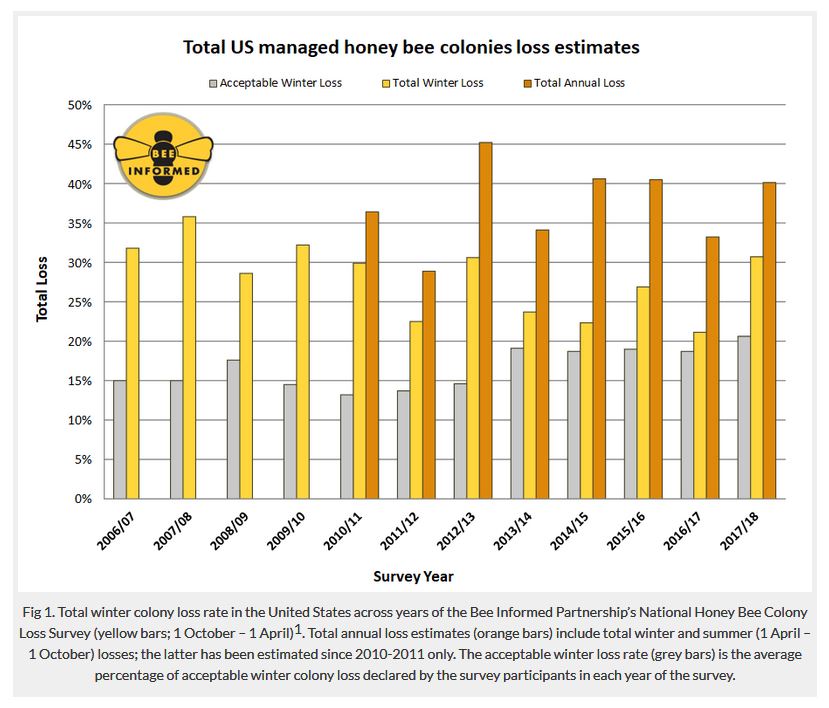 Below is a summary of the data reported in Honey Bee Colony Losses 2017-2018: (Bee Informed Partnership Note: This is a preliminary analysis. Sample sizes and estimates are likely to change. A more detailed final report is being prepared for publication in a peer-reviewed journal at a later date.)
4,794 beekeepers collectively managing 175,923 colonies in October 2017 provided validated survey responses. This represents 6.6% of the estimated 2.67 million managed honey-producing colonies in the nation (USDA, 2018).

During 1 October 2017 – 1 April 2018, an estimated 30.7% of managed colonies in the United States were lost (Fig. 1). This represents an increase of 9.5 percentage points over that of the previous year, and an increase of 2.8 percentage points over that of the 10-year average total winter colony loss rate of 27.9%.

Similar to previous years, backyard beekeepers lost more colonies in winter (46.3%) compared to those lost by sideline (38.0%) and commercial (26.4%) beekeepers. Backyard, sideline, and commercial beekeepers are defined as those managing 50 or fewer colonies, 51 – 500 colonies, and 501 or more colonies, respectively.

Interestingly, the self-reported 'level of acceptable winter colony loss' increased from 18.7% last year to 20.6% this year. Sixty-nine percent of responding beekeepers lost more of their colonies than deemed to be acceptable.

During 1 April 2017– 1 October 2017, an estimated 17.1% of managed colonies were lost in the U.S. This level is on par with summer colony loss estimates of 18.2% that were reported the previous year, and lower than the 20.9% average experienced by beekeepers since 2010-2011, when summer losses were first recorded by the Bee Informed Partnership.

For the entire survey period (1 April 2017 – 1 April 2018), beekeepers in the U.S. lost an estimated 40.1% of their managed honey bee colonies. This is 2.7 percentage points greater than the average annual rate of loss experienced by beekeepers since 2010-2011.
Beekeepers face many challenges ranging from pests and diseases to environmental threats against which they must constantly manage to keep from losing their hives.  Currently three of the greatest challenges are queen health, hive nutrition, and the tiny varroa mite (Varroa destructor), a devastating bee parasite.  Just as in managing any livestock commodity, beekeepers must manage their bee colonies based on ever changing environmental, biological, and economic variables.  The good news is that the importance of pollinating insects to our food supply is receiving greater attention on a national scale, resulting in increased recognition and research into factors causing bee colony declines.
For more information, please see the following resources:
Latest posts by Judy Biss
(see all)