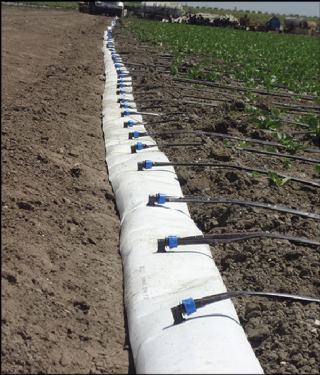 This week's featured video was produced by Netafim to introduce their FlexNet™ drip irrigation system.  Unlike traditional layflat tubing systems that must be pierced for drip-line tubing attachment, their FlextNet plastic tubing has built in connectors to prevent leaks at the hose source. These connectors can be customized to match a farmers specific row spacing from 12-40″.  This innovative irrigation system could be useful for irrigation of vegetables, cucurbits, or other crops with drip irrigation in the row beds.
According to the FlexNet™ website, this system offers the following advantages over traditional layflat systems:
Quick Assembly
Integral welded connectors ensure a secure, leak-proof connection between distribution pipes and laterals (with no teflon or glue required when using Netafim fittings)
Agro-Machinery Friendly
When not pressurized, it's so durable it can be stepped on or driven over
Low Expansion Rate
Pipe lays flat, has zero axial elongation and will not tangle or bend
FlexNet is simple, flexible and light-weight for maximum portability and quicker movement from field to field. It can be used in surface or subsurface applications and requires no specialized tools for installation.
*******************************************************************************
If you enjoyed this video, you might want to check out the featured videos from previous weeks:  Friday Features

If you come across an interesting or humorous video, or a new product innovation related to agriculture, please send in a link, so we can share it with our readers. Send video links to:  Doug Mayo
Latest posts by Doug Mayo
(see all)