This year's UF/IFAS Florida Pecan Field Day took place on Thursday, September 13, 2018 at the Jefferson County Extension Office in Monticello, Florida. Extension specialists from Florida and Georgia provided growers from across the state with information about current pecan production practices and management tips. Pesticide continuing education units (CEUs) were provided for Florida and Georgia pesticide applicators, as well as for Certified Crop Advisors. Simpson Nurseries of Monticello sponsored a barbecue lunch for the attendees.
The focus of the Pecan Field Day was primarily on production practices. Speaker topics included Best Management Practices (BMPs) and cost-share opportunities for growers, weed management, fertility, pecan scab management, insect pest management and information regarding new pecan varieties. The following provides a short summary of topics discussed by each speaker, followed by links to download PDF (printable) versions of the presentations given at the Pecan Field Day.
BMAPs, BMPs and Cost-Share Opportunities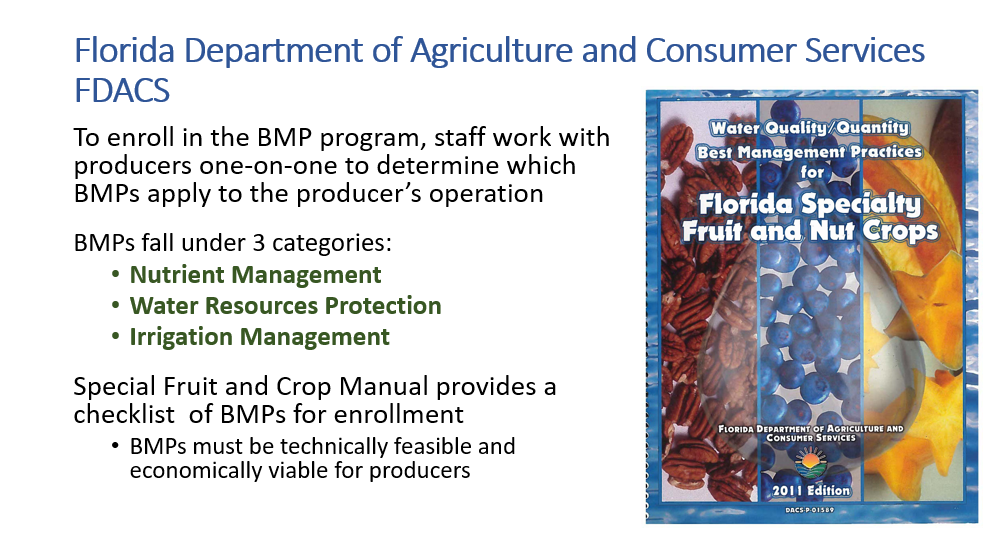 Dr. Andrea Albertin, UF/IFAS Water Resources Agent provided information on the implications of the 2016 Florida Water Bill. According to this bill, farmers in a Basin Management Action Plan (BMAP) can choose to either: (1) enroll in the Florida Department of Agriculture and Consumer Sciences (FDACS) (BMP) program and implement BMPs or (2) monitor water quality on their farm. Currently, in the Florida Panhandle there are several BMAP areas: Wakulla Springs, Wacissa Springs, Jackson Blue Springs and the Suwannee River Basin. There is financial assistance available from FDACS, NRCS, water management districts, and the Mobile Irrigation Lab for farmers enrolled in the BMP program.
Herbicides for Pecan Orchards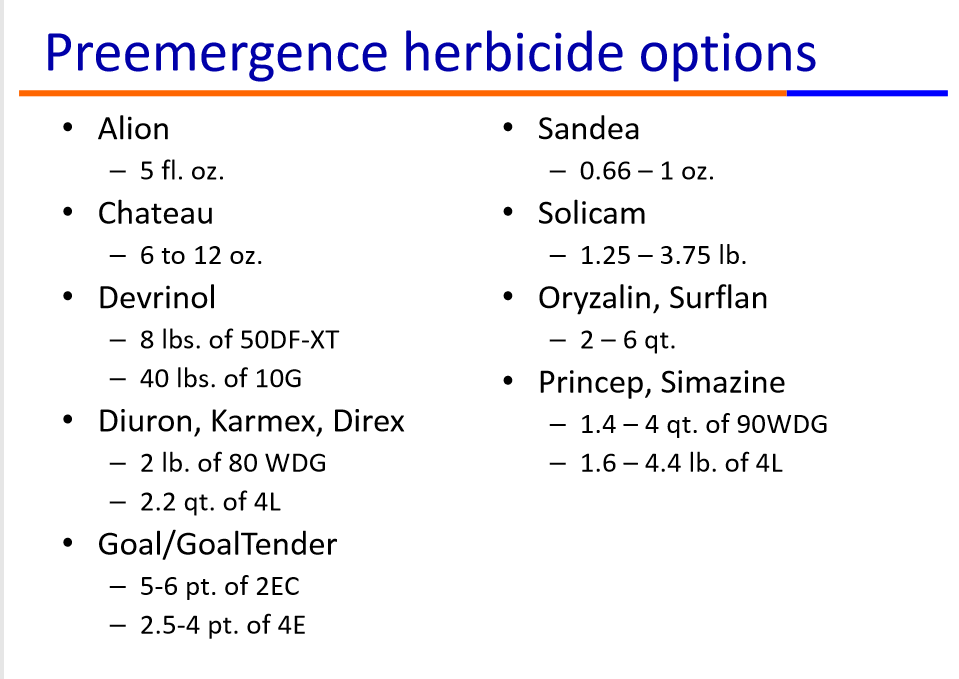 Dr. Peter Dittmar, UF/IFAS Weed Specialist shared information on the current herbicides labeled for use in Florida pecan production. It's important to know which weed you are targeting and selecting the proper herbicide for its control. He also discussed the benefits of using a pre-emergent herbicide to reduce the use of post-emergent herbicides and to decrease the likelihood of building herbicide resistant weed populations.
Pecan Fertilization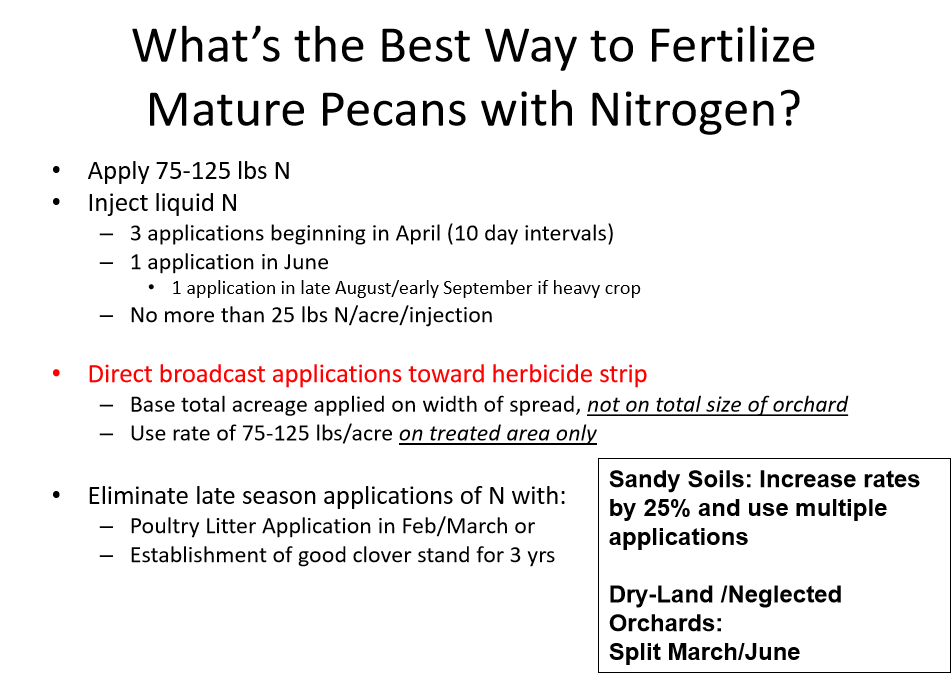 Dr. Lenny Wells, UGA Pecan Specialist discussed the importance of proper fertilization for young and mature pecan trees. Leaf sampling between July 7th and August 7th are the most effective means of determining nutrient requirements, and soil sampling should be done in the fall/winter to determine pH and toxicities.
Pecan Scab Management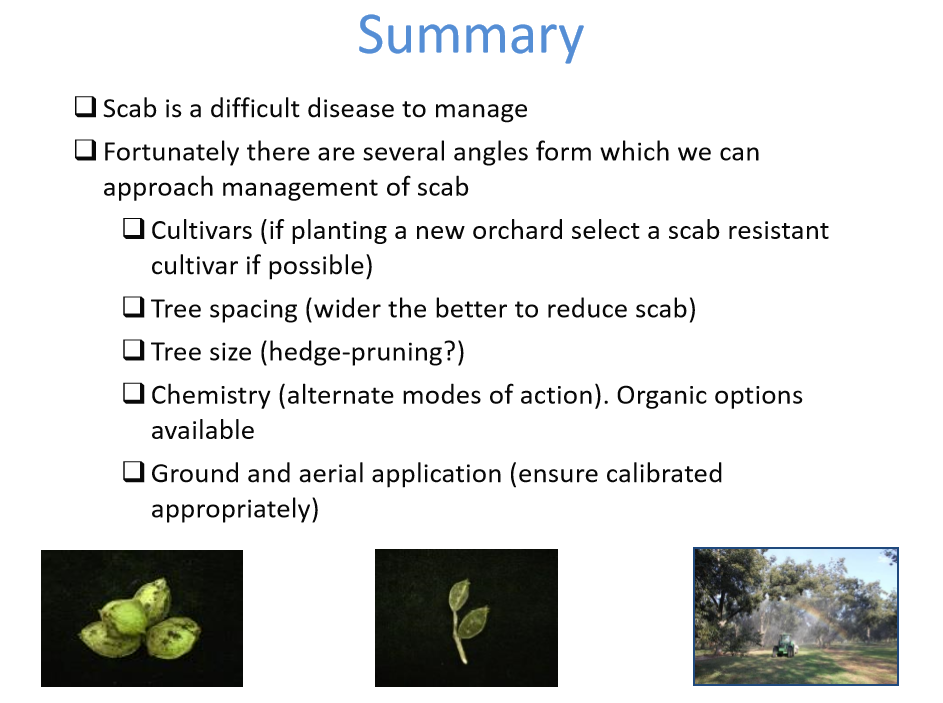 Dr. Clive Bock, USDA-ARS-SEFTNRL Plant Pathologist spoke on the proper fungicide spray distribution and coverage for effectively managing pecan scab. He stressed the importance of rotating fungicide modes of action as resistance is an issue. Phosphite fungicides are effective for controlling pecan scab on the fruit and the foliage. There are organic options available for managing pecan scab.
Management of Common and Occasional Pests of Pecan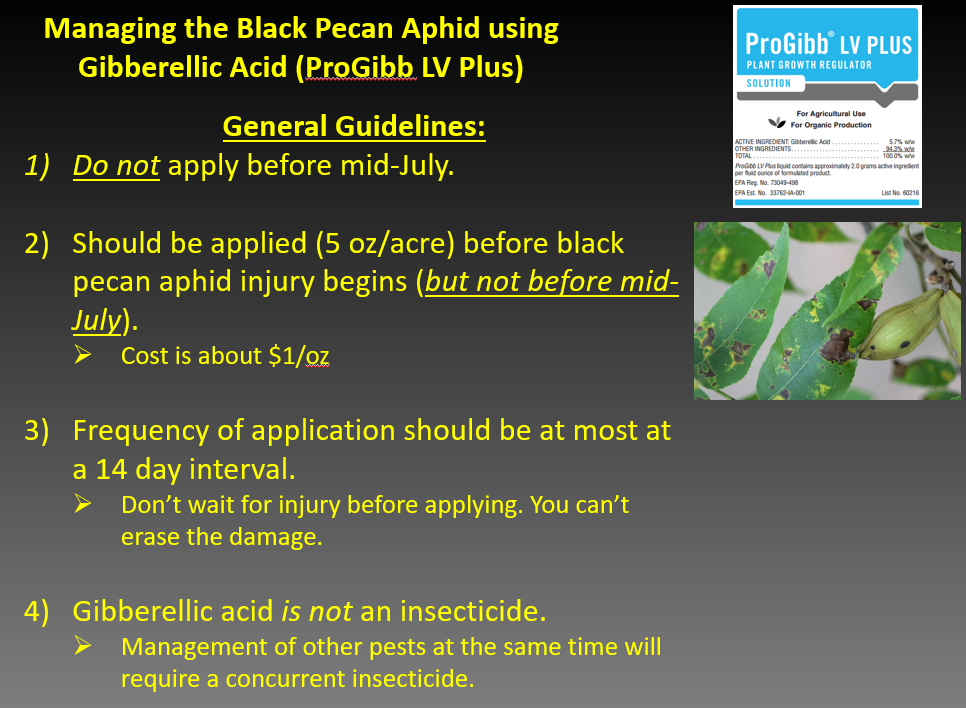 Dr. Ted Cottrell, USDA-ARS-SEFTNRL Entomologist discussed managing the black peach aphid using gibberellic acid, a plant growth regulator. He also talked about mating disruption as a possible control for the pecan nut casebearer and the hickory shuckworm. Mating disruption prevents the male insect from finding the female, thus the mating process is disrupted. There are several types of scale insects that occur on pecan, and timing insecticide applications to the crawler stage are effective.
New Pecan Variety Releases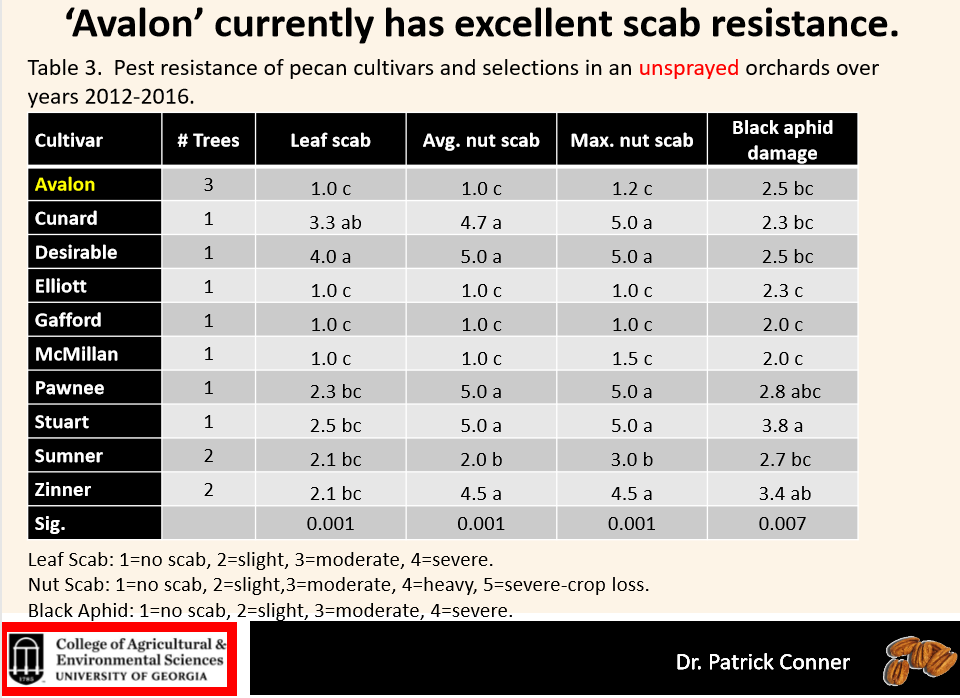 Dr. Patrick Conner, UGA Pecan breeder provided variety data from trials in Georgia demonstrating trends in pecan performance. The pest resistance, yield, nut quality and tree attributes for several varieties were discussed. He also discussed tree availability for different varieties.
Sponsors
Florida Pecan Growers Association
Following the Pecan Field Day, the Florida Pecan Growers Association met for their annual meeting. The Florida Pecan Growers Association is looking to grow their organization and connect with pecan producers across the state. If you are a current or prospective pecan grower in Florida and are interested in becoming a member of the Florida Pecan Growers Association, please contact me. The Florida Pecan Growers Association will hold their next meeting at 9:30 EDT on March 1, 2019 at the Jefferson County Extension Office (2729 W. Washington Hwy. Monticello, FL 32344).
For more information on pecan production or about upcoming educational events, contact your local extension office.
Latest posts by Danielle Sprague
(see all)