On Wednesday, May 22, 2019, representatives from UF/IFAS Extension, Florida Farm Bureau, and the Small Business development Center (SBDC) provided information to farmers on two disaster recovery programs initiated by the Governor and the Florida Legislature.  Specifically, the programs included the Disaster Bridge Loan Program, which offers farmers up to $200,000 for up to two years without interest, and the Sales Tax Refund Program, which offers a rebate of sales tax paid for construction or fencing supplies purchased from October 11-June 30, 2019.  The following video is a recording of the one-hour meeting that provided an overview of the two programs, as well as the question and answer session with farmers that participated at the live session.
Links to key information for the Farm Disaster Bridge Loans:
application form  

Deadline extended until July 12
–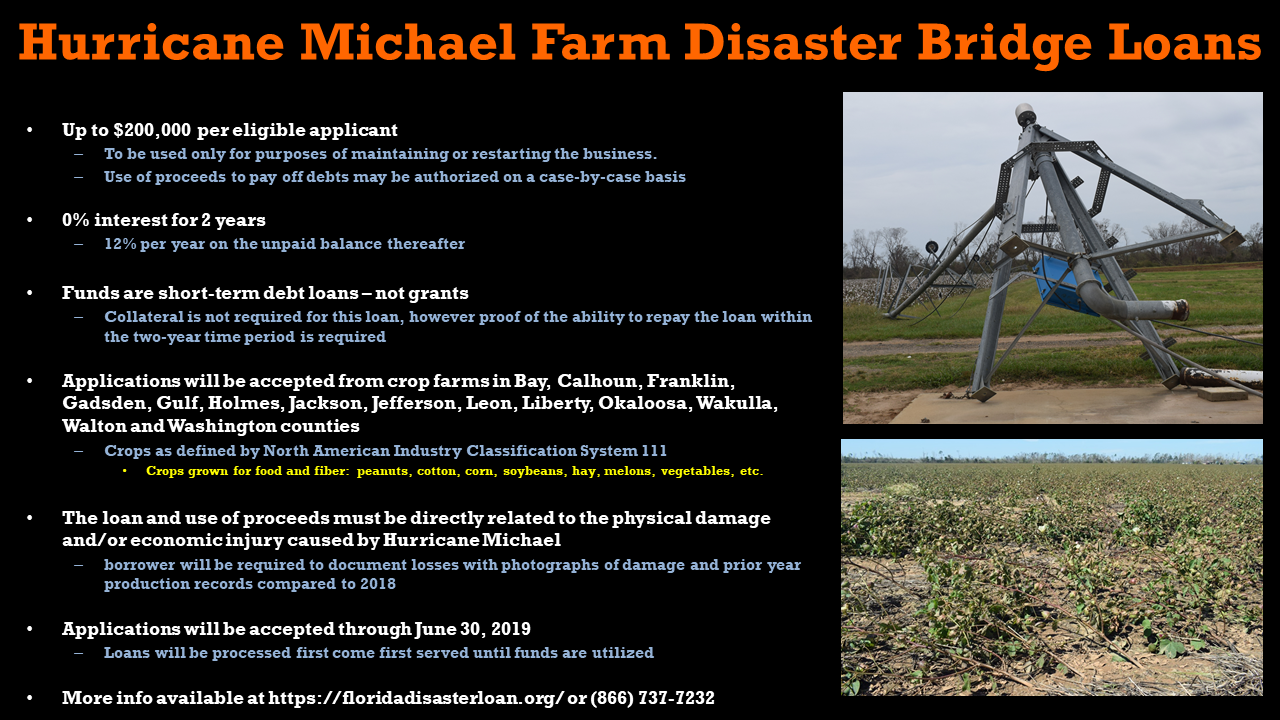 –
For questions regarding the Emergency Bridge Loan Program, please contact the Florida Small Business Development Center (SBDC) Network Headquarters. Email: Disaster@FloridaSBDC.org.  Phone toll-free: (866) 737-7232.
–
Information on the Sales Tax Refunds:
The Department of Revenue is still developing the specific requirements and forms to be used for the sales tax refund program.  At this point it is important that farmers are prepared to take full advantage of this program.  As soon as more specific information is available, links will be added to this article:
–
You will need proof of purchase (invoice, receipts, etc) that shows the Florida sales tax paid (not purchases in Alabama or Georgia), the date of the purchase and the name and address of the dealer from whom the materials were purchased.
The purchases will have to be made between October 11, 2018 and June 30, 2019.  So there is still time to make eligible purchases.
You will need to be able to identify a physical address where the materials were or will be used.
In order to qualify, the materials must be used on land that is classified as agricultural land.
Latest posts by Doug Mayo
(see all)