Throughout the Southeast, anyone driving in the countryside will come across beautiful green fields planted with cover crops in cash crop fields or in pastures used for livestock grazing.  Often, a single species is planted, but some growers uses mixes in their fields.  One such grower, Eric Koehn, is strictly a row crop producer, but he incorporates multiple species in many of his Escambia County fields.  One of his fields that has generated a lot of interest for those who travel on Hwy 29 in Molino, Florida, is planted in mostly two crops: oats and tillage radish.
For the last few gray weeks of winter, the tillage radish has been blooming in this dryland field also planted with oats.  He broadcast 2 plus bushels and 5 lbs of tillage radish and ran over the field with a vertical till to establish the crop in the autumn.  This multi-species crop was planted following peanut. No nitrogen or other fertilizer was added to this field.  He chose this mix because oats are inexpensive and quick to establish, and tillage radish comes up easily, readily mixes in with the oats, and winter hardy. He will plant his summer crop by strip till.
He acknowledged that planting cover crops is extra work, but the benefits outweighed the negatives.  When asked to explain why he chose to grow cover crops, he said, "Having something growing year round is best scenario for overall soil health."   He cited additional soil organic matter and moisture holding capacity as benefits.  In a previous article for Panhandle Ag, Cover Crops: A low cost alternative to Irrigation, Dr. Mike Mulvaney stressed the value of winter cover crops for dryland farmers.
This beautiful field is growing more than what's meets the eye at 65 miles per hour.  Upon closer inspection, several species of clover and vetch are thriving in the mix.  There are also the typical winter weeds, but they are at much lower concentrations than if the field was left fallow.
The field was buzzing with bees.  Another benefit of many cover crops is that they offer a place for pollinators to find food.  SARE published an excellent resource, Cover Cropping for Pollinators and Beneficial Insects, that provides information on opportunities to use cover crops, planting and managing your cover crops, cover crop cocktails, and the relative value of cover crop species to bees and other beneficial insects.
–
–
Cover crops are not just for row crop growers.  Vegetable growers can utilize cover crops in their production systems. Dr. Danielle Treadwell published Annual Cover Crops in Florida Vegetale Systems Part 2: Production with information specific for vegetable growers.  Researchers at the Soil Dynamics Lab in Auburn have published a very thorough publication called "A Simple Guide for Conservation Systems in the Southeast."  This 20 page document covers everything from uses of cover crops to making conservation systems profitable.
–
Cover crop planting dates, seeding rates, and relative cost
–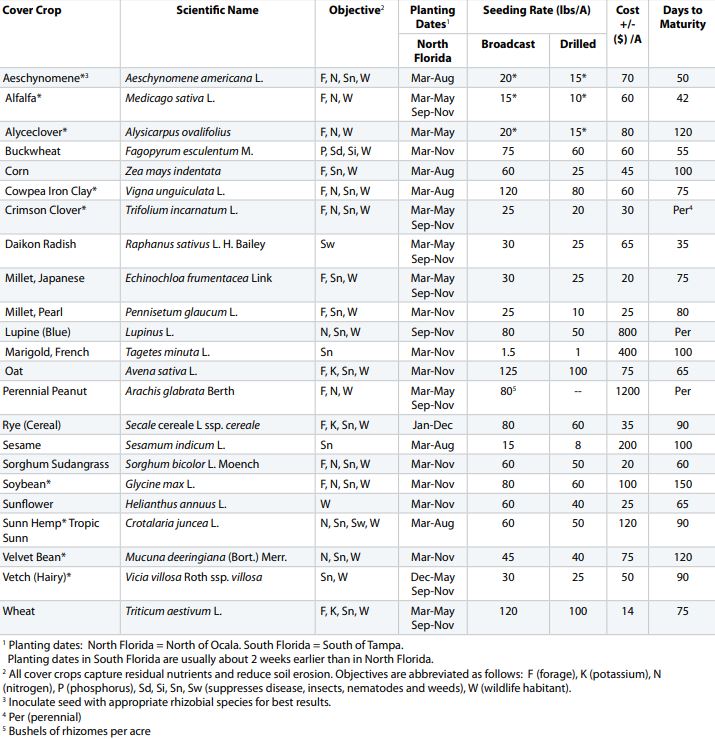 Latest posts by Libbie Johnson
(see all)