Rainfall
June 2021 was a wet month, especially for the western Panhandle counties that received rainfall from Tropical Storm Claudette.  There were also bands of rain that swept north from the Gulf as the storm dissipated in Alabama and Georgia.  You can see in the map to the left, the estimated June rainfall totals and that Escambia and Santa Rosa Counties got drenched with more than 11″ in June (pink and fuchsia), but Bay, Gulf, and Liberty Counties also had 9.5″ or more (dark purple).  In the Departure from Normal map to the right you can see the real contrast as Wakualla, and Leon were below average for the month.
–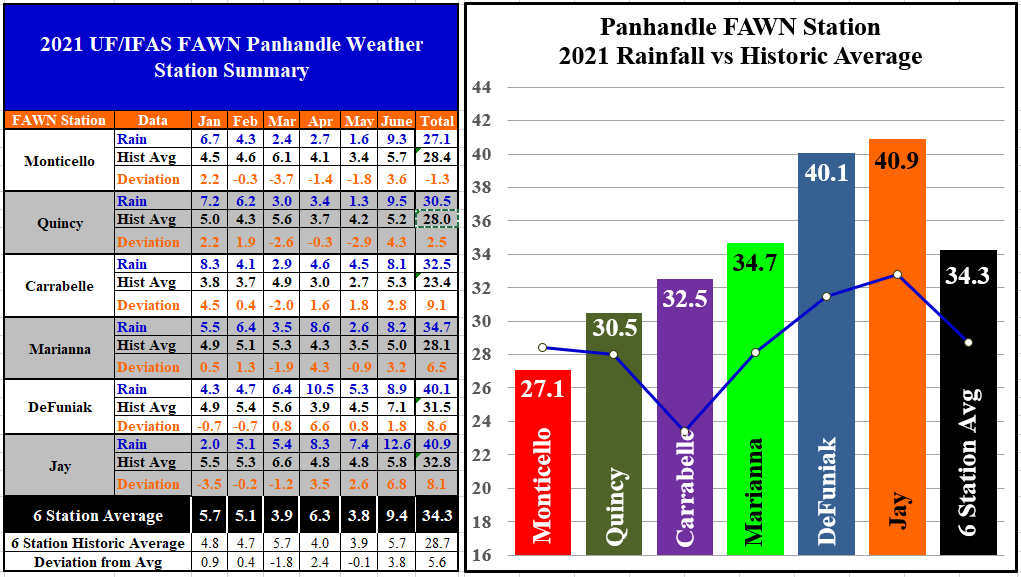 The Florida Automated Weather Network (FAWN) stations showed the variation in rainfall in June across the Panhandle area.  The wettest location was in Jay with 12.6″, but the driest location in Carrabelle had 8.1″, so everyone of the stations were well above average.  The average for all six FAWN stations was 9.4″, which was 3.8″ above historic average.
Through the first half of 2021, only the Monticello station was below historic average with a total of 27.1″, which is just -1.3″ below normal.  Contrast that with the 40.9″ recorded in Jay, and 40.1″ recorded in DeFuniak Springs.  The average six-month total for all six stations was 34.3″, which was 5.6″ above normal for they year thus far.
–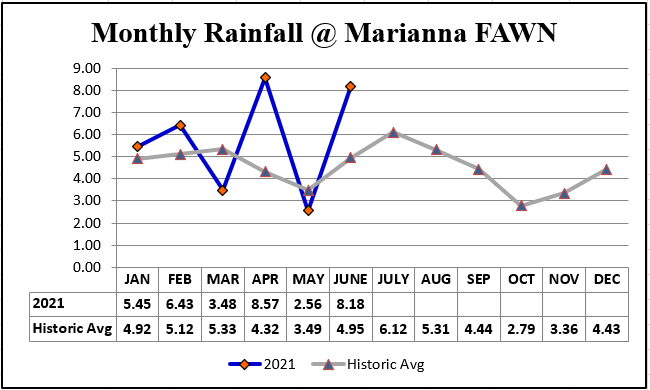 Looking at the monthly rainfall compared to historic average rainfall at the Marianna FAWN Station you can see it has been a wet year, but most of the extra rain fell in February, April and June.  This feast or famine rainfall patter is pretty dramatic in 2021 when you see it graphed out like this.
–
–
Temperatures
June temperatures were fairly normal with a high of 94°on June 15, so there were no days with highs 95° or higher that can interfere with peanut and cotton fertilization.  There were three days with a low morning temperature of 67°, June 2, 17, & 25, which was a refreshing surprise for June.
–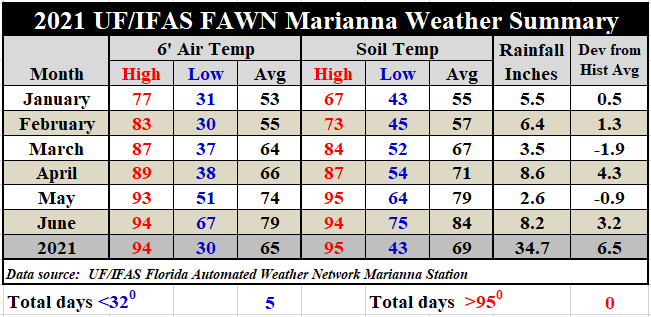 In the chart above you can see the six-month summary of weather data from the Marianna FAWN station.  The average air temperature climbed 5° from 74° in May to 79° in June.  The average soil temperature also jumped up 5°, from 79° to 84°.  This station was 6.5″ above average for rainfall from January through June.  Download the full daily weather summary from the Marianna FAWN station, and the monthly rainfall data from all six Panhandle FAWN stations by using the following link:  Jan-June 2021 Jackson Co Weather Summary
–
Dog Days CPC Climate Outlook

Normally you look at the one month outlooks on the first few days of the month, but with the holiday week in the books already you can see that the Climate Prediction Center (CPC) had a pretty good estimate of what to expect this month.  They are expecting July to be cooler than average, mainly because they also were expecting above average rainfall.  Certainly the first week of July followed this forecast.  It is strange to see Idaho, Washington and Oregon blistering hot in July and the deep south cooler than normal and rainy.  Of course these maps don't take humidity under consideration, so it may not have felt that much cooler.
–

The thee-month out look for July through September (Dog Days) is more typical for the Panhandle region at the end of the growing season.  The CPC is expecting warmer and wetter than normal conditions to continue over the next three months across the Panhandle.  So, it appears the wet growing season will continue through the Dog Days.
–
La Niña Watch
We are currently in an ENSO-neutral climate phase, so there is no influence from Pacific Ocean temperatures on our current weather conditions.  There is a growing chance, however that La Niña will return in late fall/early winter.
A majority of the models predict ENSO-neutral to continue through the summer and fall.   Some models indicate the onset of La Niña during the Northern Hemisphere fall, continuing into winter 2021-22.  The forecaster consensus favors these model ensembles, while also noting the historical tendency for a second winter of La Niña to follow the first.  In summary, ENSO-neutral is favored through the Northern Hemisphere summer and into the fall (51% chance for the August-October season), with La Niña potentially emerging during the September-November season and lasting through the 2021-22 winter (66% chance during November-January).  Climate Prediction Center
–
So what does this outlook mean for farmers and ranchers in the Panhandle?
It does appear the wet growing season will continue.  Making hay this summer may be challenging, so baleage may be a better option to prevent harvesting over-mature forage.  With above average rainfall expected, fungal diseases are likely to be more prominent in crops this season. Wet fields may require aerial spraying to keep crops protected.   It doesn't appear that drought will be an issue this year, but it is possible that fields will dry out more in October and November. Growing cover crops and winter forages could be more challenging this coming winter, as typical La Niña winters are warmer and drier than normal.  Last winter was not a typical La Niña, so prepare for lower than average rainfall this year.  Ryegrass loves water, so this may not be the best option for higher and drier fields.
–
Latest posts by Doug Mayo
(see all)