Iriarte, F.B1, Lovestrand E.L.2, McConnell J.3, Demorest N.4, Tancig M.5, Martini X.1, Andersen P.1, and Paret M1. University of Florida Research and Education Center, Quincy, FL1, and UF/IFAS Franklin2, Bay3, Columbia4 and Leon5 County Extension.
Back in 2016, Citrus Greening, also known as Citrus Huanglongbing (HLB) caused by phloem infecting bacteria Candidatus Liberibacter asiaticus, was detected for the first time in North Florida in Franklin County. At that time UF IFAS ALERT FOR FLORIDA PANHANDLE HUANGLONGBING (HLB) and ASIAN CITRUS PSYLLID  (ACP) ALERT were made available online with detailed information about the disease and the insect vector (Asian Citrus Psyllid, ACP) to inform the public about this important disease.
This article provides an update and follow up to the above mentioned publications. Thus far, HLB has been confirmed in five additional counties in North Florida, since the first finding in 2016: Bay, Columbia, Escambia, Leon, and Taylor. See Table 1 below for detailed information on the citrus species and time of the year these occurrences were confirmed at the UF/IFAS North Florida Research and Education Center (NFREC) Plant Disease Diagnostic Clinic (PDC).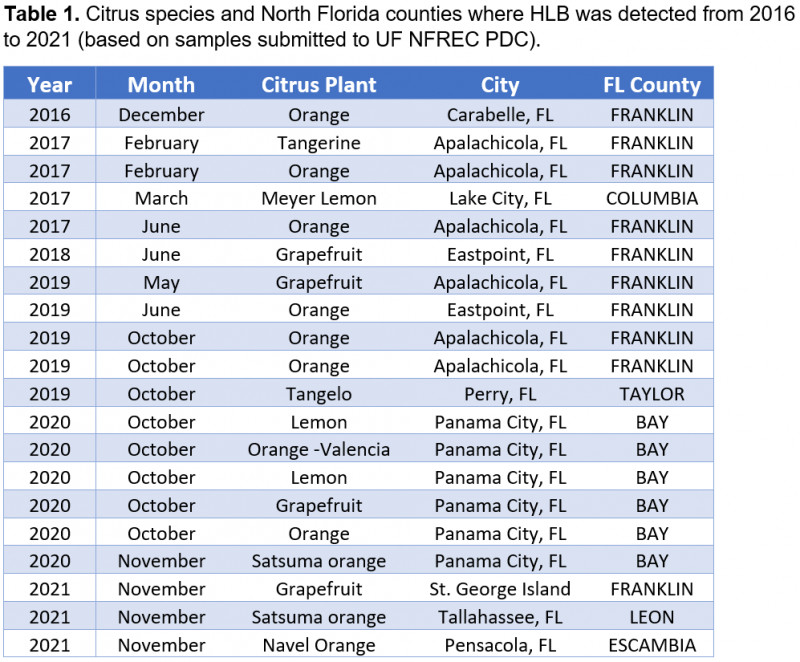 The recent finding in Leon County (Nov, 2021) was expected since HLB was confirmed in Brooks County in South Georgia. HLB was also confirmed in some Georgia coastal counties (Oliver J.E. et al., 2020). Trees in residential locations that have tested positive for HLB were found in Bryan, Camden, Lownde, Pierce, and Chatham Counties. No HLB positive trees have been detected in commercial groves in Appling, Brooks and Pierce counties (Oliver J.E. et al., 2020). Detailed information for the Georgia HLB findings including citrus species and a map can be found in Huanglongbing Detected in New Locations Across Southern and Coastal Georgia.
Considering the situation in North Florida, where HLB is not well established, there are still actions citrus growers in North Florida can take to help reduce the spread and avoid or delay the establishment of HLB in North FL. According to UF/IFAS scientists, these actions include:
_
 1. Scouting for HLB symptoms
Growers should monitor their plants routinely, as early detection will slow  further spread of the disease with removal of infected trees and control of the insect vector. Symptoms of HLB include blotchy, asymmetrical mottling on leaves (Fig.1 below). A regular and symmetrical chlorosis pattern (yellowing) most likely would be a nutritional deficiency. Other diseases like Canker, Alternaria Leaf Spot and Citrus Black Spot can also present chlorotic spots on leaves, if accompanied by necrotic spots the disease most likely would be caused by fungal or bacterial plant pathogen.
–
2. Scouting for the Asian citrus psyllid (ACP)
Learning to recognize these small insects (Fig. 2 below) for early detection and control with insecticide applications is of utmost importance as they can potentially transmit the bacterium that cause HLB.
Dr. Martini, UF NFREC entomologist has a strategy for growers in North Florida that goes by the acronym SAFER. You can read more about it in New HLB Find Is Likely Farthest North in Florida.  You should also read How to Stay HLB Free in North Florida Groves.
Foliar-applied chemicals available for homeowner ACP management are limited and include horticultural oil, malathion, and carbaryl (product ingredients). Imidacloprid (product ingredient) is a soil-applied chemical. Organic options include horticultural mineral oil, neem oil, and kaolin clay. When applying any chemical, follow the label instructions. (Frequently Asked Questions about HLB).
–
3.  Submitting HLB suspected trees for testing
The UF/IFAS NFREC Plant Disease Diagnostic Clinic is one of four diagnostic laboratories in Florida where you can submit a sample of your citrus tree for testing. HLB testing is conducted using a USDA APHIS PPQ standardized qPCR test. Since bacterium is not uniformly distributed in the tree, a good sample to submit would be 3-4 small twigs from different parts of the tree, each with 4-5 symptomatic leaves. For information about fees, sample submission forms, and other related topics, use the following link:  NFREC Plant Disease Diagnostic Clinic.
–
4. Removing HLB infected trees.
 According to Florida Department of Agriculture, Department of Plant Industry (FDACS-DPI) there are no regulations for infected dooryard citrus. However, if your plant tested positive for HLB, it is highly recommended to remove the plant to avoid spread of the disease to other citrus in the area. Applying herbicide to the stump is also recommended, to ensure rootstock regrowth does not occur.
–
5. Be aware of citrus movement restriction and regulations
Movement of any citrus plant outside of the state is prohibited. The entire state of Florida is under quarantine with specific regulations and inspection procedures regarding the propagation, shipping, and transport of citrus trees and fruit.  FDACS DPI officials stated that while there are currently no regulations for moving dooryard citrus within Florida (except in citrus black spot quarantine areas), having your homegrown citrus inspected by an FDACS DPI inspector before moving it within Florida is strongly recommended.
 –
HLB related information and references:
You can find many more University of Florida IFAS Extension publications on the subject of Citrus Greening (HLB), at askifas powered by EDIS

.
Latest posts by Fanny Iriarte
(see all)