Rome Ethredge

, UGA Interim Grains and Soybean Agronomist
Corn
It is important to keep Southern Rust in check as we're seeing it reported in more counties and earlier than ever and this heat drives it on. Lots of stink bug reports. When they attack very early we get ear damage and often curling of ears, later injury results in damage kernel by kernel.
–
Importance of irrigation during this heat can't be stressed enough. We could see poor pollination during Silking (R1) and kernel abortion as in photo below during Blister(R2) and Milk(R3) stages, with lighter kernels during Dough (R4) and Dent (R5) stages due to this heat especially in the absence of sufficient water.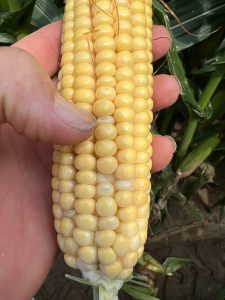 –
Below are corn Growth Stages and what can happen during them. Part of the image below from "Corn Growth and Development" from Iowa State University.