, Public Relations Specialist, UF/IFAS Communications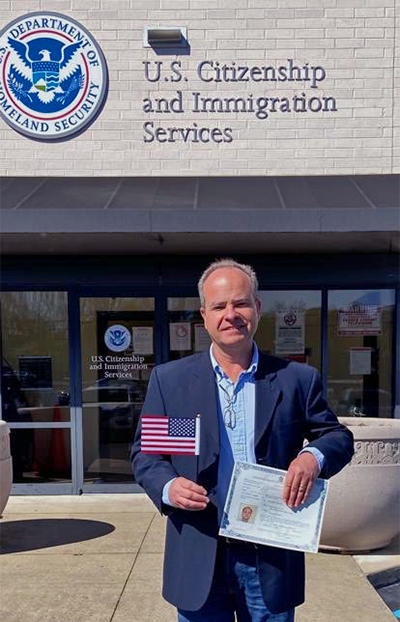 This Independence Day will feel a little different for Dr. José Dubeux, a Forage Agronomist at the University of Florida's North Florida Research and Education Center (UF/IFAS NFREC), near Marianna.  Monday marks his first Fourth of July holiday as an American citizen. On March 10, 2022, he shared his big news on his Twitter immediately after receiving his certificate of naturalization. You could see Dubeux beaming outside a U.S. Citizenship and Immigration Services office.
"I'm proud to be a citizen of this country," Dubeux said recently, reflecting upon his new status. "I hope that the work I do improves this great nation, in whatever small way."
–
A history of loyalty
Dubeux has split his career between two universities, both his alma maters. After completing his bachelor's and master's degrees at the Federal Rural University of Pernambuco (UFRPE), in his native Brazil, he became an assistant professor there in 1997. He remained at the school until 2013, with a break in between to complete his Ph.D. at the University of Florida in 2005, and last served as its dean for research and graduate studies.
"Many of the forages that I studied in Brazil also grow here in Florida," Dubeux said. "Florida has a similar environment, but also the same research focus I wanted to continue studying. I was also inspired to learn from some key researchers in the subject I knew were at the University of Florida."
When a position at his second alma mater opened in 2013, he took the opportunity to move with his wife and three sons. He has been based at the UF/IFAS NFREC in Marianna ever since.
–
Working toward sustainability
A major component of Dubeux's work as an agronomist centers around sustainability in livestock production practices – how to best feed the state's beef and dairy cattle, horses and other livestock that rely upon 3.6 million acres of pastureland in the state.
"We want to help producers reduce inputs – fertilizers, fossil fuel use, machinery costs and the like – while keeping the system productive," he explained. The cattle and related livestock industry sectors contribute about $7.7 billion in annual value added to the Florida state economy, per 2017 reports.
Through funding from the United States Department of Agriculture's National Institute of Food and Agriculture (USDA-NIFA) and Florida Department of Agriculture and Consumer Services (FDACS), Dubeux's eight years of work have largely focused on legumes – what he calls "the mighty nitrogen fixers" — as a potential solution.
"Using that approach, we're able to replace 85% of nitrogen fertilizers while the diet is also improved, especially during the summer, when the cattle gain almost twice as much as they do in traditional systems," he said. "The results are especially interesting right now because of the high nitrogen fertilizer and diesel fuel prices – the costs to apply fertilizer with machinery. It seems we're looking in the right direction."
Grazing, he adds, is equally important to sustainability. When cattle receive a hay diet, they do not cycle the nutrients back to the hay field. That leads to increased need for fertilizers in the next season. Currently, though, North Florida farms are unable to graze cattle during the transitions between the cool and warm seasons.
"Limpograss, which is a common forage in South Florida, may be the bridge for this gap," he explained. "It is our goal to have cattle graze 365 days a year in North Florida."
Another avenue of sustainability Dubeux is exploring would pair livestock systems with row crop production.  "We have a lot of cotton and peanuts planted across the Panhandle, and typically for these producers, they harvest in early fall and then the land is left fallow until the following spring," Dubeux said. "It's expensive to plant cover crops, so many farms choose not to. But if you put cattle into the system, the cattle will pay for the cover crops."
This theory has been tested in an FDACS-funded project now in its fourth year, with row crop farmers partnering with livestock producers.  "It's been important to me throughout my time here in Florida to serve our local producers," Dubeux said. "I've tried to balance concepts that are relevant globally to be able to continue this important work, but really, it all comes back to the producers right here in Florida and how I can help them."
–