Don Shurley, UGA Professor Emeritus of Cotton Economics
Planted acreage will be down significantly this season. That much is already known.  Harvested acres, yield, and production, which are more important, will be a big unknown for many months yet to come.
Supply unknowns and early season poor crop conditions seem to be of lesser importance in price direction than the on-going uncertainty and concern over economic conditions on the demand side.
–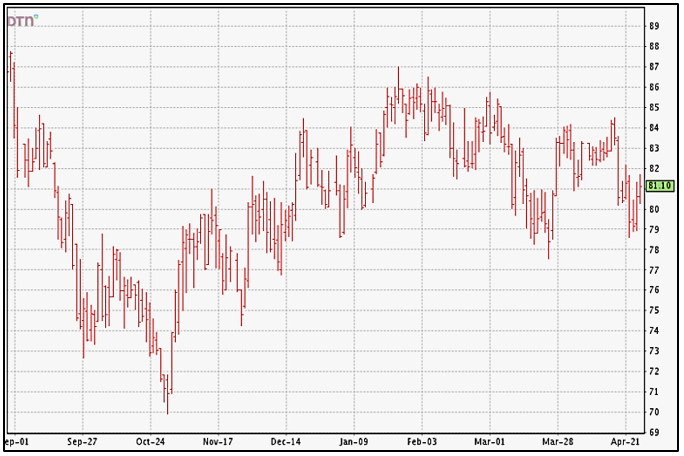 Prices (December 23 futures) seem content in the range between 79-80 on the downside and 85-86 on the upside.  Prices move day-to-day and week-to-week based on which market factors seem to get even the least bit of traction—value of the dollar, stock market, weather, crop conditions, exports, etc.  Nothing has yet occurred that would break prices out of the range they've been in for over 5 months now.
There are signs that the demand side is starting to improve.  There also are early season crop concerns.  But the market is not yet willing to commit and be bullish enough to push prices higher.  This is frustrating for the grower looking for good, profitable pricing opportunities, but the good news is—the "bottom" at around 80 cents should be pretty solid.  So risk should be limited unless something really negative comes along.
The April monthly USDA supply/demand estimates turned out to be not much of a factor, but it's worth noting.
US exports projected for the 2022 crop year ending July 31 were raised 200,000 bales.
World use/demand was increased just slightly. At least it wasn't adjusted down.
Use/demand for China was increased ½ million bales but decreased for Turkey, Bangladesh, and Indonesia.
World production for the 2022 crop was raised 830,000 bales—China increased by 1 million bales but Brazil reduced.
As mentioned previously, US exports for the 2022 crop year were raised 17% or 200,000 bales from 12 million to 12.2 million bales.  This was not totally unexpected.  The pace of exports has really improved over the past month or more—precipitating the adjustment upward.
Over the past 6-weeks of reporting, export sales have averaged 216,700 bales per week and shipments have averaged 334,500 bales per week.  With a little over 14 reporting weeks remaining in the 2022 crop marketing year, shipments need to average 278,000 bales per week to meet USDA's 12.2 million bale projection.
–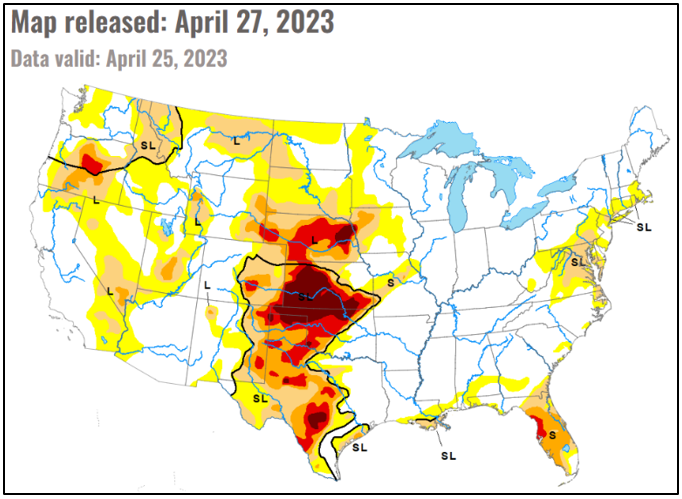 As of April 30, the 2023 crop is 15% planted—slightly ahead of the normal at 14%.  Nine states are at or ahead of normal.  Six states are behind normal.  As of April 30, Texas is ahead of normal.  Georgia is behind normal.
As of April 25, the majority of the Texas cotton area is in moderate or extreme or severe drought.  Parts of the Southeast were abnormally dry.  With planted acreage reduced, growing conditions will eventually come more into play—especially if demand concerns improve.  But this is yet to be determined.  Demand and economic issues are still concerns.  The first USDA estimates of US and World production and supply and demand for the 2023 crop year will be released on May 12.
–

Latest posts by Doug Mayo
(see all)