What drives a 4-H Volunteer to do what they do? Quite simply, quoting Elizabeth Andrew,
"Volunteers do not necessarily have the time; they just have the HEART."  In relation to 4-H, they have a heart that bleeds green!
Jamie Burgess joined 4-H in 1990 with her first project in market lambs. Throughout high school she showed lambs and cattle and later ventured into projects in livestock judging, meats judging, public speaking, and automotive driving. In 2002, she was hired as the 4-H Program Assistant in Walton County. Later, she moved into other careers, but states "4-H stayed close to my heart." Two years ago she met her current co-leader on the Walton County Fair Board who bragged about the support she was getting from 4-H with her Livestock Club. Jamie couldn't resist any longer, she became the Livestock Club co-leader and the rest is history.
Due to her cooperative leadership in the Livestock Club, 4-H members showed in every showmanship class in the Walton County Fair! This was an amazing accomplishment for the club and the agriculture community. New community partners in Walton County now provide support to 4-H after seeing the immense growth of self-confidence, accomplishment, and dedication of 4-H'ers in the county. When asked how 4-H has made a difference in the lives of her 4-H'ers and the community Jamie states, "We are slowly bringing youth in agriculture back out into the spotlight. Agriculture is the backbone of America. Most of the counties in the Panhandle have strong roots in agriculture and we have a large farming community in Walton County. 4-H is a great way to draw attention to the Agriculture industry in a positive way!"
The 4-H national campaign "4-H Grows," not only relates to growing life skills in our youth but also inspiring further development of these skills in our volunteers. Jamie credits her inspiration to keep growing to the amazing group of volunteers and youth she gets to work with. With Jamie's uniqueness in experience she has seen challenges from all ends of the spectrum and states time restraints are by far the biggest struggle but to remember, "Be patient. Rome wasn't built in a day. It takes time to build a great 4-H club. Use the buddy system! Find someone you know you can work with and join forces as co-leaders. I have a great co-leader. We feed off of each other's enthusiasm and we pick each other up when we get discouraged."
Walton County 4-H is very fortunate to have such a dedicated and dependable volunteer serving the youth of our community. Jamie constantly volunteers her time to 4-H in all capacities and encourages her 4-H'ers to do the same. When asked what 4-H has done for her, she proudly states, "Wow! 4-H has impacted my life in so many ways. I learned responsibility, animal husbandry, and patience through my livestock projects. The judging teams taught me how to evaluate and compare and most importantly how to make an educated decision. Through public speaking and leadership activities, I gained confidence and learned how to make my voice heard as well as hear the voices of others. I met most of my closest friends through 4-H. My history in 4-H led me to my choice in careers. I currently work with my best 4-H friend at the Natural Resource Conservation Service. I get to work with farmers in my community building conservation plans to help them help the land. My own kids are now in 4-H and I am getting to watch their growth as they take on more projects. I simply can't wait to see the adults they will become after being shaped by 4-H."
To learn more about how you can volunteer in your own county, please contact your local extension agent. Volunteering is a time investment that will pay you back exponentially through the growth you see in the youth and program you're affiliated with. Volunteers come in all forms from club leaders, to committee members, to over-night chaperones. Follow the links below to see how you can help 4-H expand our capacity to reach more youth, more families, and more communities through utilizing your skills, your knowledge, and your story!  Come back tomorrow to read another 4-H volunteer's story.
Florida 4-H Volunteer Resources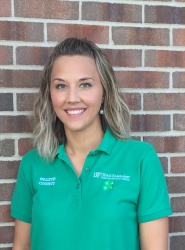 Latest posts by Jena Gilmore
(see all)