Every Spring during Walton County Spring Break, a local group of women collaborate with the Walton County 4-H program to deliver a special interest day camp for youth in the area.  This day camp, Stitch Perfect, was developed by the Chautauqua Quilters Guild and Jena Gilmore, the Walton County 4-H Agent.  Stitch Perfect teaches youth participants everything from hand stitching, sewing tools, and equipment, to advanced sewing techniques.
Walton County 4-H has been extremely fortunate that this three-day day camp comes with a small cost, due to the Chautauqua Quilters Guild donating all materials, machines, and volunteer power while 4-H provides no-sew projects, environmental topics, STEM, and alternative sewing activities (crochet, weaving, etc).  Due to the collaboration efforts and strong partnership with the Guild, this program has been one of the highest demanded annually!  To serve more youth, 4-H expanded the reach of this project from 10 to 20 campers by dividing the youth into beginner and advanced classes.
Four years ago, Macie, a 4-H day camper, attended Stitch Perfect and fell in love with the art of sewing and quilting.  The following year, she was so excited to attend Stitch Perfect and show off what she had been working on, however, her family planned a trip to Disney.  Macie was distraught and actually shared with her mother she would've rather attended Stitch Perfect!  While Macie still enjoyed her time at Disney, she has been able to attend Stitch Perfect in following years to gain skills in cross stitching, weaving, and advanced sewing.
In the wake of the COVID-19 pandemic and shortage of preventative equipment, Macie felt inspired to take action by utilizing the sewing skills she has learned over the years at 4-H Stitch Perfect with the Chautauqua Quilters Guild!  She created her own work space in her bedroom, determined her pattern, secured her supplies and tools and went to work creating beautiful masterpieces in the form of surgical masks, to share with her community.  Macie's inspiration sparked after her mother, a postal worker, expressed the need and lack of supplies such as hand sanitizer, gloves, and face masks for postal workers.  After all, they are on the front lines dealing with COVID-19 as they directly handle thousands of pieces of mail daily that have been handled tens of thousands of times prior to being delivered to their facility for sorting and delivery!
Macie is an outstanding example of just how impactful 4-H is on the lives of the youth that participate in 4-H programming.  Like so many other programs available, 4-H Stitch Perfect helped Macie to develop and master essential life skills such as critical thinking, decision making, concern for self and others, etc. With over 70 different 4-H project areas from sewing, gardening, animal science, to computer science and rocketry, there are plenty of topics to work with youth to develop their life skills and make a meaningful impact like the Chautauqua Quilters Guild did on Macie with the 4-H Stitch Perfect program.  If you would like to get involved in your local 4-H program as a volunteer, please visit http://florida4h.org to apply online or contact your local UF IFAS County Extension Office.
4-H is one of the nation's most diverse organizations, open to all youth, ages 5-18, and available in every community. For more information on how youth can join or the many 4-H projects available, contact your local UF/IFAS County Extension Office, or visit http://florida4h.org today.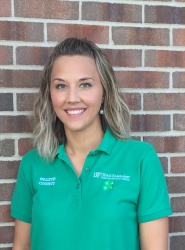 Latest posts by Jena Gilmore
(see all)