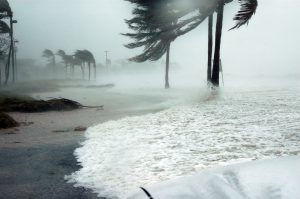 With the first real major storm of the 2019 hurricane season pressing down upon the entire state of Florida and the recent state of emergency declared on all 67 Florida counties by Governor DeSantis, it stands to reason that a lot of anxiety is spinning in the atmosphere along with Hurricane Dorian.
Many of us have experienced firsthand how a hurricane can disrupt our lives beyond something we could ever imagine.  Some are still living in the disruption, trying desperately to find normalcy again.  So, with the threat of Hurricane Dorian looming just a few days away, it is only natural for overwhelming feelings of anxiety, nervousness, and fear to kick in.  You may begin to see these feelings develop among your family members, especially your children.  It is important to recognize these emotions immediately and take action to help not only yourself but your children as well.
PREPARATION
Preparation is one of the most important ways you can regain control  in your situation.  In this case, preparation before Hurricane Dorian (or any future storms) will help reduce anxiety, eliminate any confusion among family members, and create clear communication for all.  Here are some helpful tips for your family on how you can be prepared and reduce anxiety in the hurricane season:
Have a family plan – Make it clear, keep it current, and know it well.
Talk openly and honestly with your children about the weather situation – Make it a fun science experiment to explain hurricane patterns. Help them to understand how to track the path of the storm.  Show them where to get accurate weather information like NOAA's website.
Give everyone a role and responsibility – Keep every person involved in the tasks and let them have ownership in getting the family prepared.
Create your hurricane preparedness kits – Be sure to check out our information on building a disaster preparedness bucket here. Remember to include your pet's needs.
Share – Allow children to share feelings, concerns, stories of past experiences. Validate real concerns and allow children to come up with possible solutions or positive actions to alleviate those concerns.
We know that natural disasters can change our lives with little to no notice.  Fortunately, Hurricane Dorian is giving you a little extra time to prepare if you have not already done so. Be proactive – take action now and reduce the anxiety level in your household as Dorian approaches.  For the latest resources to help prepare and then deal with natural disasters such as Hurricane Dorian, the UF/IFAS Disaster Preparation & Recovery website offers some important information such as updated contacts, useful tips, and videos for you and your family.
We wish you and your loved ones safety this hurricane season.  Be smart, be prepared, and be confident that you are prepared this season and beyond.
Visit your  local UF IFAS County Extension Office and meet your 4-H Extension Agent for additional information on a variety of topics that can benefit you and your family.  From 4-H educational activities to ways to keep your family safe, Extension and 4-H is always available to assist you and your family.
HELPFUL RESOURCES DURING A DISASTER
Latest posts by Niki Crawson
(see all)