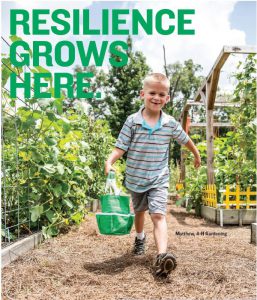 4-H is known for creating safe and inclusive environments.  Many may argue this could be incredibly difficult now in the wake of the Coronavirus sweeping Florida, however, where some may see resistance, 4-H shows our resiliency.  Across Florida, 4-H Agents have been brainstorming a multitude of ways to continue serving their clientele and practicing what we pledge by…
"My Head to clearer thinking, my Heart to greater loyalty, my Hands to larger service and my Health to better living, for my Club, my Community, my Country, and my World.
Within the Northwest District, there are currently many alternative programs to engage our 4-H members and volunteers during this time of "social distancing."  Interactive meetings, webinars, and interviews are provided through online streaming platforms that allow members to call in or connect via their smartphones, tablets and computers.  Other alternatives include utilizing Youtube Channels or Facebook to stream recorded videos of activities for youth and adults.  Consider exploring some of our many options below and join us on our new virtual adventure in experiential learning 4-H style!
Virtual Opportunities for Youth
Embryology, which is typically delivered as a school enrichment program, can now be viewed live on some county 4-H websites and Facebook pages.  Agents and 4-H volunteers are also offering virtual livestock judging options so judging teams can continue to build their knowledge base for competitions along with Virtual Farm Tours in some areas.  Other counties are banding together to deliver daily activities for youth via recorded series posted on their Facebook pages that highlight different themed days of the week.
Escambia County 4-H Virtual Embryology Experience

Register via their Eventbrite for full access to videos, webinars and resources

4-H Life Skills Masters Daily Series via Holmes & Walton 4-H County Facebook Pages

Daily themes with activities include: Make It Mondays, Tasty Tuesdays, Water Wednesdays, Tackle It Thursdays & Fitness Fridays

Washington County 4-H Project Showcase via Flipgrid

Compete within your 4-H Showcase project area virtually with Mrs. Julie

Jackson County Agriculture Virtual Day Camps

This series is posted on their Facebook page and can be reviewed even after the event!

Freezer & Fridge hacks with Calhoun County 4-H

Learn tricks and tips of preserving all those extra groceries during your COVID-19 prep

Liberty County 4-H detEGGtives investigate the 21-day countdown to Hatching with my Peeps
Wakulla County 4-H shares Facebook Live daily updates and content from across Florida 4-H
Leon County 4-H takes you on a virtual farm tour!
Leon County 4-H Virtual Showcase

Compete virtually and potentially win cash prizes for your clubs along with individual prizes and recognition…WIN:WIN!
Virtual Opportunities for Volunteers
Volunteer based programming has shifted to virtual as well!  Currently, each month a webinar is hosted which highlights different topic areas related to delivering a well balanced 4-H program to your club members.  Topics so far have included Preparing for County Showcase (aka County Events), Professional 4-H Portfolio Tips, and 4-H Project and Record Book Tips.  You can register for the Virtual Volunteer Leadership Academy through our Eventbrite link and receive calendar invitations, reminders, and links so you can tune in LIVE or watch the recorded sessions later.  Our team also provides you with all the resources discussed in each section.  Registration is required and can be found at http://bit.ly/4HVVLA
4-H Virtual Volunteer Leadership Academy
April- Awards & Recognition
September*- Judging Contests
October*- Preparing for Exhibits & Shows
*Fall session registration will be available July 1, 2020.
Subscribe to our NW District YouTube Channel for recorded sessions
If you would like to learn more about the 4-H opportunities available in your county, please contact your local UF IFAS County Extension Office, or visit http://florida4h.org.  Now is a great time to join the 4-H family!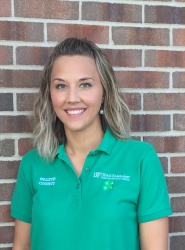 Latest posts by Jena Gilmore
(see all)