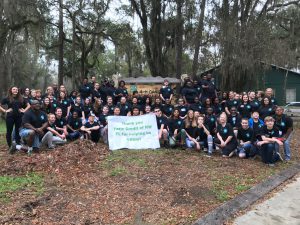 Our youth planning committee has been hard at work planning the 2023 Northwest Teen Retreat. This year's theme is "Lights, Camera, Action!" and promises to be a fun-filled weekend of learning and friendship. The retreat will be held February 17-19 at 4-H Camp Timpoochee. Registration is open to all youth ages 12-18 in 4Honline. This event is planned for teens, by teens, and is designed to help youth develop and practice workforce-ready skills. Over the weekend, youth also have the opportunity to explore different 4-H project areas. Here's a run-down of the agenda, and what to expect:
Friday Night
After check-in, enjoy some pizza, tour the camp, and participate in District games. This year youth will have the opportunity to try to beat the adults!
Saturday Morning
After breakfast, youth will have the opportunity to participate in a service project, learn about 4-H awards and scholarships, and how to deal with different personalities.
Saturday Afternoon
After lunch, youth will select a fun shop to learn more about a 4-H project area. This year, our teen planning committee selected the following:

1.       Grilling- learn about fire safety, food safety, and how to win a scholarship in the 4-H Tailgating Contest

2.       Sports Fishing- Camp Timpoochee is a great place for fishing. Learn some angler skills and how to participate in the 4-H Sports Fishing Tournament and Skill a thon.

3.       Cake Decorating- If you love those baking shows, then you will love this session! Practice decorating a cake with icing like a pro.

4.       Dance- Get your exercise will learning some fun new line dances, as well as a few favorites.

5.       Forensic Science- This session is about forensic entomology. Work as a team to solve the murder of a Florida Black Bear- a mystery solved by science!

Saturday Evening
After dinner, walk the Red Carpet Saturday and dance the night away.
Sunday Morning
As soon as breakfast is over, pack up and head home.
Thanks to generous sponsors, the registration fee is only $120 per youth and includes cabin accommodations, meals, workshop supplies, and a t-shirt. Your county 4-H program may be able to offer additional discounts or scholarships, so check with your local 4-H office before registering in 4Honline.  Download this handy packing list to your phone.
If you have any questions, please reach out to your local UF IFAS Extension Office. Registration is open from December 16 through January 31st.
Latest posts by Heather Kent
(see all)