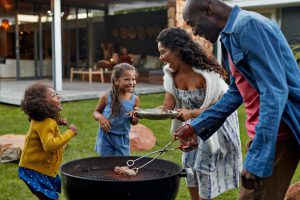 Today is National Hamburger Day, and we are celebrating by spreading the word about the Florida 4-H Tailgate Cookery Contest. This program is way more than a contest- it teaches youth:
How to use a grill safely,
How to prepare food safely and prevent cross contamination or food borne illness,
Nutritional benefits of adding animal protein to their diets
Youth are invited to participate in a local workshop or day camp to learn the art and science of cooking protein on the grill. On Saturday, July 30th, 2021, youth from across the panhandle will travel to Chipley, Florida to compete in the district Tailgating competition. They will prepare their dish onsite, answer questions for the judges, and create an educational display about their dish. Winners from each protein category will earn the privilege of competing at the state contest in Gainesville this fall.
Thanks to our sponsors, once youth learn the basics, hey can compete for cash prizes and college scholarships. Parents have also shared that thanks to this program, their child often prepares meals for the family (especially when preparing for the contest and perfecting their technique).
Some counties are offering in-person workshops and day camps, but we also have an online option. Here's a list of workshops to help youth prepare:
If the in person options don't work for your schedule, we have a virtual option that is available all summer long (June 14- July 31) so that youth can work at their own pace. The virtual program covers everything they need to know to become a grill master, and helps them prepare for the contest. Parents can register for Virtual Tailgate Camp online.
For more information about this educational program, check out our webpage or contact your local UF IFAS Extension Office.
Thank you sponsors- Winn Dixie, Sonny's Barbeque, and the National Beef Council.