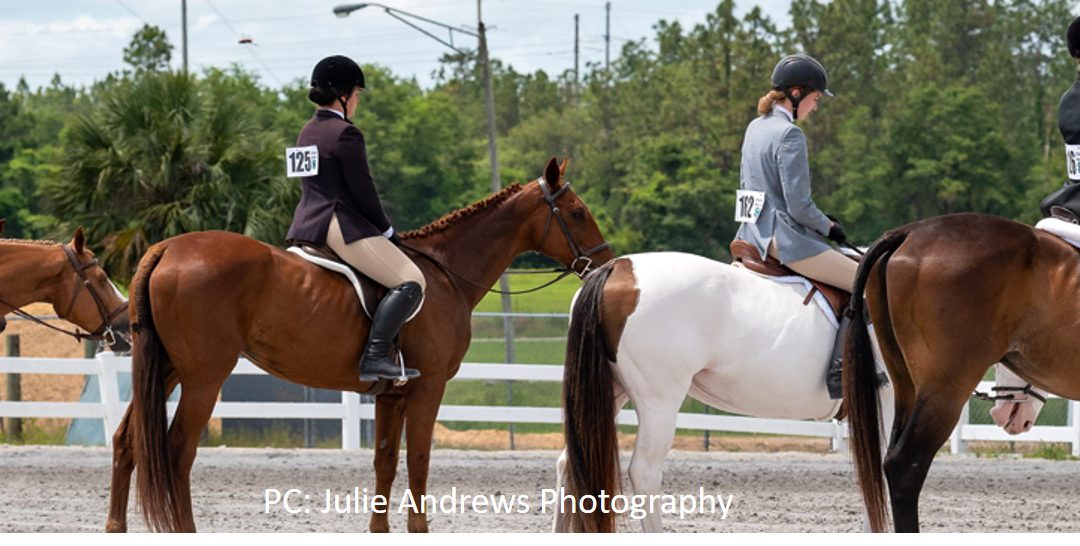 While the Florida 4-H Horse Program is
composed of many opportunities, one of the most well-known opportunities is the Area and State horse shows. Each county in Florida is assigned to a specific Area, which hosts shows as a qualifier to the state show. Area North encompasses the whole of north Florida stretching from the panhandle to the coast down to Alachua. Below is some key information and important dates for the 2022 Area North show year.
Important Dates
---
March 14 – April 1: Area North Registration, no late entries are accepted
April 12, 5:30 CST/6:30 pm EST: Horse Show Virtual Prep Night on Zoom
April 29 – 30: Area North Horse Show, Green Cove Springs, FL
July 6 – 9: State Horse Show, Tampa, FL
Key Changes for the 2022 Horse Show
---
Multi Horse Projects & Showing. All youth may now show multiple horses even at the State level. All horses must be certified project horses by Jan 1. Each rider/horse combo will be scored as a unit for points. No horse or rider may enter the same class as multiple entries.
Walk Trot is coming to Area North! All walk trot classes are non-point classes. Youth may only compete in walk trot classes for two years- per horse/rider combination. Exhibitors entered in a walk trot class may not cross over into any loping or cantering class. If a walk trot exhibitor qualifies for the State 4-H Horse Show with points from in-hand classes, the exhibitor's county 4-H agent will need to approve their advancement to the State 4-H Horse Show. Walk trot exhibitors will only be eligible to enter in-hand classes at the State 4-H Horse Show.
Dressage tests are now "test of choice".
Saddle Seat & Gaited division are now gone; however, these type horses can still be shown in comparable classes.
Sportsmanship Award Continued!
Introducing, the "Crew"! Crew is an opportunity for horseless or non-showing youth to still be involved in clinics and horse shows by offering their skills in organization, grooming, cheering, and more. Crews are by-county, and their specifics may vary.
Record Books are a critical component of your horse program year. We have record books for both riding and non-riding participants. Seniors are encouraged to use the NEW SENIOR Horse Record Book, especially if they intend on applying for the Horseman of the Year Scholarship. Juniors and intermediates may use the existing version. Additionally, your county may have its own version. Check with your agent to complete this part of your program. To find out more visit: https://animal.ifas.ufl.edu/extension/youth/horse/horse-record-books/
To stay up to date with everything Area North, follow us on our Facebook page at UF IFAS Extension 4-H Area North Horse Program.
This blog was authored by the following individuals:
Kelsey Irvine, UF/IFAS Nassau County, 2022 Area North Chair
Allie Anderson, UF/IFAS St. Johns County, 2022 Area North Vice Chair
Aly Schortinghouse, UF/IFAS Escambia County