The 34th annual Northwest Florida Beef Conference & Trade Show was held on Wednesday, February 13. A record crowd of 191 ranchers, cattle industry professionals, and extension faculty participated in the event. There were five educational presentations, as well as a Trade Show of 27 businesses and organizations that provide products and services to the cattle industry in the region.  Many of the participants were interested in copies of the presentations that were provided, so this article provides access to the information that was shared at the conference.
—
The focus of the program this year was "Rebuilding for a Better Future."  With expectations of a relatively comparable cattle market to 2018, there were four presentations focused specifically on enhancing income from cattle operations through:  diversification, improved genetic selection, marketing options, pastures and equipment.  The final presentation addressed a key issue, made even more evident following the Hurricane – control techniques for  brush and trees in fences .  The following are the highlights from each speaker and a link to a printer friendly, or PDF version of their presentations.
—
1 – Diversification to Add Income to Your Cattle Operation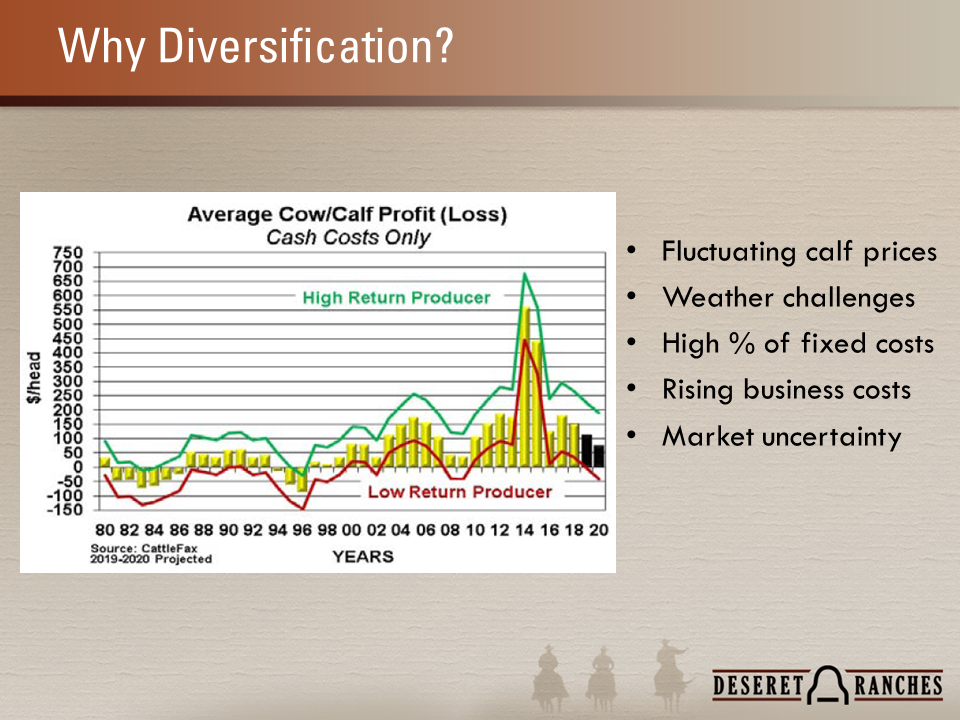 Michael Archibald, General Manager of Desrest Cattle & Timber, provided the first presentation and shared their company philosophy on farm diversification.  The ranch he manages in Gulf County has three main enterprises:  cattle, timber and hunting leases.
—
2- Using Genomic-Enhanced EPDs and EPD Indexes to Build a Better Herd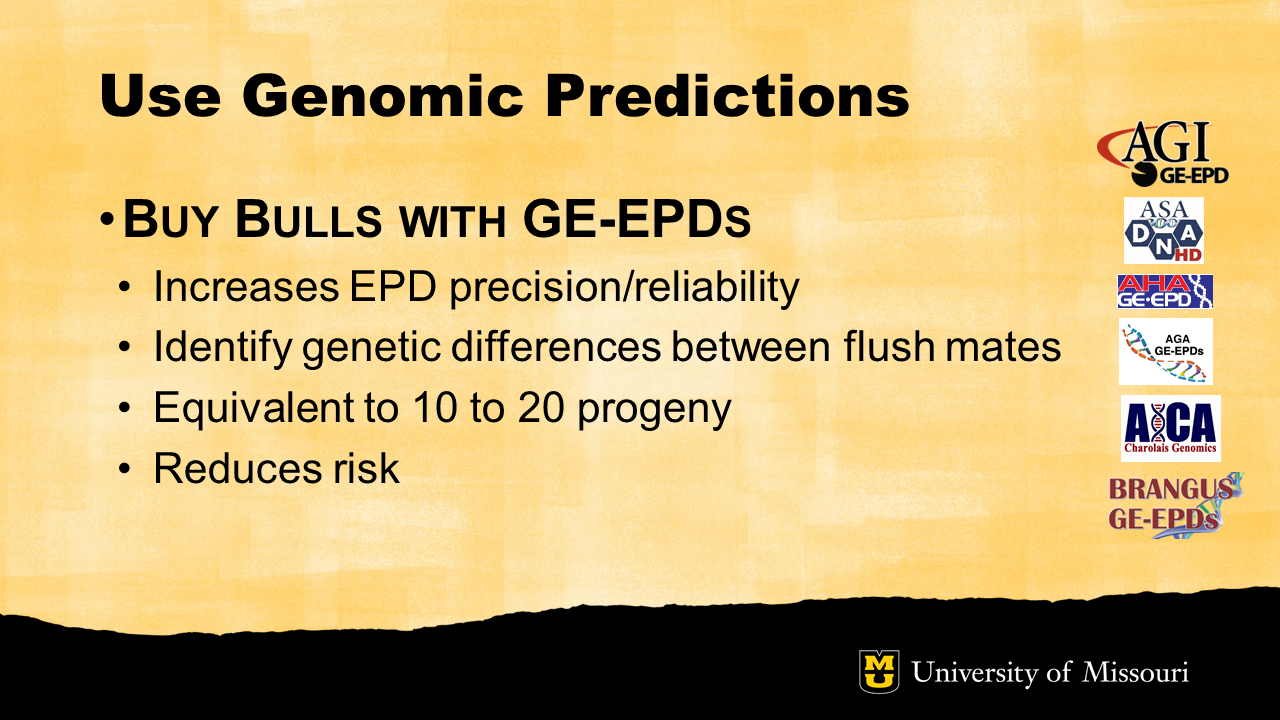 Jared Decker, Beef Genetics Specialist, University of Missouri, provided a presentation about new genetic selection tools in the cattle industry.  Gentic testing greatly improves the accuracy of EPDs.  Genomic-Enhanced EPDs provide similar improvement in accuracy as siring 10-20 calves for each trait.  Indexes also make selection simpler by combining the traits with the greatest impact on profitability for cattle producers, making selection decisions easier.
—
3 – Marketing to Improve Income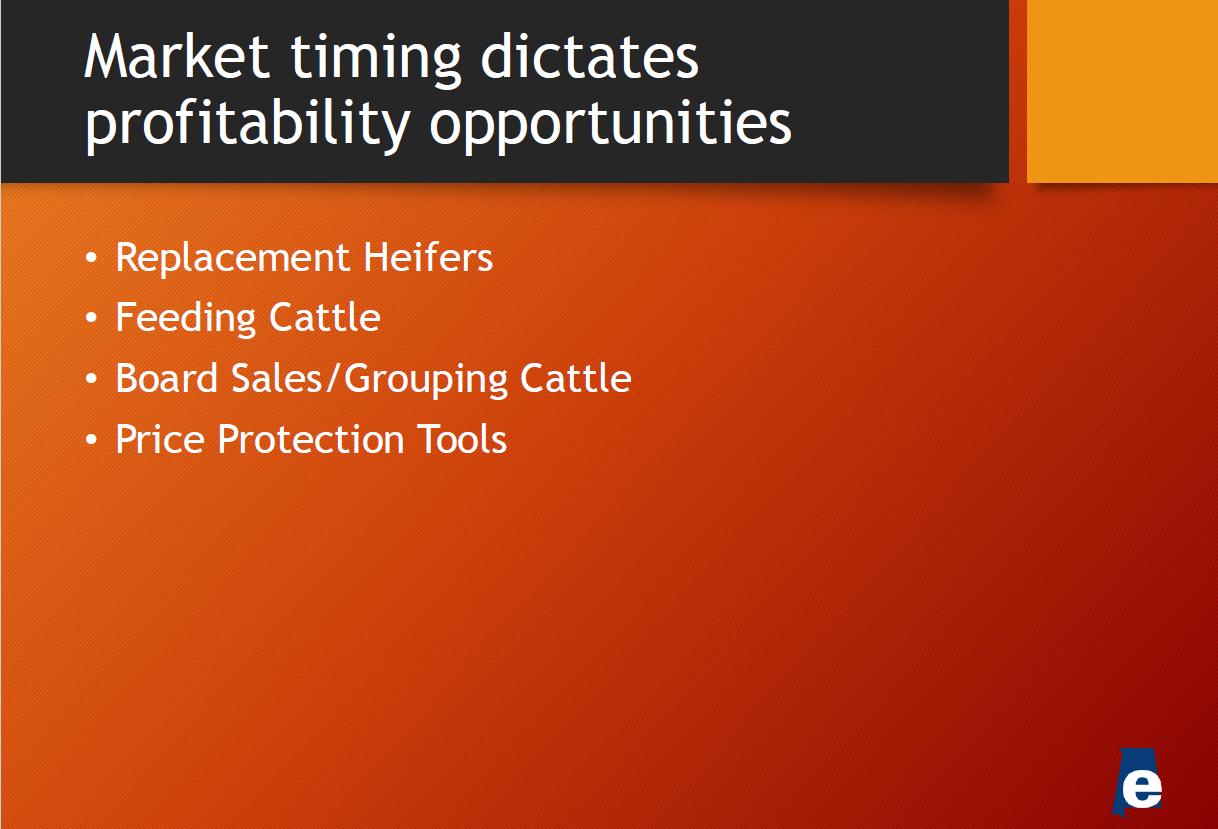 Ken Kelley, Alabama Regional Farm Management Agent, shared some options worth considering to improve income from a cattle operation.  He discussed the opportunity of marketing bred heifers, retained ownership, board sales, and risk management tools.
—
4 – Income Potential from Pastures

There are also options for additional income from the land and equipment used to manage pastures and hay fields.  Doug Mayo, Jackson County Extension, shared ideas worth considering to boost the income of a cattle operation through crop land leases, sod, seed, an hay production, or custom services and tourism.
—
5 – Killing Trees & Brush in Your Fence Lines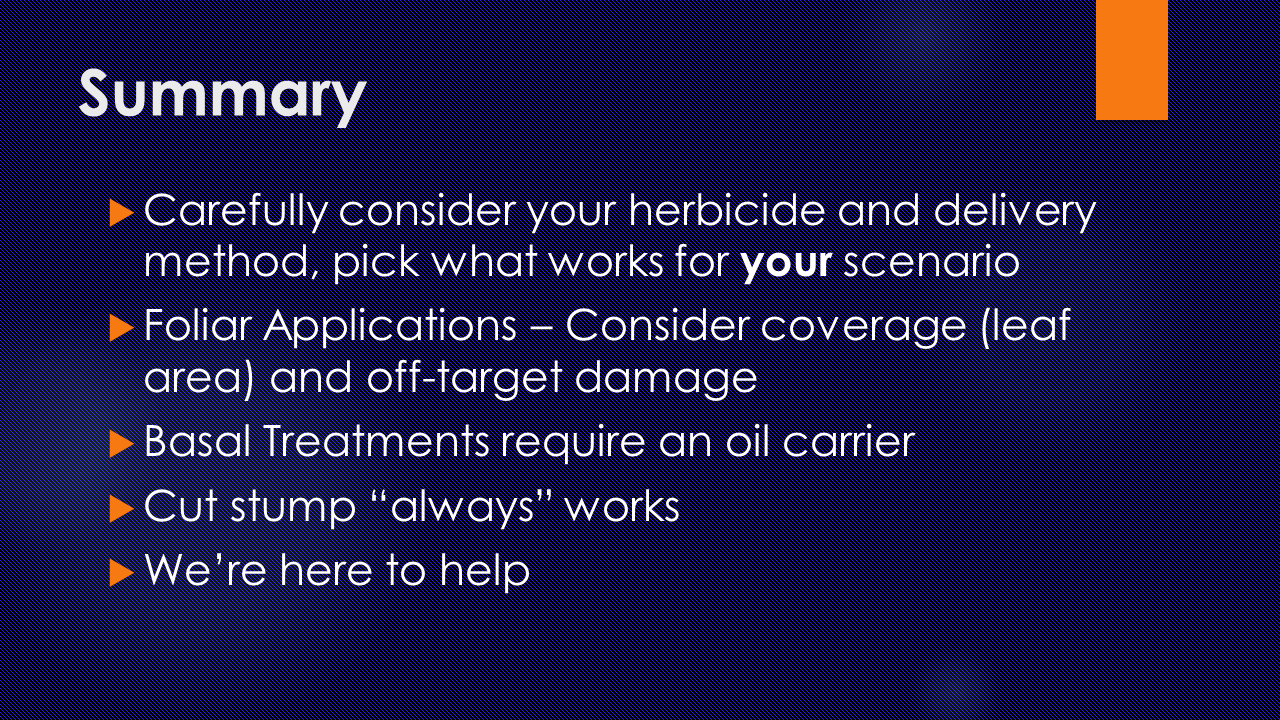 Hurricane Michael reeked havoc on many farms, because the trees growing in the fence rows were blown over taking large sections of fences out when they fell.  Mark Mauldin, Washington County Extension, provided recommendations for controlling trees and brush in fence lines using foliar, basal, bark, cut stump, and soil applied herbicides.
—
Special Thanks to Sponsors and Cooking Crew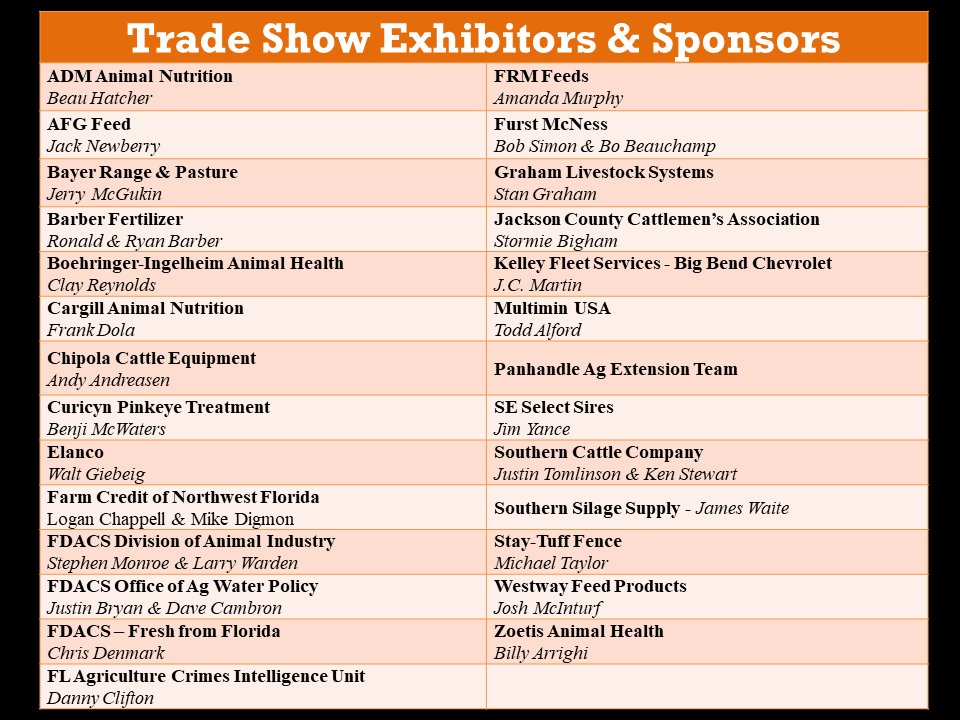 An event of this magnitude would not be possible without the sponsorship provided by the Trade Show Exhibitors.  Their contributions cover the cost of speaker travel, food, drinks, and snacks.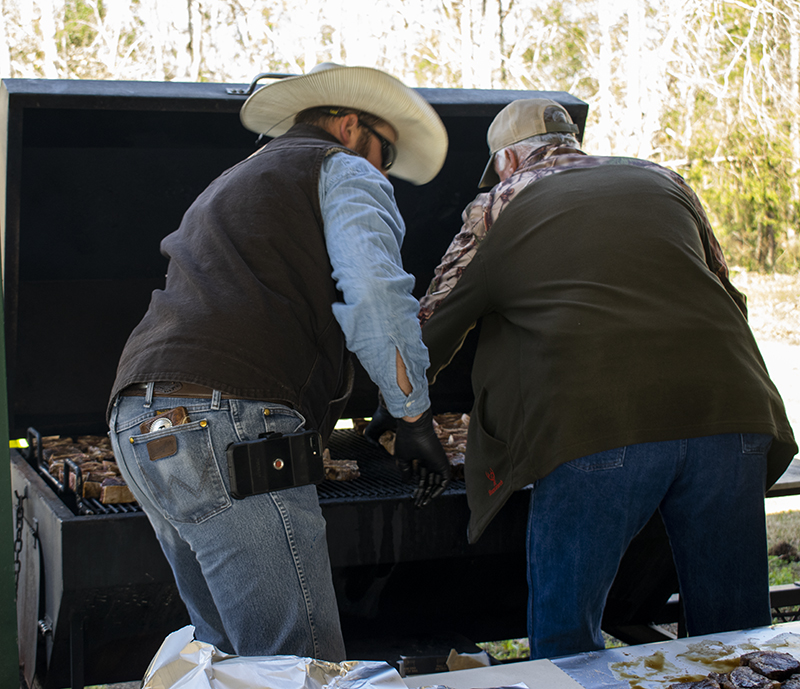 There is nothing like the taste of marinated and charcoal grilled CAB steaks for lunch.  Special thanks to the Jackson County Cattlemen's "Cooking Crew" for once again cooking the world's most tasty food to perfection.
********
The Northwest Florida Beef Conference & Trade Show is a regional educational event provided by the dedicated County Agents and State Specialists serving cattle producers in the Florida Panhandle.  To discuss how the ideas presented at the Beef Conference might be utilized to improve the efficiency of your cattle operation, contact the County Agent serving your home county.
Latest posts by Doug Mayo
(see all)