Nicholas

Dufault

, Ian Small, Santosh Sanjel, Jay Capasso and Kevin Korus, UF/IFAS Peanut Team
–
As we approach the end of the peanut production season, Florida's peanut farmers need to be wary of peanut rust.  Rust has been identified in fields in Columbia, Suwannee and Gadsden Counties this week (Sept. 1-3, 2020). Rust is not a typical problem every year for Florida's peanut producers, which makes information related to cultivar resistance and fungicide options for managing this disease limited. However, many of the leaf spot and white mold/stem rot fungicide products already being used should effectively manage peanut rust. Unfortunately, the yield losses associated with rust may be exacerbated by the presence of early and late leaf spot. This means that when considering rust management decisions, it is critical that it is coordinated with other foliar disease management programs.
–
WHAT TO LOOK FOR
Peanut rust diagnosis can be made in the field, however, before making a management decision, seeking a second opinion can be very beneficial. When scouting, look for plants that appear yellowish at a distance, or areas where severe leaf drop/drooping is present. In those areas of the field, with the aid of 10x hand lens, examine the bottom sides of the leave for raised bumps (rust pustules) that produce orange to brown fungal spores which are easily removed with your finger (Figures 1 and 2). Defoliation related to rust infections is not typical as the leaves will often hang on plant which means inoculum can still move more easily than if the leaf was on the ground. Infections will start as small spots that rapidly (e.g. 2 or 3 weeks) expand into acres if left unchecked during conditions conducive for disease development. If you are still unsure what is causing the problem after a visual examination, contact your local extension office or send a sample to a plant disease diagnostic center near you (Quincy or Gainesville)
–
WHEN TO BE CONCERNED
If you have peanut rust present or know of an infection within 10 miles of your field, it is time to be concerned about managing this disease. Peanut rust can spread quickly and easily within a field, as well as from neighboring fields, during rainy and windy weather conditions. Thus, current conditions across much of North Florida are conducive to rust development, and should a tropical system approach Florida, this would put all the states peanut production regions at risk.
–
HOW TO MANAGE PEANUT RUST
There are multiple fungicides, especially some mixtures, available that can help manage peanut rust, but they typically perform best when applied just before or early in the disease epidemic. Also, since rust is an explosive disease, it is recommended that growers spray more frequently for rust than leaf spots. Research from 2014, a year when rust incidence reached nearly 100% in untreated test plots, shows that treatments of azoxystrobin (e.g. Abound) and pyraclostrobin (e.g. Headline) were very effective at managing peanut rust. Treatments that had chlorothalonil (e.g. Bravo) and tebuconazole (e.g. TebuStar) also provided adequate rust management. However, only the chlorothalonil and pyraclostrobin treatments provided adequate late leaf spot management as well. It is also important to note that farmers using the leaf spot fungicide Miravis will need to combine it with a fungicide that has additional activity on rust if it is present in the field. Be sure to pay attention to the preharvest interval for the fungicide products as they will typically range between 14 and 30 days. For more information about peanut rust control contact the authors of this blog and/or your local Extension agent to determine which fungicide products will be best for your specific situation. More information about peanut rust diagnosis and management can be also be found in this fact sheet: Peanut Rust.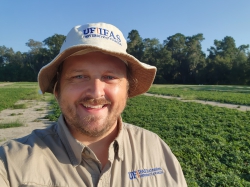 Latest posts by Nicholas Dufault
(see all)