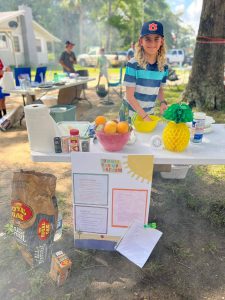 Did you get to do any grilling this summer?  Many of our 4-Hers did! Over 100 youth from throughout the Florida panhandle participated in 4-H summer day camps that taught them food and fire safety, safe grilling, and proper cooking skills.
Day camps offered unique experiences to youth on grilling techniques all summer and helped youth prepare for our District Competition. On July 30, 2022, 28 youth from eight counties participated in the Northwest District Tailgating Contest at the Washington County Ag Center in Chipley, Florida.  Youth participated in competitions in beef, pork, chicken, and shrimp divisions and were judged on their food and fire safety skills around the grill and the taste of their chosen protein.  In all, $3,200 was awarded to panhandle youth for placing 1st-4th in their competitions.
Now the top two youth in each protein category will compete at the Florida 4-H Tailgating Contest in Gainesville on October 1, 2022.  They will compete against youth from across Florida for an opportunity to win college scholarships.  For the state contest, the first-place winner in each protein area receives a $1,500 college scholarship and the second-place winner receives a $1,000 college scholarship.
Join us as we cheer on the following NW District 4-H participants as they represent us at the Florida 4-H State Tailgating Contest:
Beef Division

Aubrie D.-Escambia County
Aidden Y.-Walton County

Pork Division

Brooke H.-Escambia County
Cate B.-Okaloosa County

Chicken Division

Vanessa E.-Wakulla County
Jamison S.-Jackson County

Shrimp Division

Addie M.-Escambia County
Mason K.-Escambia County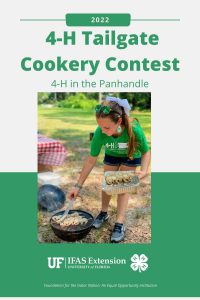 If you are interested in furthering your grilling skills, please check out the Florida 4-H Tailgate Series of EDIS documents.  If you would like more information on the Tailgating Contest to prepare for next year, check out our brand new handbook!  Finally, the top two winners in each protein category are sharing their award-winning recipes in this free, downloadable eBook!