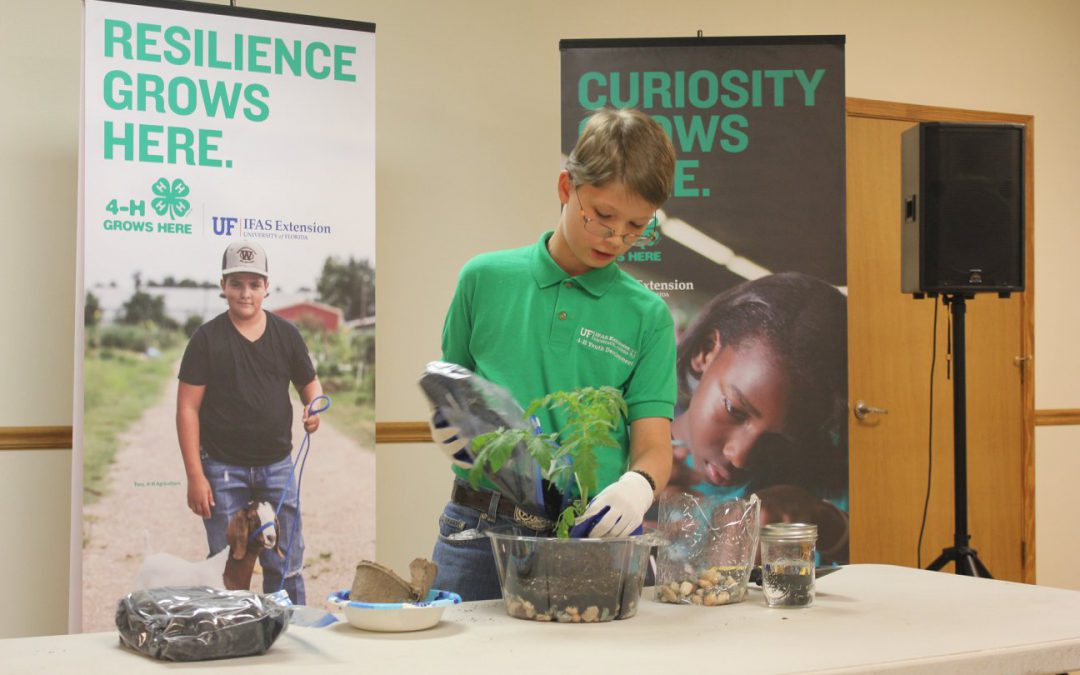 It's finally here!  Like many of us, you've probably been counting down the days since Christmas break for the next hiatus from the chaotic school day routine.  Now, with Spring Break upon you…what are you going to do with the kids while working or running errands that have piled up and marking off that "to do" list?  It's time to "phone a friend," your Positive Youth Development friends (aka 4-H Agents) that is!
Set yourself up for success this Spring Break by planning some fun projects to complete with your youth.  Many of these projects they can do independently, or with a group of friends, or tackle with the whole family.  4-H makes learning FUN through experiential learning opportunities the whole family can enjoy!
4-H PROJECT LEARNING
4-H members can choose from more than 50 projects that focus on science, engineering and technology, animals and agriculture, food & nutrition, outdoor adventures, marine science, public speaking, art and wildlife.  4-H learning is experiential- or "hands on learning," where youth get to interact with the curriculum or subject matter being taught/explored.
Ultimately, youth learn life skills and use these skills to give back to their communities. Youth set goals, keep records and can participate in events and activities on a county, district, state, and national level to expand their learning!  They can explore the various projects and programs 4-H offers and choose one that interests them.
4-H has three major priority programs:   Science, Citizenship & Leadership, and Healthy Living.  Please check out the resources available in each of these areas and consider exploring other aspects with your local 4-H program.  Your local 4-H office may be hosting "day camps," or daytime activities over Spring Break which youth can register for and spend the day in a safe, inclusive environment exploring with youth their age!
Below are a few projects youth can dig into with many simple household items.  For a greater challenge, expand on these projects so that youth can create their own demo to share with their local 4-H program during club meetings or County Showcase to earn more credit, experience, and leadership within their clubs!
GARDENING
A perfect project for youth of all ages…the newspaper pot!  Not only are you recycling, but you can learn about propagating plates, soil science, and so much more with some extra research.  Turn it into a family challenge to see who can make theirs the fastest, the most decorative, the largest…the possibilities are endless with this project!
https://nwdistrict.ifas.ufl.edu/4hn/files/2015/04/HANDOUT_PottedPlantColorPrint.pdf
HEALTH
In the midst of all the wacky weather lately, take some time to explore different aspects of one of our H's…Health!  The links below are just a few within a series of activities focused on Healthy Living.  In the "Let's Go Green"  series, youth will learn how to create safe alternatives to chemical cleaning solutions and YOU (the guardians) get to benefit as they "test" the effectiveness of these cleaners throughout the house.  Make it a challenge…encourage them to test different areas, the kitchen, the bathroom, the windows…have you caught our major hint yet?  Additionally, youth can expand on their learning by using the link below to create their own newspaper to showcase their findings.  Utilize the "Headlines for Health Introductions" to explore more activity options like "Let's Go Green."
Make a Newspaper:  http://edis.ifas.ufl.edu/pdffiles/4H/4H28000.pdf
4-H is one of the nation's most diverse organizations, open to all youth, ages 5-18, and available in every community. For more information on how youth can join or the many 4-H projects available, contact your local UF/IFAS County Extension Office, or visit http://florida4h.org today.