October is an extraordinary month of celebration for UF/IFAS Extension Florida 4-H Programs. We start with National 4-H Week October 4th – 10th. The theme for this year's National 4-H Week is Opportunity4All. This campaign was created by National 4-H Council to rally support for Cooperative Extension's 4-H program and identify solutions to eliminate the opportunity gap that affects 55 million kids across America.
With so many children struggling to reach their full potential, 4-H believes that young people, in partnership with adults, can play a key role in creating a more promising and equitable future for youth, families and communities across the country. In 4-H, we believe every child should have an equal opportunity to succeed. We believe every child should have the skills they need to make a difference in the world.
It is amazing how many youth are growing up with 4-H in Florida with over 230,000 youth involved. 4-H is open to all youth, ages 5-18, determined as of September 1 of the current 4-H year for everyone in the State of Florida. 4-H serves youth from all backgrounds and interests. It reaches both boys and girls through 4-H clubs and project work. 4-H is at schools, community settings, virtually, military bases, and in combination with afterschool programs. There are also special workshops, camps and individual and family learning opportunities. We also have state-wide virtual club opportunities including Dairy, Horse, Poultry, Teen Life Ready and Young Leaders clubs. The Northwest District also offers 4-H virtual projects. These include: Chick Chain, Backyard Livestock, Honeybees, Wildlife, Baking, Culinary Arts, Leadership, Plant Science, Tailgating, sewing and shooting sports.
National 4-H Week Events Include:
Monday, October 5, 2020 join us at 1:00 PM EST / 12:00 PM CST for a webinar on How to Teach Kids to Prepare Healthy, Fun Snacks. Register Here
Tuesday October 6, 2020 Shout Out Day & Hall of Fame
Take to social media to share a 4‑H memory, express how 4‑H shaped who you are today, describe what 4‑H means to you, post an old 4‑H photo, or shout-out your 4‑H club or use our photo frame for sharing on Social Media be sure to include following hashtags #Opportunity4All, #Florida4H and tag @Florida4H in ALL posts!
6:30 pm EST/ 5:30 CST– 4-H Hall of Fame  (FB Live Event) @florida4h
Wednesday, October 7, 2020, National 4-H Week Spirit Day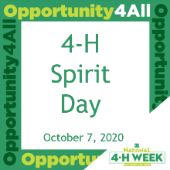 We want to invite you to help celebrate by wearing green or the 4-H clover. You could also wear a 4-H or Green facemask. We even have a photo frame you can use for sharing on Social Media and tag #Opportunity4All, #Florida4H and tag @Florida4H in ALL posts!
Thursday, October 8, 2020, Support the FOURWARD Fund, and Trivia Night
The forward fund helps ensure kids and families in need have access to educational resources and support all year long.
4-H Trivia Night from 6:30 pm EST/ 5:30 CST– (via FB) @florida4h
On Friday October 9 Florida 4-H at 4 and Camp Night
Join Florida 4-H at 4 online at 4:00 PM EST 3:00 CST as we blast off on a mission to the Red Planet – MARS! We'll be learning about the process that NASA goes through when sending a rover to Mars. We'll learn about the stages of launching from earth, attempting to land on Mars, and discovering the key features of the Martian surface. Using real images and data Generated from NASA missions we'll be introduced to some of the key characteristics of Mars and how we have discovered these features through decades of scientific exploration. Bring your supplies and join us. Click to Register
4-H Camp Night 6:30 pm EST/ 5:30 CST Come hang out with our camping team via zoom Click to Register and celebrate National 4-H Week.
Saturday October 10 #Opportunity4All Forum at 6:30 pm EST / 5:30 CST @florida4h  (FB Live Event) Kids face a widening opportunity gap in America. Nothing should hold them back.  Not Now.  Not Ever. For more information about the national Opportunity for all Campaign materials and PSA
October 7-18 Tractor Supply Paper Clover Fundraiser

The paper clover campaigns help by providing funds to conduct hands-on learning experiences through projects in STEM, agriculture, healthy living, and civic engagement locally and nationally.
JOANN stores also support 4-H by providing local 4-H Clubs with resources and tools to run impactful programs. JOANN even provides current & alumni members, parents of members, and volunteers with a 15% off total in-store and online purchases every day with a 4-H Rewards Card. You can register for this card at https://www.joann.com/4-h/ . They also run a paper clover campaign in the spring similar to Tractor Supply.
Please, help us celebrate National 4-H Week 2020 and participate in as many activities as possible. Also, Be sure next time you are visiting one of our sponsors locations to thank them for their continued support of 4-H Youth Development Programs. I cant wait to see your photos on social media please be sure and tag @Florida4H in ALL posts!
To find out more information about other 4-H programs like this or volunteer your time to work with youth, please contact your local UF IFAS County Extension Office. As you can see October is a wonderful month to be involved with and join Florida 4-H An Equal Opportunity Institution.
.