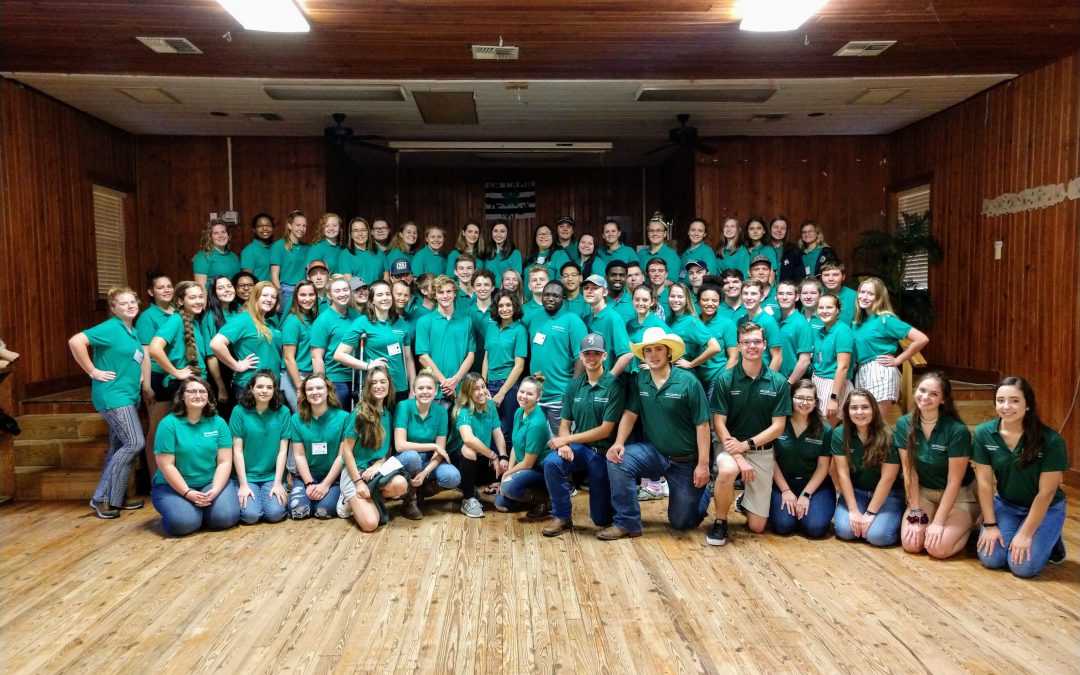 4-H Agents and long-term 4-H members are often asked, "What exactly is Florida 4-H State Executive Board?"  So what better way to get the best clarification than to get it straight from the source.  I turned to Shelby Sumner, our Florida 4-H State Council Reporter, to give us the best inside scoop…Here is Shelby's reply:
Executive Board is a committee composed of 4 delegates from each of the 13 4-H Districts, as well as up to 30 Executive Board appointees, and the 8 Florida 4-H State Officers. The Executive Board members meet 3 times each year to work together to plan state events, and to work in their respective standing committees.
STANDING COMMITTEES
The standing committees include Entertainment, Communications and Council Support, State Project, and Ways and Means. Entertainment works to provide entertaining activities at the State Executive Board meetings; Communications and Council Support assists with the promoting of different State 4-H events and opportunities available; State Project plans and implements a statewide community service project; Ways and Means is responsible for fundraising for the Florida 4-H State Council.
EVENT COMMITTEES
Similar to the standing committees, there are 4 event committees on Executive Board as well. These include 4-H Legislature, 4-H University, Day at the Capital, and Intermediate State. Executive Board members play a vital role in the planning and implementation of these state events by providing input into our state events during their working committee meetings at Executive Board Weekends, and helping throughout the course of the event itself.
A SECOND FAMILY
While the work that Executive Board members put in throughout the year is obviously an important component of Executive Board, it does not encompass what I believe to be the best part: the second family that it gives you. Laura Manzueta, a Miami-Dade County Executive Board Member, described what Executive Board means to her, stating, "To me, Executive Board means a family of youth that are responsible, care about the community, and are going to change the world."
LIFE CHANGING EXPERIENCES
Additionally, Executive Board gives youth life-changing experiences and connections that help them to grow as individuals. "Executive Board has shown me that surrounding yourself with people you look up to, helps to make you a better person."-Daylyn Hutchinson, St. Lucie County Executive Board Member.
AN OPPORTUNITY FOR NON-EXECUTIVE MEMBERS
Third Executive Board provides an opportunity for non-Executive Board members (4-H ages 14-18) to get a feel for what Executive Board is like, by taking part in activities such as the State Project activity, and they have chances to observe standing and event committee meetings.  Third Executive Board will be held at 4-H Camp Cherry Lake in Madison, FL, on April 3-5, 2020. The cost for non-Executive Board Members is $120, and $115 for Executive Board Members. Registration for this event opens on 4-H Online on March 9, 2019 and closes March 27, 2019.
Between the various learning and leadership opportunities, and the chances of meeting new best friends, becoming an Executive Board member is one of the greatest decisions that a 4-Her can make, and attending Third Executive Board is the perfect way to learn more about this endeavor. So, don't miss out on an amazing weekend, and make sure to attend Third Executive Board in April!
For more information on Executive Board or other 4-H programs, please contact your local UF IFAS County Extension Office, or visit http://florida4h.org.
Special thanks to Shelby Sumner, Florida 4-H State Council Reporter, for providing this article, and Courtney Quirie, Florida, 4-H Events Coordinator, for providing the pictures.