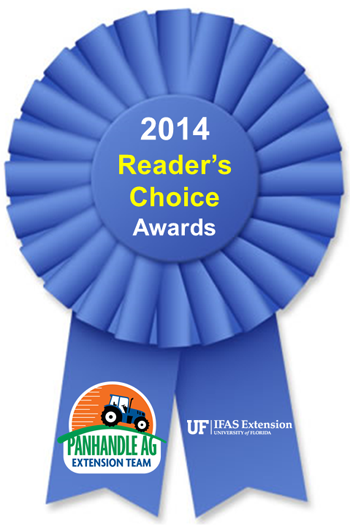 The Panhandle Agriculture Extension Team thanks you for subscribing to Panhandle Ag e-News this past year.
2014 was an even more successful year for this electronic newsletter project. Our subscriber list increased from 2,775 at the beginning of 2014 to 3,393 in 2015 (22% growth).  Last year we had 68,571 total web page views as compared to 36,513 in 2013 (88% increase). Word is spreading and more and more farmers and ranchers are taking advantage of this service.
There were a total of 266 articles contributed by 36 County Agents and State Specialist authors in 2014. The following were the top 40 articles written in 2014.
The Panhandle Ag Reader's Choice Award goes to an article written by Doug Mayo, Jackson County Extension, that was published October 24, 2014, and was viewed 623 times in 2014.

In second place was an article written by Jed Dillard, Jefferson County Extension, with 612 views:

The third most read article was written by Doug Mayo, Jackson County Extension, with 597 views:

Honorable mention goes to an article written by Doug Mayo, Jackson County Extension with 592 views:
Latest posts by Doug Mayo
(see all)