–
The 2023 UF Peanut Field Day was held Thursday, August 10th at the North Florida Research and Education Center (NFREC) in Marianna. This event focused on peanut production and strived to provide insight on best management strategies for the crop. Specific topics discussed included disease and insect control, available varieties, pesticide application, and plant nutrition.
A half day event, this program began with field tours at 8:30 AM CST as attendees boarded covered wagons pulled by tractors. The wagons paired off into three groups of two and rotated through six stops on thirty-minute intervals. This was the first-year post covid that attendance was back to historically normal levels, with 186 attendees joining us for the event.
–
All speakers provided handouts that were bound in a spiral book and given to attendees so that they could follow along at the stops and prevent pages from blowing away in the field. If you missed the UF/IFAS Peanut Field Day, did not receive a program book at registration, or would simply prefer to have accessible digital files, today is your lucky day! All handouts are linked below and labeled by speaker and topic.
–
Dr. Emily Kraus – Personal Protective Equipment & Pesticide Labeling
Mark Mauldin – Pesticide Mixing and Formulations
Dr. Barry Tillman – Variety Update/Performance
Drs. Hardeep Singh & Emma Matcham – Nutrient Deficiency and Toxicity
Drs. Ian Small & Isaac Esquivel – Tomato Spotted Wilt and Insect Control
Dr. Nick Dufault & Ethan Carter – Disease Control & Spray Programs
–
Mark your calendars for the 2024 crop regional crop production meetings and field day:
February 2nd for the 2024 Corn/Soybean Update, in Chipley
March 7th for the 2024 Panhandle Row Crop Short Course, in Marianna
August 8th for the 2024 UF Peanut Field Day at NFREC Marianna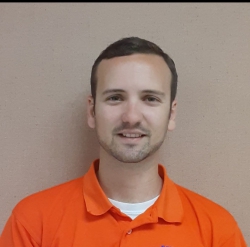 Latest posts by Ethan Carter
(see all)